One of the most ancient healing substances is frankincense. One of its extracts is frankincense hydrosol. On this page, you'll discover 10 frankincense hydrosol benefits and how to use it.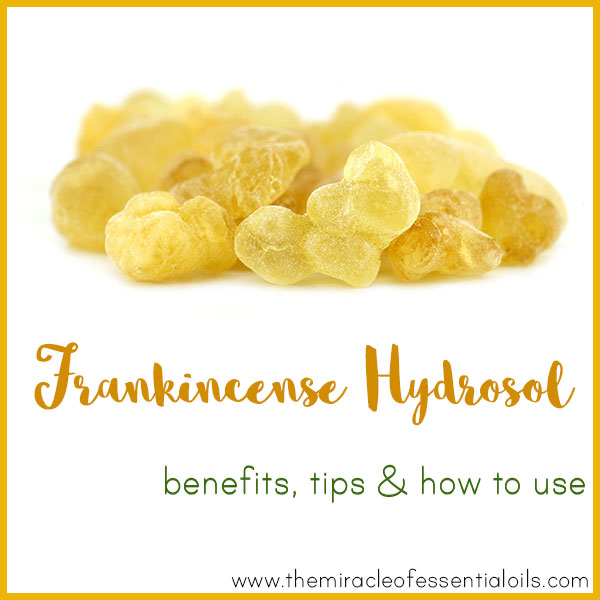 What is Frankincense Hydrosol?
The tear drop resin harvested from frankincense trees in Africa provide two powerful extracts: frankincense oil and frankincense hydrosol. These two are amazing gifts of Nature that have been known for centuries for their valuable health and beauty benefits.
Frankincense hydrosol is extracted by steam distillation of frankincense resin. It is obtained at the same time frankincense oil is also got. While the essential oil is collected in one chamber, the hydrosol is collected in another.
Benefits of Frankincense Hydrosol
Below are 10 benefits of frankincense hydrosol for health, beauty and wellness:
1. Antiseptic
Frankincense hydrosol has potent antiseptic properties. Use it to disinfect wounds, fight mouth infection, stop itching and more.
2. Anti-inflammatory
With its strong anti-inflammatory properties, frankincense hydrosol can be used on eczema, acne, psoriasis and other skin inflammatory conditions. It also heals bug bites, acne, rashes and boils.
3. Anti-aging
Frankincense is one of the best anti-aging hydrosols. It has a firming effect on sagging skin while smoothing out fine lines. It also deeply nourishes skin.
4. Grounding
The balsamic and mysterious scent of frankincense is grounding in nature. It helps promote a sense of calm and well-being. Place frankincense hydrosol in your cold air diffuser when meditating, doing yoga or trying to get in tune with your life purpose.
5. Astringent
Frankincense hydrosol has astringent properties which tighten pores, firm skin and reduce oiliness. Use it as part of your cleansing or toning skin care routine to benefit from its astringent properties.
6. Stops bleeding
Frankincense has coagulant properties which stop bleeding and enable clotting of blood. Spray the hydrosol on a wound or cut to disinfect and clean before dressing it.
7. Anti-scarring
The essential oil of frankincense is very effective in preventing and fading scars. The hydrosol is the same! You can make an anti-scarring cream with it or simply add it to your cleanser or toner.
8. Good for digestive health
It's good for digestive health in a way that it speeds up the secretion of gastric juices, bile and acids. It also supports peristalsis which allows food to move smoothly through the esophagus and intestines. Drink 1 tbsp of frankincense hydrosol and 1 tbsp of ginger hydrosol in warm water with some honey.
9. Heals respiratory conditions
Frankincense is said to have expectorant properties. This enables it to break down phlegm and excess mucus blocking the respiratory tract. It helps relieve bronchitis congestion, sinus congestion and nasal congestion. Use frankincense hydrosol as nasal drops or in a neti pot. You can also take a couple of tbsp in a glass of warm honey water.
10. Female health
For female issues such as irregular menstrual cycle, uterine cysts and post-menopausal tumors, frankincense can help immensely. Take it internally, add 2 – 3 cups to a warm bath, use it in a sitz bath or spray it on your abdomen.
How to Use Frankincense Hydrosol
» Anti-aging Cream
To make an anti-aging cream, simply place ½ cup of shea butter into a small high-speed blender. Now add 2 tbsp of frankincense hydrosol, ½ tsp raw honey and blend till you get a creamy texture. You can add a few drops of other anti-aging essential oils. Transfer to a clean container. Massage a pea-sized amount on your face nightly.
» Healing Sitz Bath
Fill you sitz bath tub with hot water then pour in 1 cup of frankincense hydrosol and 1 cup of cistus hydrosol. Now add ½ cup of sea salt. Sit in the tub and allow the healing bath to soothe wounds, rashes and infections in that region.
» Digestive Aid
In a tall glass, add 1 tbsp of frankincense hydrosol, 2 tsp of ginger hydrosol and 2 tsp of peppermint hydrosol. Now pour in warm water and drizzle in some honey. Stir well and drink up to soothe heart burn and promote digestion.
For More Ideas on How to Use Frankincense Hydrosol, Read: 25 Ways to Use Hydrosols 
Where to Buy Frankincense Hydrosol
Get 100% pure organic frankincense hydrosol here.