Hypothyroidism is more common in women than men. In this article, we shall see how to make and use a healing essential oil blend for hypothyroidism. Use this natural treatment as a way of getting
What is Hypothyroidism?
Hypothyroidism is also known as underactive thyroid or low thyroid.
It is a disorder of the endocrine system, where the thyroid gland does not produce enough of thyroid hormone.
Causes of Hypothyroidism
The most common cause of hypothyroidism worldwide is lack of iodine in the diet. In developed countries, hypothyroidism is commonly caused by the autoimmune disease, Hashimoto's thyroiditis.
Hypothryoidism occurs due to:
Inadequate function of the thyroid gland itself (primary hypothyroidism)
Inadequate stimulation by the thyroid stimulating hormone from the pitutuary gland (secondary hypothyroidism)
Inadequate release o thyrotropin-releasing hormone from the brain's hypothalamus (tertiary hypothyroidism)
If left untreated during pregnancy, hypothyroidism can lead to delays in growth and intellectual development in the baby. After childbirth, about 5% develop postpartum thyroiditis which can occur up to nine months afterwards.
Signs and Symptoms of Hypothyroidism
People with hypothyroidism may show little to no symptoms. However, there are numerous symptoms associated with it that can be related to the underlying cause or have a direct effect of not having enough thyroid hormone.
Below are some of the signs and symptoms of hypothyroidism:
Poor ability to tolerate cold
Feeling tired and fatigued
Constipation
Depression
Weight gain with poor appetite
Poor concentration and memory
Shortness of breath
Hoarse voice
Hair loss
Heavy menstruation in females, and later lighter periods
Dry coarse skin
Slow pulse rate
Delayed relaxation of tendon reflexes
Swelling of the limbs
Carpal tunnel syndrome
Essential Oils for Hypothyroidism
Anecdotal evidence shows that you can reverse the signs and symptoms of hypothyroidism and feel much better using diet, exercise and other natural healing methods!
Essential oils have healing properties that could restore your thyroid back to health. It's only a matter of using the right essential oils, in a consistent and effective manner to see improvement.
Some of the essential oils helpful for hypothyroidism include:
Lemongrass
Frankincense
Myrrh
Basil
Geranium
Clary sage
Clove
Marjoram
Peppermint
Rosemary
Bergamot
Healing Essential Oil Blend for Hypothyroidism
Below, we provide you with an essential oil blend recipe for hypothyroidism. This therapeutic blend supports the thyroid gland and its functions.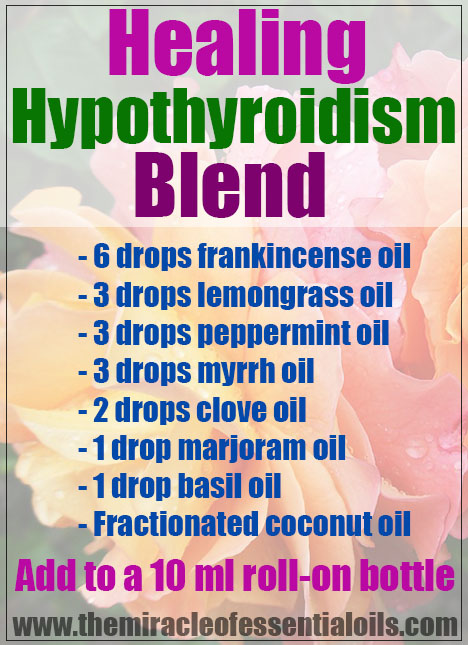 What you need
6 drops frankincense essential oil (where to buy)
3 drops lemongrass essential oil (where to buy)
3 drops peppermint essential oil
3 drops myrrh essential oil
2 drops clove essential oil
1 drop marjoram essential oil
1 drop basil essential oil
Syringe
Fractionated coconut oil
5 ml amber roller bottle
Directions
Remove the roller ball from the bottle.
Carefully drip all the essential oils into the bottle.
Using the syringe, transfer fractionated coconut oil into the roller bottle.
Shake the bottle up and down to mix the oils.
Your blend is ready!
Apply daily over your throat.
Share your thoughts concerning the essential oil blend for hypothyroidism below. What other natural remedies are you using to promote healing?