Discover immortelle or helichrysum hydrosol benefits and how to use it for beauty and wellness in this post.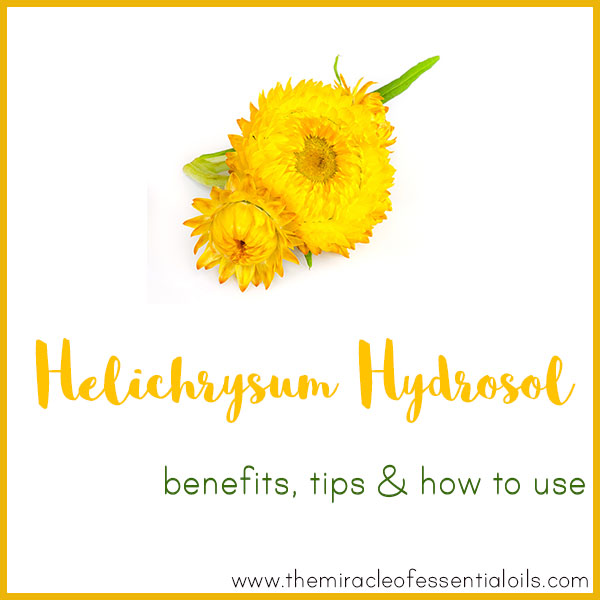 What is Helichrysum Hydrosol?
Helichrysum hydrosol is also known as everlasting and immortelle hydrosol because the helichrysum flower petals retain their bright colors long after being picked, without fading like many flowers. But it can also refer to its powerful anti-aging properties.
It is a pure extract obtained by steam distillation of helichrysum petals. Always ensure to buy 100% pure and organic helichrysum hydrosol.
Benefits of Helichrysum Hydrosol
1. Anti-inflammatory
Helichrysum is a strong anti-inflammatory substance. It reduces skin inflammation related to acne, eczema, psoriasis, rosacea and other inflammatory skin conditions.
2. Anti-scarring
This healing hydrosol is also very good for fading scars, just like its essential oil. Find an effective anti-scar formulation below.
3. Analgesic
Helichrysum hydrosol is also an analgesic (pain reliever). It can be sprayed on stinging and itchy wounds to numb down the pain.
4. Anti-aging
Among the best anti-aging hydrosols is helichrysum. It tightens, tones and firms skin as well as nourishes it, which boosts collagen and keeps it supple.
5. Wound healing
Helichrysum is not only good for fading scars but also healing wounds. Use it as a wound wash by spraying it on the wound before dressing it to speed up healing.
6. Emotional healing
Grounding and balancing, helichrysum oil and hydrosol have been used for yoga, meditation and emotional healing. It is said to promote tranquility and helps an individual reflect on their past and overcome emotional pain & mental trauma, enabling them to move on. You can diffuse it with another pleasant-smelling hydrosol.
How to Use Helichrysum Hydrosol
» Anti-Aging Cream
In a small blender, add ¼ cup shea butter, 1 tbsp helichrysum hydrosol, 1 tsp aloe vera gel and ½ tsp vitamin E oil. Blend until you get a creamy mixture. Store in a small sterilized glass jar. Apply on your face every night to smooth out fine lines and prevent premature aging.
» Diffuser Blend for Emotional Healing
Add equal portions of helichrysum hydrosol and rose hydrosol to a cold air diffuser. Allow it to diffuse for at least 15 minutes every day to dispel feelings of sadness and mental traumas.
» Scar Formulation
Make your own gentle healing scar formulation. You will need ½ cup shea butter, 2 tbsp helichrysum hydrosol, 1 tsp raw honey, 1 tsp rosehip oil and 1 tsp vitamin E oil. Add all the ingredients into a high speed blender and blend till smooth and creamy. Transfer to a 4 oz glass jar. Apply it on the scar then use your index fingers to massage the scar going outwards, to break up scar tissue. Don't miss using this at night time in which the skin regenerates itself.
» Wound disinfectant
Fill a spray bottle with organic helichrysum hydrosol. Spray it on the wound as necessary to clean and disinfect it then wipe it gently and dress the wound.
For More Ideas on How to Use Helichrysum Hydrosol, Read: 25 Ways to Use Hydrosols 
Where to Buy Helichrysum Hydrosol
You can buy 100% pure organic helichrysum hydrosol here.