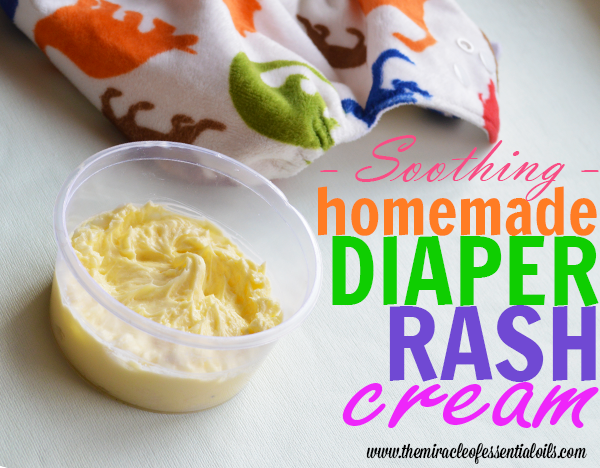 I can use a homemade diaper cream without coconut oil, but never without shea butter – and that says a lot! Shea butter is hands down the best natural ingredient you can use to soothe your baby's diaper rash and to heal it as fast as possible.
Today we will look at a really simple DIY homemade diaper rash cream that uses shea butter, among other easy-to-obtain ingredients. But before that, it's important to understand what diaper rash is and what causes it, so that you can avoid them as much as possible in future.
A diaper rash is characterized by red, itchy, swollen, sometimes scaly skin that may cause pain and discomfort in your baby. There are several types of diaper rashes and different causes for each, so let's explore them below:

Types of Diaper Rashes
Most diaper rashes are primarily caused by wet nappies or diapers staying in contact with babies' skin for long periods of time. It's important to investigate the cause of your baby's diaper rash so that you can address the problem immediately and prevent such rashes from occurring in the future. Here are some of the different types of rashes and their causes.
Common Rash – This is the kind of rash that you notice immediately, after taking one too many hours without changing your baby's diaper. The dampness/excessive wetness of the diaper will have caused the skin in contact with it to become itchy and red. With proper care, this type of rash can go away on its own within 3 days.
Yeast Rash – Though rare, yeast rashes can be severe and persistent once contracted. These rashes can be red and scaly and they typically itch, causing your baby great discomfort.
Friction Rash – If the diaper you're using, whether cloth or conventional, is of a rough texture, or harsh material, or if you've put the diaper on too tightly, your baby's skin may get red and irritated due to the friction caused by rubbing against the material. Babies' skin is soft and sensitive so make sure you dress them in loose comfortable clothes and change the brand of diaper if necessary.
Diaper Rash Around the Anal Region– If you notice any redness and swelling in the anal region of your baby it could be due to diarrhea or loose motions caused by food allergy, teething or introduction to solids or new foods. When the poop is in contact with the skin for too long, this can create rashes.
How to make your own Homemade Diaper Cream

What you need
Each ingredient above plays an important role in making this diaper rash cream gentle and effective on any type of diaper rash, including the pesky ones caused by yeast that seem to take forever to heal completely. Let's explore the benefits of each item in more detail:
» Shea butter: A super emollient that is deeply moisturizing and has a waxy tendency that can help maintain a good barrier protecting the rest of the ingredients applied on the skin, while keeping any excess moisture away from the skin. Rich in vitamins A and E, shea butter is the perfect ingredient that can help regenerate new healthy skin, heal the rash-affected skin, reduce inflammation and redness, soothe the skin and keep it supple and moisturized.
» Coconut oil: Have you heard of the urban myth that coconut oil is the cure for EVERYTHING? Well, there's definitely a whole load of truth to that, and you'll be happy to know that it works wonders for diaper rash, too. Coconut oil is rich in antimicrobial properties and is cooling in nature. It will help reduce the rash remarkably and many mamas like to use coconut oil alone on diaper rashes. It's that helpful!
» Bentonite clay: Work to wick away any traces of moisture which can irritate the skin and exacerbate the existing rash. It's completely natural and does a great job at keep the area dry by absorbing moisture
» Tea tree essential oil: A potent disinfectant, tea tree oil is one of the best antibacterial, anti-fungal, antimicrobial oils known to man. It can help fight off bad bacteria and prevent further reinfection.
» Frankincense essential oil: An aromatic oil that is wonderful for all sorts of skin ailments from eczema, acne, rosacea to diaper rashes. Frankincense essential oil can promote faster healing by promoting cell regeneration, soothes the skin and reduces redness and inflammation.
Directions
In a double boiler, mix the shea butter and coconut oil until they have both melted.
Take off the heat and add in the bentonite clay slowly while mixing with a spoon.
Once this mixture is thoroughly combined, transfer the cream to your cream container. You can buy empty cosmetic containers here, or just recycle an old container. You can also use a amber glass jar, which is what I prefer.
Finally add the essential oils and start whipping with your hand mixer until you achieve a smooth and creamy consistency. Whipping is optional but it gives a soft consistency to your diaper rash cream, which makes it easier to rub into the skin without aggravating the rash. Note: Make sure to thoroughly wash your kitchen tools afterwards because you don't want essential oils contaminating them as they can be dangerous when ingested.
Place in the refrigerator overnight and allow it to set nicely. If you don't have time, leave it in the refrigerator for just an hour and it will be set, since shea butter and coconut oil solidify quickly.
There you go! Your lovely homemade diaper rash cream with essential oils is ready for use.
Tips
You can store this diaper rash cream for 2 – 6 months.
Use clean hands to dip into the cream each time.
Keep essential oils and essential oil products away from the reach of children.
Give your baby a diaper vacation: go diaper-free for at least 24 hours!