Make this completely chemical- free plus very simple homemade essential oil fly spray for horses!
It's so easy to buy commercial fly sprays to keep pesky flies off your horses. But have you ever stopped to think how chemical-laden those sprays are? It seems you have, otherwise you wouldn't be here on this page! I say it's ridiculously easy to make your own homemade essential oil fly spray for horses. The recipe I'm sharing below contains just five ingredients but it works so effectively! Try it out and you'll see what I mean!
Homemade Essential Oil Fly Spray for Horses Recipe
Make sure to use organic raw apple cider 'with the mother'. My recommended brand of raw apple cider vinegar is Braggs 100% pure raw apple cider vinegar. Do not use the synthetic red store-bought apple cider vinegar.
This homemade essential oil fly spray might not smell good (since it contains garlic oil and neem oil) but it does work and that's much better than buying those chemical-filled toxic fly sprays right?!
What you need:
1 cup raw apple cider vinegar
20 drops geranium oil
10 drops garlic oil
2 tbsp neem oil
2 cups distilled water
32 oz spray bottle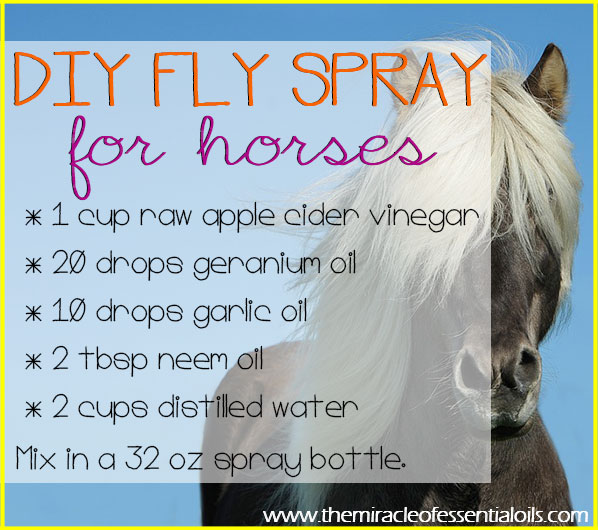 Directions:
Simply fill a 16 oz spray bottle with 1 cup raw apple cider vinegar and 2 cups filtered water. You can also use filtered water.
Now add 20 drops geranium essential oil, 10 drops garlic oil and 2 tbsp neem oil.
Shake the spray bottle well.
To use, lightly mist the spray on your horse. Do not spray on your horse's eyes, nose, ears or mouth! When applying this spray around the eyes, don't spray directly on that area – just use a sponge or spray on a small washcloth and dab on the area. You can also use a fly mask for keeping pesky flies out of your horse's ears and eyes.
Will you try this homemade essential oil fly spray for horses? Do you have your own effective fly spray you use? Please share so we can all benefit!