Taking good care of your wood furniture is the best way to make it last longer and look well-kempt. This easy recipe for homemade furniture polish with essential oils means you never need to buy wood polish ever again!
Why Make Your Own DIY Furniture Polish
Conventional furniture is not just money-wasting, it's also filled with unnecessary synthetic ingredients and harsh chemicals.
These ingredients include petroleum based products, synthetic polymers, artificial fragrances, aerosols, parabens and more.
Not only does long term exposure to these ingredients irritate the organs, they also disrupt the hormones and lead to cancer!
Why expose yourself to all this risk, when making homemade furniture polish is just too easy to pass?
Make Homemade Furniture Polish Using Natural Ingredients
In this recipe, we'll be using completely natural ingredients that work just as well as conventional products, if not better!
Here's how each of the ingredients we'll be using help:
» Beeswax – A natural, biodegradable wax produced by bees; naturally shines wood; acts as a sealant
» Shea oil – Thick, adds shine to wood, has sealing properties
» Essential oils – Highly aromatic, all natural fragrance, leaves furniture smelling lovely
Recipe for Homemade Furniture Polish with Essential Oils
The recipe for homemade furniture polish can't get any easier than this: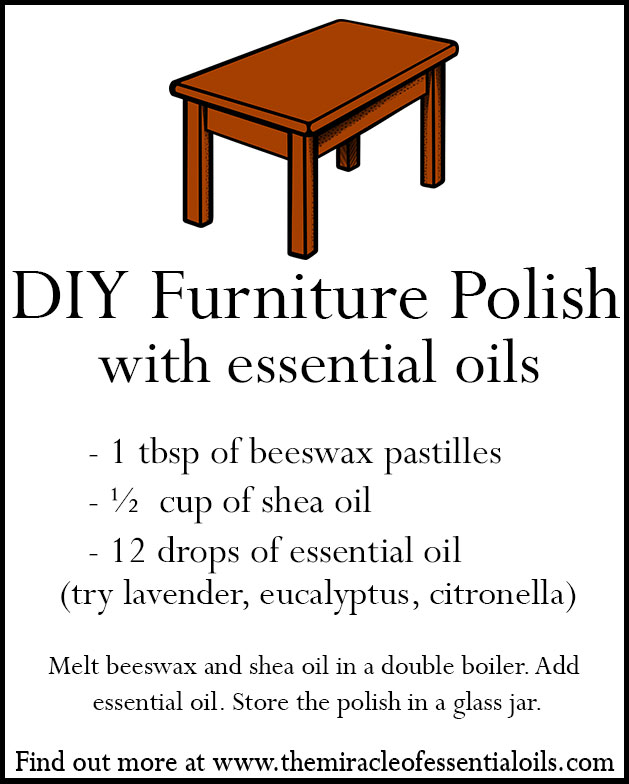 What you need:
Method:
In a double boiler, melt the beeswax pastilles until fully liquefied.
Now take off heat and add the shea oil and essential oils.
Stir to get it all thoroughly combined.
How to Use Homemade Furniture Polish
Begin by cleaning off any dust on the furniture with a damp microfiber cloth, and wipe dry.
Now using another rag or old cotton cloth, apply a small amount of homemade furniture polish at a time. Use the cloth to spread the polish and apply all over the wood surface.
Behold your shiny new-looking furniture!
Tips
This furniture polish is quite thick so only a little is needed at a time and it lasts for a very, very long time!
You can skip the essential oils altogether, if you want an odorless product.
Please make sure you, your children or your pets are not allergic to certain essential oils before using.
Always make sure to patch test the product on a small area of the furniture before using. This will avoid any adverse effects on wood, if any.
Do you buy furniture/wood polish – or do you make your own homemade furniture polish? Share your experience in the comments below!