Make your own homemade window cleaner with essential oils and say goodbye to Windex or other chemical-filled store-bought cleaners!
It's actually very easy to make your own window cleaner at home: all you need is distilled water and vinegar! However, this homemade cleaner doesn't smell that amazing. What to do? Add some essential oils, of course!
Essential oils have beautiful all-natural scents that range from fresh, minty and citrusy to floral, strong and herbal.
These gorgeous scents don't just smell good: they also have other therapeutic properties that can help make cleaning even better! The antibacterial, anti-fungal, antimicrobial and antiseptic properties of essential oils destroy germs, ward off bacteria and purify your home. Their therapeutic scents also promote feelings of positivity and dispel negative emotions.
Why Make your Own Window Cleaner?
It's cheap – Organic cleaners are expensive to be honest and you might stop buying them after a while to cut down on costs. This homemade window cleaner uses just 3 ingredients, some of which are already in your home. Citrus oils like lemon and grapefruit are also cheap and last a long while since a little goes a long way.
It's easy to make – Seriously, all you need to do is just shake up the ingredients in a spray bottle. That won't even take 5 minutes.
It's non-toxic – Want to get rid of the toxins in your home? This is good first step! Toxins not only aggravate allergies but are also linked to infertility and ADHD! If you have kids in the home, protect them by using a non-toxic window cleaner like this one.
Artificial fragrance free – Personally, the smell of store-bought cleaners or any other synthetic fragrance can irritate my nose and bring on a headache that can pound on dully for long. With this homemade cleaner, we're using fresh and clean citrus scents that are all-natural. You can even reduce the amount of drops off essential oils to make the scent light and subtle.
Homemade Window Cleaner with Essential Oils
Below is a super simple but effective homemade window cleaner with essential oils. The best part is that it is so versatile – not just for cleaning windows! You can use it on glass kitchen cabinets, glass tables, glass doors and even mirrors!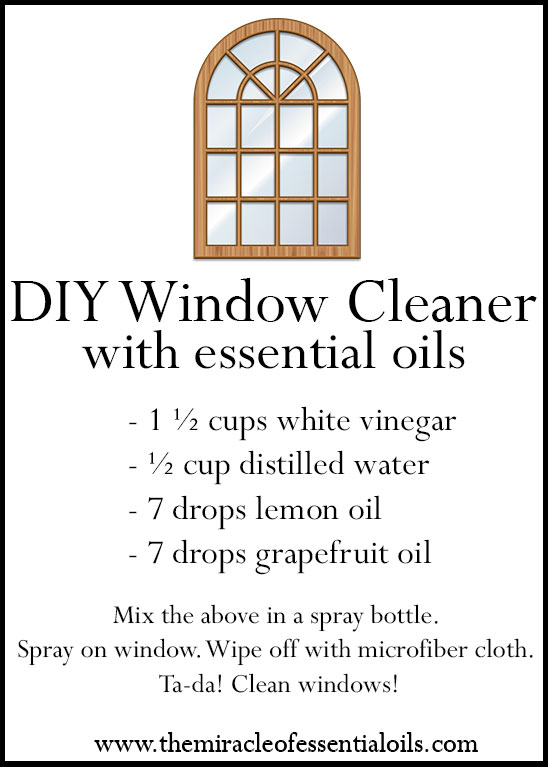 What you need
Method
Slowly pour in the distilled water and vinegar into a spray bottle.
Add the drops of essential oils.
Close the cap and give the bottle and good shake to combine the ingredients.
Ta-da! Your homemade window cleaner with essential oils is ready! Store in a cool dry and dark place.
To use, spray on the window and then wipe off with a microfiber cloth.
Tips
Add a touch of Dr. Bronners liquid castile soap (about ½ – 1 tsp) for stubborn window streaks!
Clean your windows on a cloudy day to prevent streaks from happening. Remember streaks come when the sun quickly dries up the window cleaner solution you just sprayed.
To polish your windows for that shiny look, rub them again with the microfiber cloth after you're done cleaning.

What do you think? Are you excited to try out this homemade window cleaner with essential oils?