Honeysuckle, a sweet and gentle hydrosol, surprisingly has many powerful properties for health beauty and wellness! Find out 7 honeysuckle benefits and uses.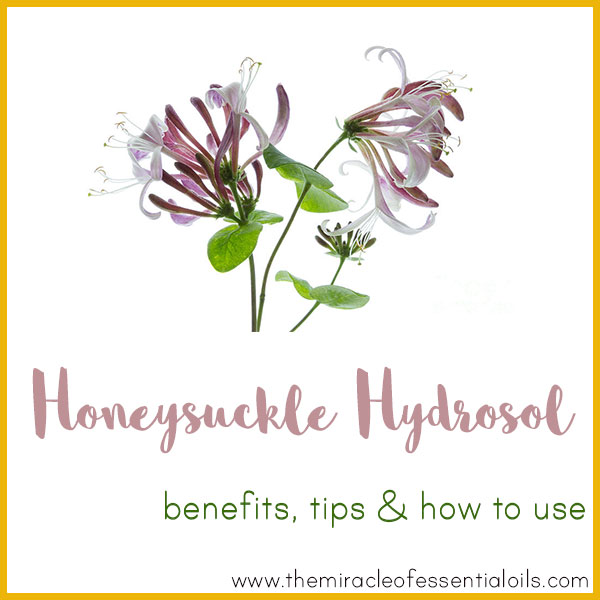 What is Honeysuckle Hydrosol?
Honeysuckle hydrosol is steam distilled from the flowers and buds of the honeysuckle plant (Lonicera japonica).
It has a subtle sweet fragrance that's suitable to be used as a natural body mist or splash. That's not all though! Honeysuckle also has powerful anti-inflammatory, antiviral, anti-fungal properties and more as you can see below!
Benefits of Honeysuckle Hydrosol
Below are 7 amazing benefits of honeysuckle hydrosol:
1. Anti-inflammatory
Honeysuckle hydrosol is a powerful anti-inflammatory substance. It reduces all kinds of skin inflammation including acne, eczema, psoriasis, bug bites, skin rashes, rosacea and sunburns.
2. Antibacterial
The antibacterial properties of honeysuckle are strong. They fight many kinds of strains of bacteria including acne bacteria and bacteria that causes infections. Use honeysuckle hydrosol diluted in water as an eye wash for eye infections or a throat spray to combat sore throats and tonsillitis.
3. Antiviral
Honeysuckle hydrosol also has antiviral properties. You can use it to overcome many viral infections including eye infections, cold sores, flu and more.
4. Anti-fungal
The anti-fungal properties of honey suckle hydrosol are good for treating fungal skin infections and those that affect the scalp as well. You can spray directly on the affected area or combine it with your lotion or shampoo.
5. Antioxidant
It has a high level of antioxidants that ward off scavenging free radicals. Free radicals are unstable molecules that steal oxygen from healthy cells to become stable. By doing so, they make the body cells unstable and lifeless. This causes premature aging and health problems.
6. Astringent
Honeysuckle can also be used as a facial astringent. Just a spritz or two on your skin after cleansing your face will seal moisture, balance sebum and tighten pores.
7. Anti-irritant
With its anti-irritant properties, honeysuckle hydrosol is safe to use for easily irritated and sensitive skin types. Spray it on bug bites, itchy spots, red blotchy skin and allergic reactions for relief.
8. Natural Perfume
Honeysuckle has a sweet and light perfume that lingers on skin and hair. Spritz your whole body often to have a subtle natural scent that's lovely. If you're averse to store-bought perfume because the smells make you sneeze and get a headache, then honeysuckle hydrosol is your type of perfume!
How to Use Honeysuckle Hydrosol
» Body Mist
Store honeysuckle hydrosol in a 8 oz fine mist spray bottle. Mist all over your body after the shower before toweling off.
» Facial Toner
In a 4 oz combat blue spray bottle, mix together 1 oz neroli hydrosol and 2 oz honeysuckle hydrosol. Keep this in your bathroom cabinet. Spray on your face to tone after cleansing.
» Anti-Aging Lotion
Melt down ¾ cup of argan oil, 1/3 cup of shea butter and ½ once beeswax pastilles in a double boiler. Meanwhile, in a Pyrex measuring cup, mix together 2/3 cup honeysuckle hydrosol, 1/3 cup aloe vera gel and 5 drops of honeysuckle extract.
Now once the oil/butter/wax mixture has melted, let it cool down to room temperature then pour it into a high-speed blender. Turn the blender on high speed and while it's running, slowly pour in the contents of the Pyrex cup through the open end. Blend for about 7 minutes or until you see a white emulsion forming. Transfer to a sterilized container. Enjoy!
For More Ideas on How to Use Honeysuckle Hydrosol, Read: 25 Ways to Use Hydrosols 
Where to Buy Honeysuckle Hydrosol
Purchase only 100% pure organic honeysuckle hydrosol. You can buy it here.