Did you buy a bottle of essential oil and forget to use it for months, or even years? You may be wondering, how long do essential oils last? Has your bottle of essential oil gone bad, and what are the dangers of using old essential oils. Here's what you need to know.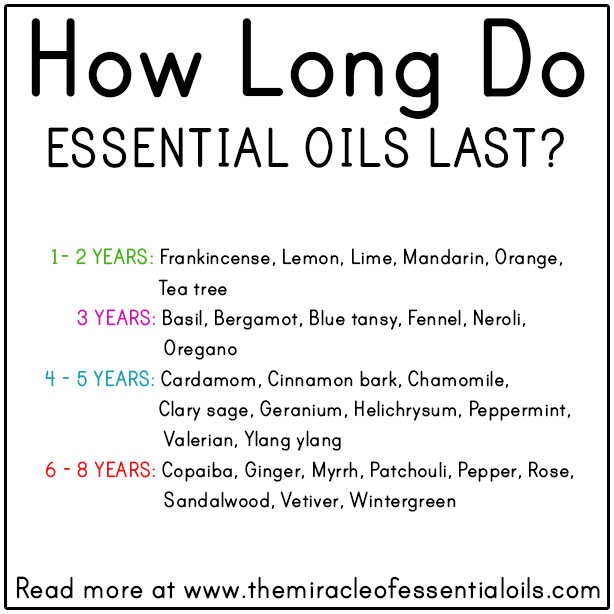 Everything has an expiry date
Everything has an expiry date, even essential oils. In fact the only food and medicinal items that I know which do not have an expiry date are honey and ghee (clarified butter).
Essential oils are highly volatile in nature. This means their molecules can easily be denatured by light, heat and oxygen.
Light, when it penetrates into the oils, causes the molecules to breakdown due to the action of UV radiation which promotes free radical damage. This is why essential oils are stored in amber colored bottles for best protection away from light degradation.
Heat causes the volatile molecules in essential oils to detach and evaporate from the liquid. This is why we can smell essential oils so strongly and why their aroma vanishes quite easily after application.
Oxygen, found in the air can get into the oil can react in a process known as oxidation. Oxygen molecules collide with the molecules in the essential oils and turn them into unstable free radicals, which can cause damage when applied to the skin.
Signs that your essential oil has gone bad
How can you tell that your essential has bad (oxidized)? Here are some signs:
Change in smell – If you notice any change in the aroma of the essential oil as compared to when you first opened it, it could have oxidized or gone bad. Most times, the smell of an essential oil will give you a clear indication of having oxidized.
Change in reaction – If you have negative reactions when applying diluted essential oils to your skin, then it may mean the essential oil has oxidized and you must stop using it immediately. Such reactions can include redness, rashes and itching.
Change in color – Some essential oils may change color as they age. This usually occurs with citrus oils as they are light and highly volatile. The color may change to a reddish – orange color from pale yellow.
The danger of old or expired essential oils
Using old or expired essential oils can be dangerous especially when applied topically or used orally.
Expired essential oils or any other oils, when applied to the skin can cause free radical damage on healthy skin cells, causing them to age faster, or be damaged.
Skin may become dull, wrinkled and saggy due to the damage caused by rogue free radicals in the essential oils.
How long do essential oils last?
Here's the general rule for the shelf life of different essential oil categories:
Monoterpenes or oxides – Essential oils containing a high amount of monoterpenes or oxides oxidize easily and have short shelf lives of 1 – 2 years .
Examples include lemon, orange and tea tree
Phenols – Essential oils containing a high amount of phenols have shelf lives of 3 years .
Examples include oregano, juniper berry and basil.
Ketones, monoterpenols and esters – Essential oils containing ketones, monoterpenols and esters have shelf lives of 4 – 5 years .
Examples include lavender, clarysage and chamomile.
Sesquiterpenes and sesquiterpenols – Essential oils containing a high amounts of sesquiterpenes ans sesquiterpenols have shelf lives of 7 years .
Examples include cedarwood, sandalwood, vetiver, patchouli and wintergreen
List of shelf lives of some popular essential oils
1 -2 years – Frankincense, Lemon, Lime, Mandarin, Orange, Tea tree
3 years – Basil, Bergamot, Blue tansy, Fennel, Neroli, Oregano
4 – 5 years – Cardamom, Cinnamon bark, Chamomile, Clary sage, Geranium, Helichrysum, Peppermint, Valerian, Ylang ylang
6 – 8 years – Copaiba, Ginger, Myrrh, Patchouli, Pepper, Rose, Sandalwood, Vetiver, Wintergreen
How to prolong the life of your essential oils
There are a few tips you can follow to prolong the life of your essential oils or to prevent them from going bad too soon. Some of these are:
Never leave your essential oils open or loosely covered because oxygen molecules from the air can get inside and react to cause oxidation.
Always keep your oils tightly closed when not in use.
Keep away from direct sunlight to avoid light degredation.
Store away from heat, such as in a cool dark cupboard
If not using essential oils for a long time, such as a few months or while you are away for vacation, store your essential oils in your refrigerator.
Do not freeze essential oils.
What to do with expired essential oils
You must never use expired essential oils on your skin or hair.
It is also not recommended to diffuse expired essential oils.
But this does not mean that you should throw out the essential oils altogether.
You can still use old essential oils for other purposes, such as cleaning. You can wipe counters, scrub floors etc with old essential oils, though they may not be fully effective.