You've made ginger tea, now learn how to make ginger hydrosol at home! The benefits of ginger hydrosol are just a simple steam distillation away!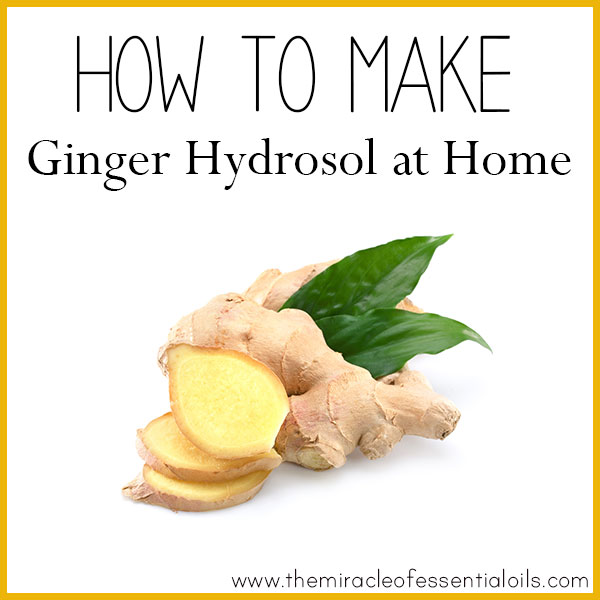 What is Ginger Hydrosol?
Ginger hydrosol is extracted from the fresh roots of ginger. It is a by-product of ginger essential oil extraction.
Although it looks just like water, do not be deceived. Ginger hydrosol is a potent, highly beneficial liquid that smells refreshingly gingery.
It has anti-inflammatory, analgesic, digestive, stimulating and expectorant properties, among others.
How to Make Ginger Hydrosol at Home
Equipment needed:
Home distillation kit (where to get it) Getting your own home distillation kit is very handy if you're planning to be making hydrosols a lot or if you own a small natural herbal business. You can purchase the

PureStiller Lite Home Distillation Kit. All you need to do is load up your herbs, in this case cucumber slices, and water then place the equipment over a heat source! Since it's a transparent equipment, you can watch everything happening live! Obviously, this kit can also be used to distill essential oils at the same time. So it's a 2-in-one thing!
Or:
Large sauce pan with lid
Brick
Heat-resistant bowl
Plenty of ice cubes
Raw materials:
Fresh ginger 500 g, chopped
Method:
Got a home distillation kit? You're in luck! Making hydrosols could not get any easier than this. Simply load up the plant materials chamber with chopped fresh ginger. You can keep the skins on. Simply make sure you scrub the tubers well to remove any soil particles.
Don't have a home distillation kit? Not to worry, you can still assemble a rudimentary hydrosol set up with the alternative equipment listed above. Follow the steps below.
Get your large sauce pan, preferably stainless steel and layer it with the chopped ginger. Now pour about ¼ cup of water at the bottom of the sauce pan. The steam coming from the water at the bottom, as it boils, is what will pass through the ginger and create a pure hydrosol.
Now place a brick right in the middle of the sauce pan and your heat-resistant bowl right over the brick. This is where your hydrosol will collect.
Close the pan with the lid (a dome shaped lid, turned upside down) where your hydrosol will condense and drip down into the bowl.
Place ziplock bags containing ice over the lid.
Turn on the heat and wait for 20 – 30 minutes as the really cool process of steam distillation takes place within!
Once the water at the bottom is finished, turn off the heat and carefully remove the heat-resistant bowl from the sauce pan.
Allow your beautiful ginger hydrosol to cool and then transfer to an amber glass bottle, or straight away to a spray bottle, ready for immediate use!
How to Use Ginger Hydrosol
Food Flavoring : Ginger is highly anti-inflammatory and ginger hydrosol makes a lovely addition to food items such as tea, coffee, cakes, cookies and more!
Digestive Tonic : Having a tummy ache, digestive upset or gas and bloating? Take ½ a cup of ginger hydrosol twice a day for a gentle way to ease digestive trouble.
Add to a Bath : Ginger is a natural detoxing substance. You can add ginger hydrosol, about 2 – 4 cups to your bath water for detoxing your whole body!
Diffuse : Did you know that you can diffuse hydrosols? It's one of the safest, non-sensitizing ways to scent your home while enjoying the aromatherapy benefits of ginger.
Can You Use Ginger Hydrosol on Your Face?
Ginger can be applied on the skin but take care for those with sensitive skin.
Avoid directly spraying ginger hydrosol on the face.
You can use ginger hydrosol in your skin care by simply diluting it with other hydrosols or in other liquids such as water, milk or herbal teas.