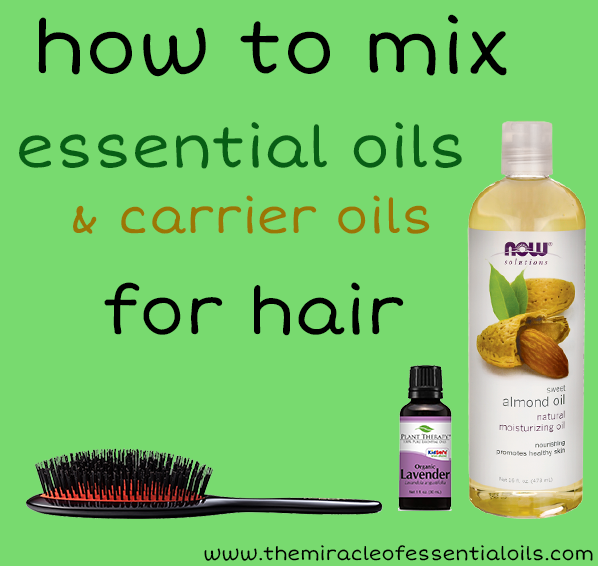 When it comes to natural DIY hair care, essential oils are products you simply must have on hand! You can literally make all your hair care products using essential oils: hair mask, hair spray, hair serum, shampoo, conditioner, hair cream, pomade and lots more! Yup, that's how amazing essential oils are for hair!
Carrier Oils for Your Hair Type
The commonest way of using essential oils for hair is by diluting them in a carrier oil. There are several carrier oils you can choose to mix essential oils in. Before you use any random carrier oil, it's good to know its consistency, texture and hair benefits to maximize the most of it. Here's a list of hair issues and what carrier oils to use:
Oily hair – grapeseed oil, apricot kernel oil, almond oil
Dry hair – shea oil, coconut oil, avocado oil
Dandruff – coconut oil
Hair loss – castor oil, coconut oil, olive oil
Frizzy hair – avocado oil, shea oil, olive oil
Thin hair – grapeseed oil, sunflower oil, almond oil
How to Mix Essential Oils with Carrier Oils for Hair
Okay now that we know the carrier oils to use for what hair type, let's see how to mix essential oils with carrier oils for hair!
Dilute Rate: Remember to use a 2% dilution rate for essential oils. That means for every tsp of carrier oil, add only 2 drops of essential oils. This is the recommended dilution rate for adults. For kids, it's 1% which is 1 drop of essential oil in 1 tsp of carrier oil. For more information, please look at: How to Dilute Essential Oils
1. Hair Serum
Hair serums can be made in the comfort of your own home. I've only bought serum once in my life and it smelt gross plus contained a ton of chemical ingredients that are totally unnecessary! I have a simple but super effective DIY hair serum on the blog! Here's the recipe:
What you need
Directions
Using a small funnel, transfer the castor oil, almond oil and olive oil into the amber dropper bottle.
Then add the essential oils. Close the cap and shake well to combine.
Apply a few drops to your hair length after washing it.
2. Hot Oil Treatment
A hot oil treatment is the best way to stimulate hair growth. It opens the hair follicles and penetrates deep into them. You can also do a hot oil treatment to treat itchy scalp, scalp fungal infections and dandruff too.
What you need
Directions
Gently heat the olive oil by placing it on the stove in a small pan. Make sure not to overheat it and definitely don't boil it!
Once it's just warm enough, remove from heat and stir in the essential oils.
Now section your hair and start pouring the oil using the spoon all over your scalp. When your whole scalp is saturated, use your finger pads to massage your scalp to improve blood circulation.
Cover your hair with a shower cap and let it penetrate for 15 to 30 minutes.
When the time is up, wash your hair very well to remove all the oils. Shampoo twice if necessary.
3. Scalp Massage Blend
Scalp massages are very relaxing, help calm down a tired scalp and also stimulate hair growth through increased blood flow.
What you need
Directions
Put the creamy coconut oil in the small container and add the essential oils.
Mix the ingredients together with the handle of the spoon.
Store in a cool dry place.
To use, dip clean and dry fingers into the creamy mixture then apply all over your scalp in a slow massage. If you can get someone to do this for you, then it'd be so relaxing!
4. Daily Hair Oil
If you have light and fine hair, then hair oils are the way to go. They're not thick and heavy like pomades and hair butters. They keep hair moisturized and looking glossy while fighting frizz. Hair oils with essential oils smell gorgeous too!
What you need
Directions
Pour the grapeseed and sunflower oils into the dropper bottle using a funnel.
Now add the essential oils and close the bottle.
Shake gently to combine.
Apply just 3-4 drops along the length of freshly washed hair.