Using Essential Oils for Peripheral Neuropathy
Peripheral neuropathy can greatly affect the quality of your life. It is not easy to live with constant pain. Many people look for natural remedies to treat neuropathy. You may have frequently come across the use of essential oils for peripheral neuropathy relief. This is because essential oils are rich in healing properties that provide great relief to nerve pain, in general. Essential oils have amazing analgesic properties to soothe neuropathy and heal nerve damage.
Neuropathy is a type of nerve pain that occurs in the nerves. The most common type of neuropathy is peripheral neuropathy, where peripheral nerves such as those in the fingers, toes, feet, hands and arms are affected. Peripheral neuropathy occurs as a result of trauma to the nerves, outside of the brain. It occurs mostly in diabetics.
What Causes Peripheral Neuropathy
With peripheral neuropathy, the most common symptoms are sharp, shooting pain, tingling sensations and numbness. There are many causes of peripheral neuropathy, including:
Diseases such as diabetes, hiv/aids and others
Tumors which press upon peripheral nerves
Chemotherapy
Heavy metal poisoning
Medications
And others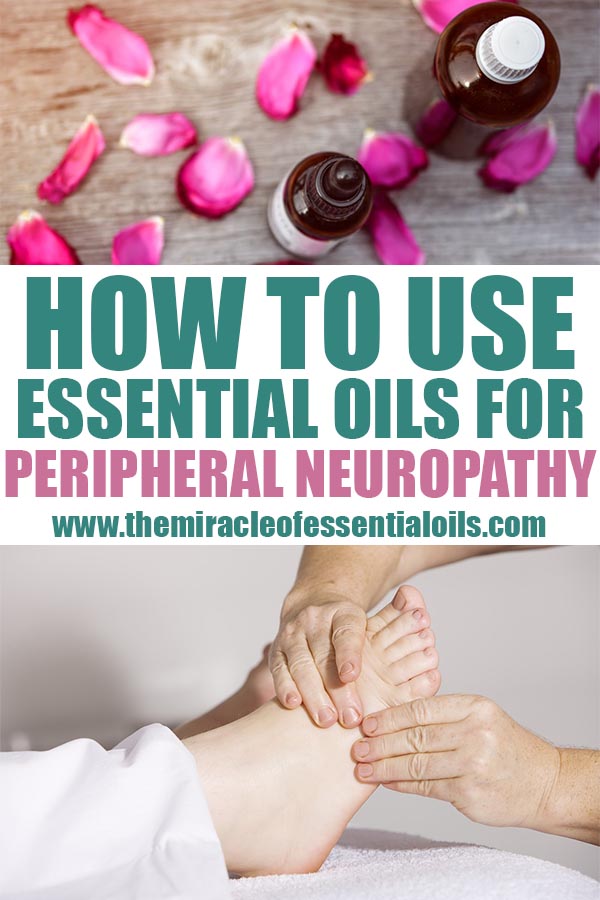 What Are The Best Essential Oils for Peripheral Neuropathy?
The wonderful world of essential oils has much to offer to heal peripheral neuropathy. The best essential oils for peripheral neuropathy are those that have pain-killing properties, anti-inflammatory properties and stimulatory effects.
Take a look at the Top 20 Essential Oils for Neuropathy, to choose from a wide range of essential oils. You may already be having some of them at home.
Today we will be looking at 3 ways you can use essential oils for peripheral neuropathy, in detail. For these methods, we will need the following nerve-healing essential oils:
How to Use Essential Oils for Peripheral Neuropathy
These are the 3 ways you can use essential oils for peripheral neuropathy:
1. Synergy Massage Blend For Neuropathy
It's very useful to make a synergy blend, which combines the powers of 5 essential oils for neuropath. You get one master blend that you can use for massage, hot compress or salt soaks. Moreover, this synergy blend is the same recipe used in the study at reference (1).
Ingredients
8 teaspoons of peppermint
8 teaspoons of geranium rose
8 teaspoons of black pepper
8 teaspoons of rosemary
Directions
Use a pipette to carefully measure the essential oils needed and transfer them using the pipette again, into an amber-coloured glass bottle.
Once you have transferred all the oils, close the amber bottle and shake to mix all the oils evenly together.
This is your synergy blend that you can pop up any time you need a nerve-soothing fix.
2. Peripheral Neuropathy Foot Soak
One of the best ways to address nerve pain in the extremities such as the foot, is by soaking in a soothing foot soak. This soak can also be done for the hands. Here's how to do it:
Ingredients
1/2 cup of Epsom salts (where to get it)
10 drops of synergy blend for nerve pain relief (recipe above)
Directions
Fill a plastic tub with hot water and dissolve the Epsom salts in it.
Add 10 drops of the synergy blend and stir.
Sitting comfortably on a chair, soak your feet into the tub for 20 minutes.
Repeat this for 1 – 3 times a day, depending on the severity of the pain.
3. Nerve Massage Cream
You can either add a few drops of whichever essential oils for nerve pain that you have on hand into your normal massage cream. Alternatively, you can make your own DIY massage cream customized for your needs.
Ingredients
1/2 cup of shea butter (where to get it)
Essential oils:
– For neuralgia, blend 3 drops each of yarrow, peppermint, geranium and rosemary oils.
– For neuropathy, blend 3 drops each of helichrysum, lavender, patchouli and lemon grass.
Directions
In a double boiler, melt the shea butter.
Now pour the somewhat-cooled shea butter in to a suitable glass container.
Stir in the essential oils with a glass rod, or handle of a spoon.
Leave overnight in the refrigerator to 'set'.
Use this massage cream 1 – 3 times a day, depending on the severity of the pain.
Other Treatments for Peripheral Neuropathy
One of the best natural treatments for peripheral neuropathy is heat. Apply heat in the form of a hot compress, foot soak or hot bath gives so much relief for those painful nerves.
More natural remedies for neuropathy that you should try out include:
Yoga
Acupuncture
Physical therapy
Ayurvedic massage
Eating meals with lots of cayenne pepper
Gingko biloba supplements
Evening primrose oil supplements
Some herbal teas such as St. John's wort and skullcap.
References
(1) http://cpr.sagepub.com/content/21/1/57.abstract