Learn the different ways on how to use lemon essential oil safely and smartly!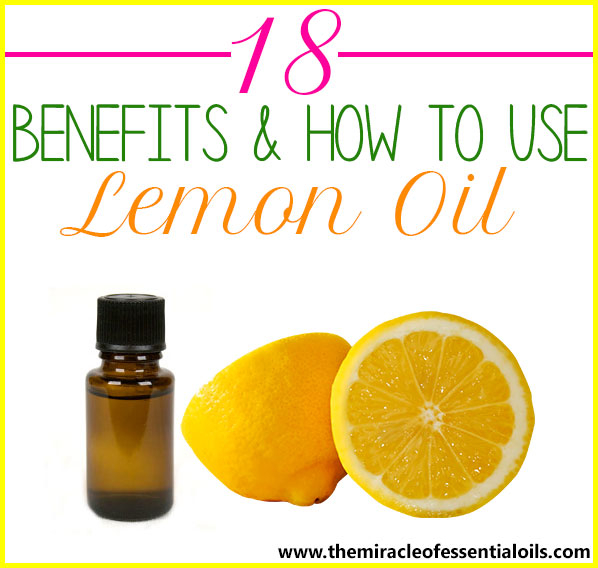 What is Lemon Essential Oil?
Lemon essential oil is one of the top 10 most popular essential oils. This is because it is versatile, practical and is useful for ALL types of problems!
Being a citrus oil, lemon essential oil is normally extracted through cold-pressing of the rinds of lemons. The lemon peels, or rinds, are squeezed at high pressure, the juices released are collected into a sterile container. These highly aromatic juices contain precious oils that float at the top. This oily substance is what is known as lemon oil!
It is highly concentrated and extremely potent. Therefore, it must not be used directly on to the skin. You must dilute it properly. To find out how to dilute essential oils correctly, please read: How to Dilute Essential Oils
The Benefits of Lemon Essential Oil
I would say lemon essential oil is the most useful essential oil that ever exists. Its benefits range from the beauty department to household cleaning to health benefits and beyond!
Just take a look at some of the benefits lemon oil has to offer:
Purifying the indoor air
Neutralizing pet odors
Anti-acne
Reducing scars, spots and hyperpigmentation
Skin lightening
Insect repellent
Window cleaning
De-greasing grime from tiles, utensils and more
Powerful antioxidant properties
Promotes youthful skin
Fights oxidative stress
Eliminates dandruff and scalp acne
Natural deodorant
Boosts the immune system
Prevents insomnia
And many more!
How to Use Lemon Essential Oil
When it comes to essential oils, there are so many creative ways that you can use them! But always remember, exercise caution when handling essential oils. Make sure you are not allergic to lemon essential oil before use. Always use high quality, organic lemon oil from trusted sources.
Here are the best ways to get the most out of lemon essential oil:
1. Diffusion
You can't go wrong with diffusion. It is the single most effective way to enjoy the benefits of lemon essential oil. Pour in 8 – 10 drops of lemon oil into your high quality diffuser and run it at any time of the day. It is recommended you diffuse oils for 1 – 3 hours at a time and not more than that. Diffusion blasts tiny nano-sized particles of lemon oil into the air, making them easily absorbed into your lungs. This delivers immediate effects to boost your mood, strengthen your immune system and more.
2. In Beauty Care Products
Ideally, making your own DIY products containing essential oils would be best. But for most of us busy people, you can easily add a few drops of lemon essential oil oil to your already existing beauty products such as face wash, moisturizer, body lotion and more. I especially love adding essential oils to my organic face wash and there's nothing as invigorating and refreshing as lemon oil when washing your face!
3. For Cleaning
Lemon oil can be added to all sorts of cleaning supplies, both homemade and store bought. Make a simple all-purpose cleaner by adding 15 drops of lemon oil to a 50% solution of white vinegar and purified water. Pour it into a spray bottle for easy use. Spritz this lemony cleaner onto your windows, table tops, counter tops and faucets for a natural, non-toxic cleaning product that packs a punch!

What are your favorite ways to use lemon essential oil?