In this article, you'll find out how to use ylang ylang oil for hair loss and beautiful hair!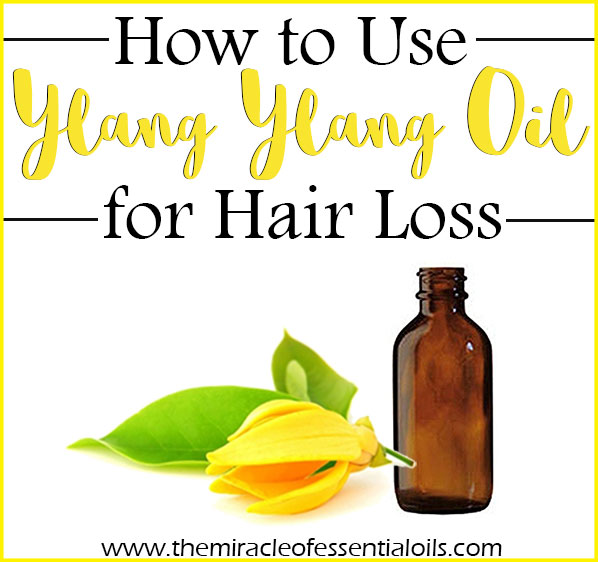 Ylang ylang oil (pronounced: EE-lang EE-lang) is a floral oil extracted by steam distillation of the curly yellow ylang ylang flowers. Ylang ylang means flower of the flowers. In Indonesia, ylang ylang flowers were strewn on the beds of newlyweds for their natural aphrodisiac properties. In Europe, ylang ylang oil was once popularly used in hair preparations and it was called macassar oil.
Let's check out the ingredient profile of ylang ylang oil:
Scientific Name: Cananga odorata
Origin: Java, Sumatra, Reunion, Madagascar, Indonesia, Comores
Scent: Sweet, intoxicating, slightly fruity
Color: Slightly yellow in color
Ylang ylang oil might be a less known essential oil for hair loss, compared to rosemary or peppermint essential oils. But it's very effective for growing long thick hair. It can help stimulate hair growth and promote shiny and luscious looking hair!
How Ylang Ylang Oil Promotes Hair Growth
Below are the ways in which ylang ylang oil promotes hair growth:
Has antiseptic properties that kill germs and irritants that cause hair loss
Clears the hair follicles of stale oils due to its oil regulating properties
Reduces scalp inflammation which leads to hair loss
Has antioxidant properties that reduce oxidative stress and cellular ageing in the scalp which cause hair weakening hence hair loss
Nourishes the hair follicles
Increases blood circulation in the scalp which stimulates the dormant hair follicles to wake up and start functioning again
How to Use Ylang Ylang Oil for Hair Loss
The best way to use ylang ylang oil for hair loss is by making a hair oil blend with it. That's by mixing it in a carrier oil. One of the best carrier oils for hair growth is coconut oil. Another touted hair growth carrier oil is Jamaican black castor oil. Combining these two carrier oils with ylang ylang oil creates an effective hair growth oil!
DIY Hair Growth Blend
What you need
Directions
Combine all the ingredients into your amber dropper bottle, with the help of a small funnel.
To use, place a few drops of the oil blend onto your entire scalp then massage it in using clean finger tips.
Cover your hair with a shower cap and apply heat by sitting under a hooded dryer for 10 minutes. Let the oils penetrate deep into your scalp for 30-60 minutes.
When the time is up, wash your hair as usual. If your scalp feels extra oily, be sure to shampoo twice. Use a natural sulfate-free shampoo + conditioner for best results.