A hydrosol eye wash is one of the best natural remedies to clean out your eyes to rid any foreign particles, dust and irritation. It can also help heal infections, reduce redness and soothe tired, itchy and dry eyes.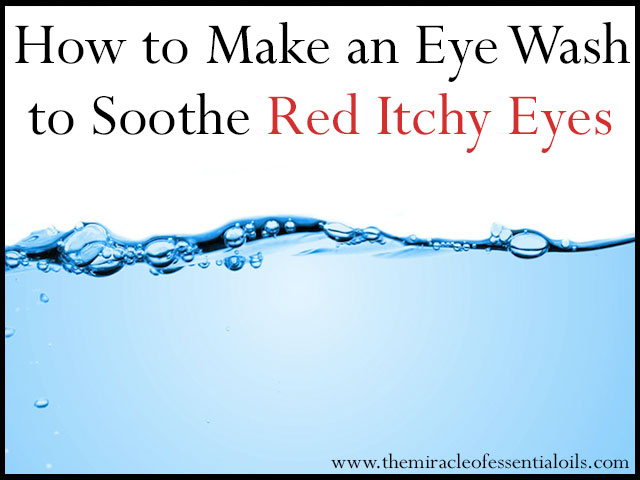 Eye Drops vs Eye Wash
Everyone has heard about eye drops, but what about eye wash?
When I was younger, I had a weak immune system and I was almost always suffering with 'allergies'. One unfortunate side effect of these allergies was the constant red, itchy and inflamed eyes.
In any stint of seasonal allergies, it was normal for me to wake up with one eye totally shut with dried tears and pus-like discharge. When I finally pried my eye open, I'd find it completely red, irritated and scratchy. Graphic, I know.
Of course my loving dad would always take me to the doctor, where I was prescribed anti-histamines and even antibiotics to 'prevent' bacterial infection. The eye drops would barely work, though. So I'd often have to go to school with red, uncomfortable eyes.
Luckily I came across a brilliant natural solution for my eyes – and it worked within MINUTES. No kidding!
What I needed weren't eye drops, but an eye wash! With eye drops, you only pour a few drops of a solution into your eyes. But for severe itchy, inflamed and red eyes, you need to literally wash out your eyes!
Washing Your Eyes with Hydrosols?
My solution was none other than HYDROSOLS!
Hydrosols are clear, healing liquids that are obtained from herbs, flowers and other plant material. They look just like water, except for the fact that they are highly aromatic and are rife with healing properties.
Some of the benefits of hydrosols for the eyes include:
Reduce inflammation: Hydrosols have anti-inflammatory properties that help reduce inflammation, swelling and discomfort in the eyes.
Disinfectant: The worst thing ever when you have red, itchy and swollen eyes is developing an eye infection. Hydrosols are a great preventative measure for eye infections because they have potent disinfectant properties.
Anti-bacterial: Bacteria such as Staphylococcus aureus and Haemophilus influenza can cause eye infections. Hydrosols are rich in antibacterial, antiviral and antimicrobial compounds, which help fight bacteria.
Cooling effects: When you have red, heated eyes, there's nothing more relieving than a cooling remedy. Hydrosols have natural cooling and soothing properties that can bring relief to tired, irritated and red eyes.
Safe and non-toxic: Hydrosols are completely plant-based and are much safer to use than many conventional eye drops. They are safe for babies, children and those with sensitive skin, too.
Which Hydrosols are Good for the Eyes?
Some of the most popular hydrosols for eye wash include:
How to Use Hydrosol Eye Wash
What you need:
Directions:
Get a large jug and fill it 2 cups of your hydrosol of choice.
Stand over the bathroom sink and begin washing out your eye with the hydrosol.
To wash out your eyes with hydrosol, simply pour the hydrosol into your cupped palm.
Open your infected/itchy eye WIDE and look down into your cupped palm full of hydrosol.
Make sure your entire eye is immersed in the hydrosol. You can shift your iris from side to side during this time to make sure the hydrosol reaches all corners of your eye.
The hydrosol will slowly drip through your fingers and run out. At this point, pour more hydrosol into your cupped palm and repeat the procedure. Keep repeating this until all your hydrosol is used up.
You can carry out the eye wash just once a day – you'll see the results almost instantly! For more severe cases, the eye wash can be done up to 3 times a day.
Do the eye wash in both eyes, if needed.