Normally hydrosols are got from distillation. Now find out how to make a hydrosol with essential oils. The end product is not a true hydrosol but smells and feels just like one – and it can come in handy in your skin care routine!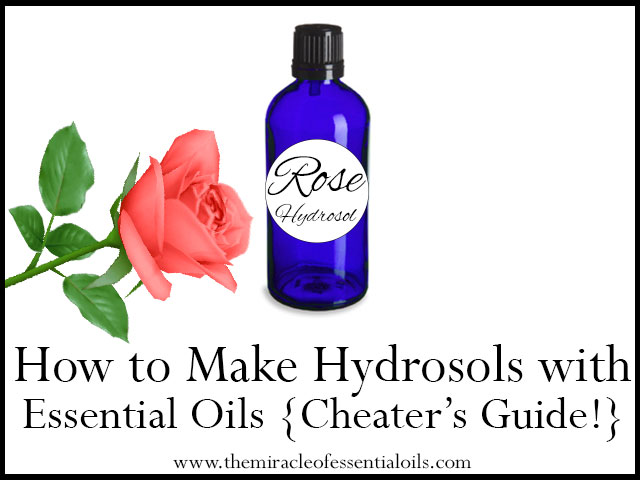 What is a Hydrosol?
Hydrosols are simply by-products of the steam distillation process for extracting essential oils.
Steam distillation involves passing large quantities of steam through plant materials such as flowers, roots or leaves and collecting the condensed vapor containing both water and oil from the plant matter.
The oil portion is separated and called the 'essential oil', while the aromatic liquid portion is called a 'hydrosol'.
Hydrosols are also known as floral waters, flower waters, hydroflorates or distillates.
How to Make a Hydrosol at Home
Even without complicated distillation equipment, you can still make a hydrosol at home. You will need some common kitchen utensils such as a large pan, a small glass bowl, a lid to cover the pan. You will also need plant material, for example rosemary leaves, a brick or other non-conductor of heat and plenty of ice cubes.
Place your desired plant material such as rose petals, mint leaves, rosemary leaves or vetiver root at the bottom of the large sauce pan and fill it just ¼ way with plain water.
Turn on the heat on a medium setting.
Now place a brick over the plant material in the pan and place a large glass bowl on top of the brick. This bowl is where your hydrosol will collect.
Once you notice steam rising from the sauce pan, cover with your (preferably glass) lid and place ice cubes over the lid.
The steam rising from the heated plant material will hit the lid and condense or turn into liquid quickly. This liquid will then pour downwards and collect within the bowl.
Making a hydrosol through this make-shift, rudimentary method will not be as efficient at producing hydrosol as professional distillery equipment – but it works.
How to Make a Quick Hydrosol at Home
But what if you want to make a quick 'hydrosol' without any work at all?! Yes, it is possible! The trick is to use essential oils to make a faux hydrosol.
The thing about this hydrosol is that it smells highly aromatic, just like a real hydrosol and is equally light and refreshing.
The only difference is that this hydrosol will not have the same chemical constituents as a steam distilled hydrosol.
How to Make a Hydrosol with Essential Oils
It's simple, really! All you'll need to do is to combine your essential oil with distilled water.
But water and oil don't mix, right? Right! This is why we shall be using an emulsifier to make the essential oil mix seamlessly with the water to give a liquid that looks just like a hydrosol, and smells like one too!
Here's the recipe for this quick hydrosol with essential oils:
» What you need:
Note: If you prefer an alcohol-free hydrosol, use 2 teaspoons of pure aloe vera gel, instead of the rubbing alcohol.
» Method:
In a small, non-reactive bowl, mix the rubbing alcohol (or aloe vera gel) with the essential oil until the oil is completely emulsified or dissolved.
Now pour this emulsion into your clean, dry spray bottle and top with the distilled water.
Place the cap on firmly and shake the spray bottle to get the ingredients well-combined.
Your quick 'hydrosol' with essential oils is now ready for use!
How to Use Your Hydrosol with Essential Oils
A fun way to use your hydrosol is as a perfume or body mist. Spray on your body for a refreshing, cooling effect.
You can also use your hydrosol as a room freshener, or car freshener.
Another great way to use your hydrosol is by incorporating it in your skin care routine. Use it as a toner, before makeup or before bed. Keep in mind, if you have dry skin, skip the rubbing alcohol and use aloe vera gel instead.
Note: Are you interested in hydrosols?! The check out this amazing book – Hydrosols: The Next Aromatherapy by Suzanne Catty. I love it and use it as a good reference & guide for learning more about hydrosols!