When it comes to our extremely cute furry friends called rabbits, essential oil usage can be challenging. It requires a lot of care and attention and they must be used at a very high dilution rate. Below, find the answer to your question, 'Is Lavender Essential Oil Safe for Rabbits?'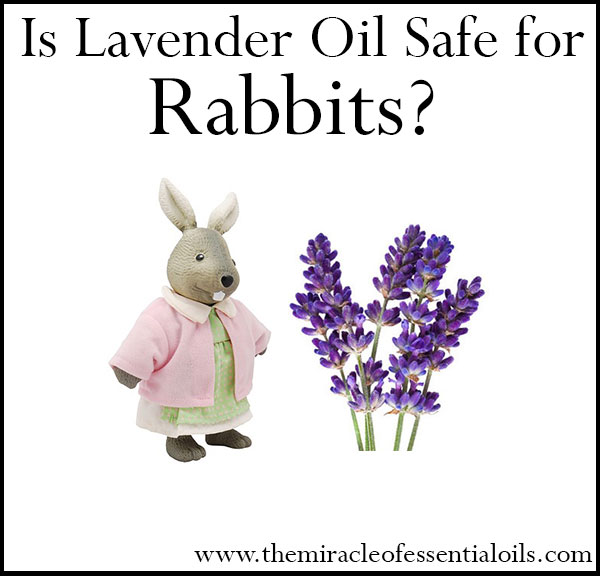 What Essential Oils are Safe for Rabbits?
Using essential oils for pets and rabbits, in particular is a bit like walking into unknown territory because it hasn't been explored much. Therefore, it can be dangerous to use them on rabbits casually without proper research and consultation with a professional vet.
It is well known that rabbits are fragile creatures that can easily get eaten by predators such as dogs and eagles and they are easily susceptible to diseases such as pasteurellosis (snuffles & wry neck), calcivirus, myxomatosis, treponematosis, coccidiosis and more.
Some veterinarians have prescribed too powerful and harmful antibiotics to treat rabbit diseases which have resulted in the death of many rabbits. Rabbits rely strongly on their guts for proper digestion and hind gut fermentation of the fodder they eat, which occurs in the gut. The cellulose in forage that herbivorous animals eat is only digested with the help of symbiotic bacteria found in the gut.
Bring in strong antibiotics and they will disrupt the balance of rabbits' guts by destroying both good and bad bacteria. Hence, using essential oils with powerful antibacterial, antibiotic and anti-fungal effects such as cinnamon and oregano should be avoided on rabbits.
The essential oils that have been used with success for rabbits are those are that known for being milder than others. How mild? Mild enough that they can be used neat on our skin, can be used for babies and be applied on sensitive areas such as facial skin.
These essential oils include lavender, roman chamomile, eucalyptus, and lemon. Lavender & chamomile are calming and can help soothe a nervous and hyperactive bunny. Eucalyptus is good for colds. Lemon boosts the immune system.
The Verdict – Is Lavender Essential Oil Safe for Rabbits?
Yes, it is – but in very small amounts and with heavy dilution. The small amount of lavender is safe enough not to pose any danger to your fluffy pet and at the same time potent to actually offer the health benefits you're aiming at.
As mentioned above, lavender is calming and can reduce nervousness and hyperactivity in rabbits. It is also a gentle antibacterial that can be used (with heavy dilution) to prevent cuts from getting infected.
How to Use Lavender Essential Oil for Rabbits
Rabbits absorb the oils through their fur and can benefit from the therapeutic benefits of essential oils when they're diffused or sprayed around the rabbitry. Here are ways you can use lavender essential oils for rabbits:
1. Water Misting
This is helpful for external parasites, eliminating bad odor, for cleaning:
In 4 oz of distilled water, add 3 drops of lavender and 1 tsp of vegetable glycerine (to emulsify the oils). Now shake well and mist on the rabbits fur, avoiding the face and eyes.
2. Topical Application or Petting
For colds – Dilute 1 drop of lavender in 10 ml of olive oil and gently stroke or pet the rabbits fur around the chest and back areas.
For cuts, bites & scratch wounds – Dilute 1 drop of lavender in 10 ml of olive oil and apply with a cotton wool to the affected area 2 times a day to prevent infection and promote healing.
Calming the rabbit – Use 1 drop of lavender in 10 ml of olive oil and gently stroke or pet the rabbits fur on the back and chest area.
3. Diffusion
Place 3 drops of lavender and the required amount of water in a high quality diffuser, following the manufacturer's instructions.
Hydrosols are a Safer Option for Rabbits
Instead of using essential oils on rabbits with a lot of fear and caution, why not use a milder version of essential oils: hydrosols?! Hydrosols, also known as floral waters, are the by-product of essential oil distillation. When plant material is being distilled, the process creates two products: essential oils and hydrosols.
A hydrosol is basically water that is naturally scented and contains a very mild content of the healing properties of essential oils. This makes them perfect to use on pets without harming them. Examples include lavender hydrosol, rose water, neroli water, etc. Try lavender hydrosol for rabbits by purchasing it here!