Ah, lemongrass – it is literally a type of grass that smells so fresh and lemony! Now imagine a clear liquid that smells exactly like that! Enter lemongrass hydrosol! It has many uses and properties for health, beauty and wellness. Find out 10 lemongrass benefits on this page!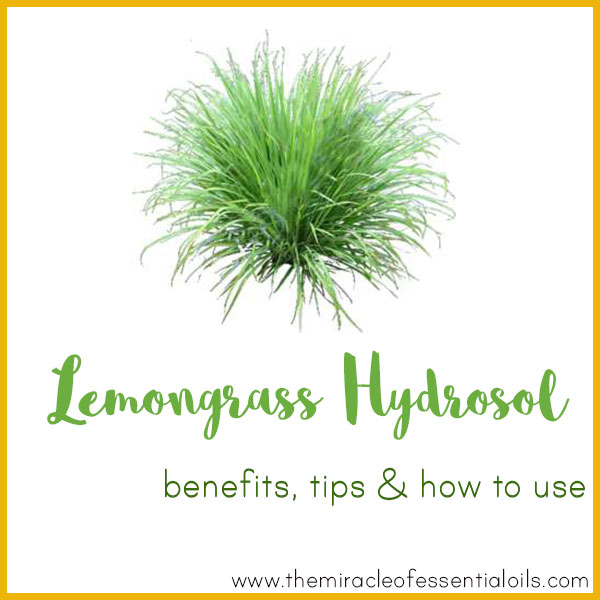 What is Lemongrass Hydrosol?
Lemongrass hydrosol is a colorless liquid extract obtained from steam distillation of the fresh blades of lemongrass (botanical name: Cymbopogon citratus). It is native to India and is popularly used to make a herbal tea.
The aroma of lemon grass is fresh with a hint of lemon and a tiny touch of spice. It's totally refreshing and has many other benefits as you can see below!
Benefits of Lemongrass Hydrosol
1. Antibacterial
Lemongrass hydrosol is antibacterial in nature. It's good for controlling acne, treating ingrown hairs and fighting itchy skin and scalp conditions.
2. Diuretic
Just like cypress and juniper hydrosols, lemongrass hydrosol is a powerful diuretic. It assists in drainage of excess fluids in the body. Use it to reduce cellulite, puffy eyes or bloated body. You can take 1 tbsp in 1 liter of water throughout the day to reduce water retention. Add a tbp of juniper hydrosol.
3. Deodorizing
Lemongrass hydrosol has a fresh green scent with a touch of lemon and spice. That's a really good scent that can be used as a masculine or feminine body mist. Spray it on your skin and hair after a shower as a natural perfume. It can also be used to make a deodorant spray for the summer! Recipe in the next section below.
4. Circulatory Stimulant
Since it promotes proper circulation of blood, lemongrass hydrosol is good for reducing varicose veins. It helps stimulate flow of stagnant blood in the varicose veins. Spray directly on the veins as many times a day or use it in a compress.
5. Oily Skin & Hair Reducer
Got oily skin or hair? Use lemongrass hydrosol! It has oil-control action that removes excess oils on the skin and hair.
For skin, store lemongrass hydrosol in a fine mist spray bottle and spray on your face after cleansing. For hair, add ¼ cup lemongrass hydrosol to 1 cup of water and use as a hair rinse.
6. Relieves Dysmenorrhea
Lemongrass hydrosol can relieve painful periods known as dysmenorrhea. Spray it on a washcloth till soaked but not dripping. Place it on your lower abdomen to cool it down and numb pain.
You can also take it internally together with ginger hydrosol to acts as a pain reliever. Simply combine 1 tbsp lemongrass hydrosol, 1 tbsp ginger hydrosol and 1 tsp raw manuka honey in a cup. Stir very well to combine then take it. Consume twice a day.
7. Soothes sore throats, colds and fever
Mix up 2 tbsp of lemongrass hydrosol and 1 tsp of ginger hydrosol in 1 tbsp of pure honey and sip slowly for relief.
Other Benefits of Lemongrass Hydrosol
6. Reduces hypertension
7. Prevents constipation and regulates bowel movement
8. Clears clogged skin pores
9. Improves difficulty urinating
10. Can be used to clean cuts, sores and wounds
How to Use Lemongrass Hydrosol
» Air Freshener
Overcome musty smells in the pantry, basement or any room by diffusing lemongrass hydrosol. Instead of water, add lemongrass hydrosol to your cold-air diffuser to neutralize stinks and freshen up spaces.
» Body Mist, Toner or Aftershave
Combine ½ cup of lemongrass hydrosol and ¼ cup vetiver hydrosol in a spray bottle. Mist onto skin.
» Flea Repellent
Store lemongrass hydrosol in a fine mist spray bottle. Spritz all over your pet's fur to deter fleas.
» DIY Deodorant Spray
In a Pyrex measuring cup, add 3 oz lemongrass hydrosol, 2 tsp fine Himalayan pink salt, 1 oz witch hazel and 1 tsp baking soda (optional). Stir well to combine. Pour it into a cobalt blue glass spray bottle. Spray onto underarms.
» immune Boosting Supplement
Take 1-2 tablespoons up to 3 times a day as a tonic. You can also add it to your water bottle and sip throughout the day.
» Beverage Enhancer
Add a tsp of lemongrass hydrosol to any beverage including tea, coffee, soda, iced drinks and more to improve the flavor.
» Marinating & For Soups
Use 2 – 4 tbsp of lemongrass hydrosol when marinating meat for a delicious flavor. You can also add it to soups to remove the heavy meaty flavor.
» Natural Children's Perfume
Spritz in on your children's clothes and skin for a natural non-toxic perfume. You can also add ½ cup to their bath water or spray some on a washcloth and use it to cleanse their faces.
For More Ideas on How to Use Lemongrass Hydrosol, Read: 25 Ways to Use Hydrosols 
Where to Buy Lemongrass Hydrosol
Always purchase 100% pure organic lemongrass hydrosol. You can get it here.