Magnolia champaca is a heavenly scented flower native to South Asia. From it, a fresh floral hydrosol is extracted. Discover magnolia hydrosol benefits and uses on this page.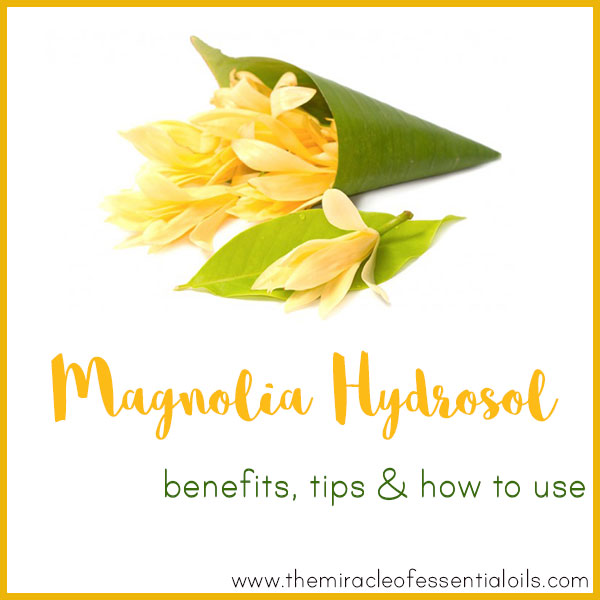 What is Magnolia Hydrosol?
The sweet scented flowers of Magnolia champaca are steam distilled to produce a wondrous product: magnolia hydrosol.
It has a lovely fresh floral scent that is heavenly to use as a natural perfume. Not just for perfume, magnolia hydrosol also has other benefits for beauty and wellness as you can see below:
Benefits of Magnolia Hydrosol
Below are 5 benefits of magnolia hydrosol:
1. Antibacterial
Magnolia hydrosol has antibacterial properties that help treat acne skin. It's also good for soothing itchy and irritated scalp issues.
2. Anti-allergenic
If your skin is prone to irritation, redness and allergies, then magnolia hydrosol is for you. Make a moisturizer with it (recipe below) and use it as a skin toner.
3. Skin rejuvenation
Make your skin glow with youth by using magnolia hydrosol as a facial toner! Store it in an amber spray bottle and mist on your face after cleansing it. Let it dry up then moisturize.
4. Fights stress and depression
Fight stress by diffusing magnolia hydrosol! Its amazing floral scent also has calming and uplifting properties that combat depression.
5. Natural Perfume
With its sweet lovely scent, magnolia hydrosol can be used as a clothing spray, air freshener and diffuser. It will fill a room with it beautiful scent that's calming and relaxing.
How to Use Magnolia Hydrosol
» Body Mist
Store magnolia hydrosol in a fine mist spray bottle. Mist on body as a natural and subtle perfume that lingers.
» Facial Cream
Make a beautiful scented skin rejuvenating cream by whipping shea butter and magnolia hydrosol in an electric stand mixer. All you need to do is blend ¼ cup of pure shea butter with 2 tbsp of magnolia hydrosol in your blender. You can then add other nourishing ingredients such as vitamin E oil then whip again. Store in an amber glass jar.
» Skin Spray for Allergies
Combine ¼ cup of tea tree oil and ½ cup of magnolia hydrosol in a spray bottle. Spray on hot, itchy and irritated skin for relief.
» Diffuser Recipe
Instead of water, place magnolia hydrosol in your cold air diffuser. Diffuse in your room for a lovely stress-relieving scent.
» Clothing & Line Mist
Freshen linen and clothing by spraying on them magnolia hydrosol. You can even use it in your dryer for a lingering fresh floral scent.
For More Ideas on How to Use Magnolia Hydrosol, Read: 25 Ways to Use Hydrosols 
Where to Buy Magnolia Hydrosol
Ensure to buy 100% pure organic magnolia hydrosol. You can purchase it here.