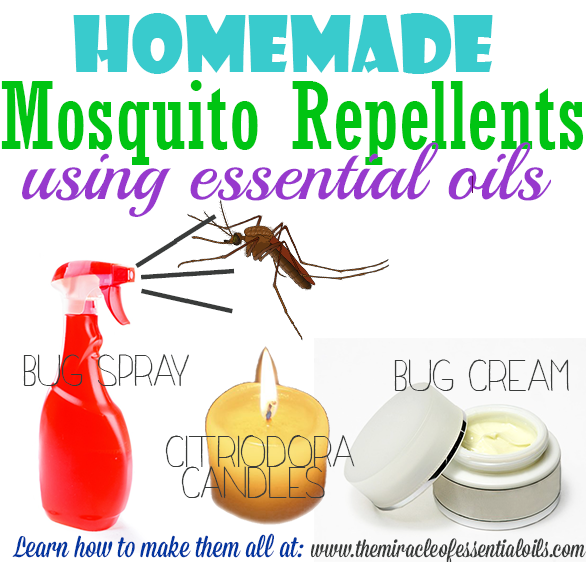 Did you know you can make your own homemade DIY mosquito repellent using essential oils? Using the right recipes, you can make a safe, non-toxic repellent that works just as effectively as store-bought bug repellents!
Why make your own mosquito repellent
The case for making your own repellent is strong, yet many people find it convenient to just grab the first bug spray or cream they find at Walmart. Be different, spend a little time out and creatively to concoct your own mosquito-repelling products. Here are some compelling reasons to do so:
1. Avoid chemicals in bug spray
Conventional bug repelling products are laced with harmful, neurotoxic chemicals like DEET. These chemicals, when used frequently or over prolonged periods of time, have been scientifically proven to damage the central nervous system and affect memory and motor skills! Other chemicals like artificial fragrances and preservatives are known carcinogens (cancer-causing substances) and are related to hormonal imbalances and fertility issues. Yikes!
2. It's economical
Making your own products is actually economical, and can save you a lot of money down the line. After all, you won't have to pay for unnecessary things like attractive packaging and labelling! Just recycle any old jars/containers and make your own cute labels. Even the ingredients can be cheaper because you'll most like be using things like essential oils for other purposes in your life!
3. It's easy and fun!
Call your kids to help you make your own homemade products, and you have yourself free, family fun activities. As you know, kids LOVE helping out in projects because it makes them feel important and appreciated! Even if you're making them by yourself, it's still fun and easy!
Essential oils that are hated by mosquitoes
Here are the top essential oils that deter mosquitoes faster than you can say "bug off"!
» Mosquito repellent using essential oils – DIY cream
This DIY mosquito repellent cream is made using my favorite carrier oil of all time, COCONUT OIL! Coconut oil works particularly well in bug repellent recipes because it lengthens the active working time of the essential oils and increases the effectiveness of the bug repellent, as proved by a study published in 2011 in the Malaria Journal.
What you need

Directions
In a clean mason jar, add soft coconut oil and then drop in the measured amounts of essential oils carefully.
Now screw on the lid and shake the contents to get them all nicely mixed up.
Place the jar in your refrigerator to set overnight, or at least 2 hours.
You can now use your mosquito repellent cream by applying it all over your exposed skin areas to keep off those pesky critters. Reapply as needed.
» Mosquito repellent using essential oils – Bug spray
You can make your own fancy mosquito repellent bugs spray, with just a few natural ingredients!
Ingredients
Directions
Get a clean spray bottle and pour in all the measured amounts of the above ingredients.
Place the cap and shake vigorously to get the contents nicely mixed up.
Use immediately by spraying your surroundings to keep mosquitoes away!
Note: Spray away from the eyes, mouth and mucous membranes to avoid irritation.
» Mosquito repellent using essential oils – Citriodora candles
Burning candles in the outdoors and even indoors is a romantic and sets the ambience – but burning CITRIODORA candles helps you enjoy a romantic, ambient time MINUS the mosquitoes. What more could we want?
Ingredients
Equipment needed
Directions
Using a double boiler, melt the bees wax pastilles and coconut oil. Stir frequently in between to melt them evenly. If you don't have a double broiler, you can easily improvise by using a large glass bowl over a large pot of water on medium heat.
Take the melted wax and oil off the heat and allow to cool down a bit so that you can add the citriodora oil. Do not add the oil while the wax/oil mix is still hot because it can destroy the effectiveness of the essential oil. Wait for it to cool a bit but still be in liquid form so you can mix it all together using a chopstick.
In your glass containers/mason jars, use the wick stickers and stick the candle wicks right at the center of the jar bottoms.
Place your chopsticks across the top of the jars and carefully stick the top of the wicks on to the chopsticks using some of the wick stickers
Now gently pour the melted wax into the jars and allow to cool for a day.
Your mosquito repellent citriodora candles are all ready now! Light them up and fill the air with the refreshing scent of citriodora which we love, but mosquitoes HATE!
What are your favorite ways of getting rid of mosquitoes naturally? Let us know in the comments below!