Take a peek into the most luxurious and most expensive essential oils of the world.
There's something fascinating about the mysterious and medicinal world of essential oils. When it comes to the most expensive essential oils of the world, the mystery is even more enticing because the numbers are out of this world!
Top 10 Most Expensive Essential Oils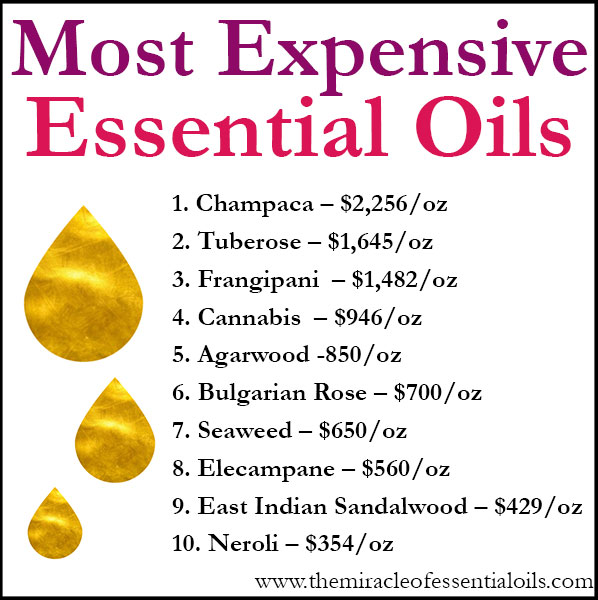 1. Champaca Essential Oil – $2,256/oz
The most expensive essential oil in the world is almost two times the price of gold, gram for gram!
Women in West Asia are known to spin these aromatic orange flowers into wreaths that they let hang from their hair. It is known as a cure headaches, vertigo and motion sickness. Possibly the only substance that could be called "happiness in a bottle", champaca oil (where to buy) has been revered for centuries as a cure for depression. It has an exotic, rich floral yet citrusy scent that is also known as a powerful aphrodisiac.
Want to get your hands on some champaca essential oil? I know I do!
2. Tuberose Absolute Essential Oil – $1,645/oz
Tuberose essential oil (where to get it) is extracted from the delicate white, sweet, mystic and deep-scented tuberose flowers, that will give you a romantic trade mark scent that people can remember you by. It is a powerful aphrodisiac and is said to awaken the creative spirit of the mind. Getting your hands on the real thing is quite difficult though, as the market is rife with duplicate products.
This one is definitely on my wish list!
3. Frangipani Absolute Essential Oil – $1,482/oz
Frangipani has an exotic, deep and mysterious scent that cannot be described but only experienced! I was lucky to grow up in Africa, surrounded by a handful of frangipani trees that used to shed their white, yellow, pink and purple flowers generously coating the ground like a aromatic carpet from heaven.
The essential oil extracted from these flowers is so thick and waxy that it has to be heated to make it spreadable. Aside from its stunning scent, the oil has potent anti-inflammatory properties and is a stress-buster! You can get frangipani absolute oil here.
4. Cannabis Flower Essential Oil – $946/oz
Although the cannabis plant grows cheaply and speedily, since it is highly regulated, the essential oil of the cannabis flower is rare and therefore very costly. This oil provides a host of medicinal values from balancing hormonal disturbances, skin ailments and inflammation. Diffusing cannabis flower oil(where to get it) can induce relaxation and reduce stress. Don't worry, it won't get you high, but it will cost you a pretty penny and that's pretty much the same thing. Right?
5. Agarwood Essential Oil – $850/oz
Agarwood oil (where to get it) is reputed to be the most expensive essential oil in the world today yet it is popularly sought after, especially in the Arab world. It is extracted from distilling the timber of the agarwood tree, which is extinct in most parts of the world and the few remaining trees in the world, located in Cambodia and other parts of the Middle East are protected in sanctuaries.
The oil can only be extracted from agarwood after treating it with a fungus that actually infects the wood. The deep, woody and sweet fragrance of this oil has been revered since ancient times. It is a powerful mood lifter, reduces stress and removes anxiety.
6. Rose Essential Oil (Bulgarian) – $700/oz
One of the most expensive yet well-known and loved essential oil is from the Bulgarian rose flower. To extract just one pound of rose oil, more than 5,000 rose flower petals are needed. This makes rose oil (where to get it) a very precious and costly oil. With potent anti-aging compounds, rose essential oil stimulates collagen production in the skin, promoting a smooth and youthful appearance. It is often found in high-end beauty products but you can make your own preservative-free, toxin-free personal products with organic rose oil.
7. Seaweed Absolute Extra Essential Oil – $650/oz
Another rare, yet commonly used ingredient in high-end skin care products is seaweed extract or seaweed absolute essential oil (where to get it). It has amazing anti-aging and skin-soothing properties that are evident in the ageless, ever-youthful Japanese women who eat seaweed as a regular part of their diet. Seaweed has a woody, briny and herbaceous smell that reminds one of the ocean. It is actually used in many perfumes, especially masculine scents for its ocean-breeze scent.
8. Elecampane Essential Oil – $560/oz
Having a sweet, floral and camphorous aroma, elecampane essential oil (where to get it) is extracted from its flowers, also known as wild sunflower, yellow starwort and velvet dock. Once native to some islands in Europe, the herb is now grown in many parts of the world including Asia and Australia. Elecampane essential oil works wonders for all sorts of respiratory illnesses such as cough, bronchitis, colds and flu and lung infections. It's also great for supporting cardiovascular health and works as a digestive tonic.
9. Sandalwood Essential Oil (Indian) – $429/oz
Originating from India, sandalwood essential oil (where to get it) is extracted from distillation of the mature bark and timber of the majestic sandalwood tree. Its scent is woody and grounding yet fresh and uplifting at the same time. Sandalwood is revered for its skin-soothing properties as well as its spiritual properties and has been used for centuries in religious ceremonies for its calming and soothing effects. The oil is rare because of government impositions on the harvest of the wood, which takes years to reach maturity.
10. Neroli Essential Oil (Orange Blossom) – $354/oz
With its calming, soothing and stimulatory effects, neroli oil, also known as orange blossom essential oil (where to get it) is extracted from the flowers of the bitter orange trees. The entrancing scent of neroli can be described as a sweet, honey-like, entrancing and citrus-floral. Neroli is not just a pretty flower with a lovely scent; its oil is jam-packed with amazing healing benefits including disinfecting wounds, beautifying the skin, curing insomnia and alleviating depression.
I love using orange blossom water, otherwise known as neroli hydrosol – I can only imagine what having a bottle of neroli would be like!
What's your favorite from this list of most expensive essential oils in the world? Share with us in the comments below!