If you are looking for a natural remedy for swimmer's ear, there's nothing as effective as this safe yet powerful disinfectant ear drops recipe!
What is Swimmer's Ear?
Medically known as Otitis externa, swimmer's ear is an inflammation of the ear canal.
The common symptoms of swimmer's ear include:
Inflammation and swelling of the ear canal
Ear pain
Decreased hearing
Fever (in severe cases)
Swimmer's ear is most common in children between the ages of 7 and 12, and among the elderly. In those suffering with diabetes, immediate care is crucial to prevent the formation of malignant otitis, which is a severe form of the disease.
What Cause of Swimmer's Ears?
Most acute cases of swimmer's ear are one-off, and occur due to bacterial infection. Acute otitis may be caused by swimming, trauma to the ear, using earphones or ear plugs for long hours, or other conditions such as psoriasis and dermatitis. For treatment, you will usually be prescribed with antibiotic ear drops such as ofloxin. Non-antibiotic ear drops such as acetic acid may also be prescribed for minor cases.
Unfortunately for some, swimmer's ear may be a chronic case, with repeat attacks. Chronic otitis is often caused by allergies or autoimmune disorders. For chronic sufferers or those with a weak immune system or infection in the ears, oral antibiotics may be prescribed. Steroid drops may also be prescribed alongside antibiotics. Culturing the ear with friendly bacteria is also good natural treatment for chronic cases.
Why Use a Natural Remedy for Swimmer's Ears?
As you may already know, repeated exposure to antibiotics is not healthy for the body. Unless you have severe pain or fever (in which case you should go to the doctor) you can always try out some natural home remedies to treat swimmer's ear.
Many people will testify that the best homemade natural remedy for swimmer's ear is homemade ear drops! These eardrops only require 2 ingredients! The advantages of homemade ear drops include:
Easy to make
Completely safe and natural
Contain natural antibacterial, antimicrobial and antiseptic properties
Have potent disinfectant properties
Potent anti-inflammatory properties
Reduces swelling and pain
Reduces redness and irritation
Safe to use with babies and children
Homemade Ear Drops for Swimmer's Ear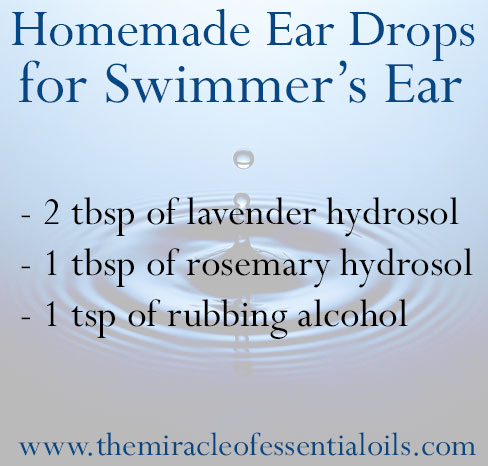 Here's the simple homemade ear drops recipe that you can use for swimmer's ear!
What you need:
Directions:
In a clean bowl or cup, pour the above ingredients and mix them with a clean spoon.
Get a clean and dry dropper bottle (you can recycle an empty ear drops bottle), and fill it with the ear drops solution.
To use, lie down on your side with the infected ear to the top. Drop 2 – 3 drops of the ear drop solution into the infected ear. Remain in the lying down position for 10 minutes.
Repeat 2 – 3 times a day.