Yes, essential oils are natural and have great healing powers. But too much of a good thing can be bad, and this is exactly where all negative reactions to essential oils stem from.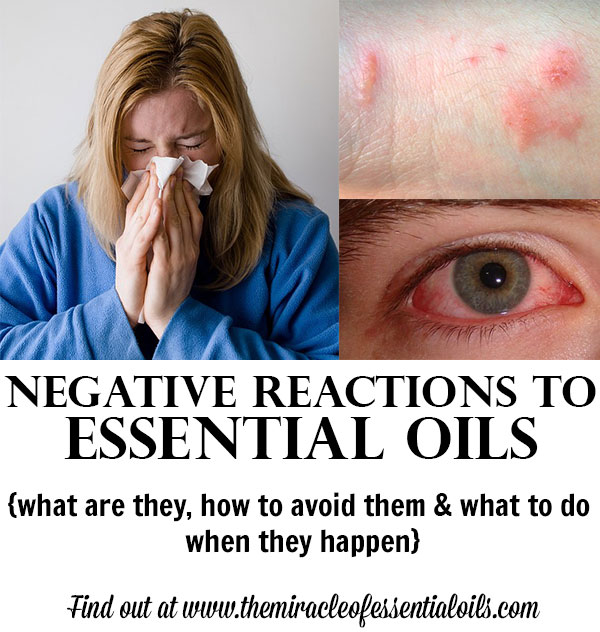 The Dangers of Essential Oils
Essential oils are wonderful. Obtained via pressing or distilling, essential oils are rich in healing and medicinal plant compounds that offer many health benefits.
But too much of a good thing can be bad, and similarly too much of essential oils can be very dangerous.
In order to properly enjoy the benefits of essential oils, knowledge of how to dilute them correctly, their chemical constituents and their proper usage is very important.
These are some of the situations where essential oils can be dangerous and have negative side effects:
Using essential oils neat or undiluted on skin
Using essential oils at high concentrations (more than 3%)
Frequent application of essential oils over a long time period
Using adulterated essential oils with toxic additives
Ingesting essential oils incorrectly
What are the Negative Reactions to Essential Oils?
Here are some of the negative reactions to essential oils that have been recorded in history:
Chemical burns – Using certain potent essential oils directly on the skin can lead to chemical burns. This is characterized by redness, rashes, itching, painful burning sensation and skin discoloration.
Photo-toxicity – Citrus essential oils such as lime, lemon, bergamot and others can lead to adverse reactions when applied on skin and exposed to direct sunlight. This is because these essential oils are photo-sensitive and react to the UV rays present in sunlight. If you must use citrus oils under the sun, choose steam distilled citrus oils rather than the cold-pressed ones.
Abortive effects – Essential oils such as mugwort, sage, tarragon and wintergreen must be avoided by pregnant women because of their potential abortive effects. Some oils can trigger uterine contractions and should not be used by pregnant mothers.
Irritation – Using essential oils without proper dilution can cause skin irritation (which entails itching, swelling, rashes/hives) that may take days to heal. Irritation is especially common in those with sensitive skin and in children.
Damage to eyes – There have been several cases of essential oils getting into a person's eyes and causing severe irritation and temporary or permanent damage to the corneal tissue.
Damage to mucosal membranes – Ingesting essential oils incorrectly (such as by taking them in water) can cause damage to the mucosal membranes that line our internal organs.
Not safe for pets – Most pets especially smaller pets and cats cannot tolerate essential oils, yet we find many people trying to self-treat their pets with essential oils. This can cause great damage to these innocent creatures who cannot even express to us the discomfort they may be feeling.
Organ failure or death – The only recorded cases of death in aromatherapy are when essential oils are ingested in large quantities. Remember, essential oils are very potent. Would you be eating 3000 pounds of plant matter? No. So why would you overdose on an essential oil that could contain the equivalent of literally tons of plant material. And no, overdosing on essential oils is not a good way to commit suicide because everyone reacts differently and you could just end up with massive organ damage.
What to Do in Case of Negative Reaction
» If you get essential oils in your eyes – Do not flush with water! Instead flush with a fatty medium such as boiled/pasteurized milk or a carrier oil. The fatty medium will help glue to the essential oil in your eye and pull it out.
» Skin irritation – If you are having negative reactions on your skin, first remove all traces of oil by using a cotton ball dipped in a carrier oil like coconut oil. Repeat several times if needed and then wash your skin.
» In case of mucosal irritation – Drank lemon essential oil in water and facing burning sensations at the back of your tongue and throat? Try drinking a cup of milk or yogurt, it will soothe the damaged membranes. Please do not ingest essential oils in water.
How to Avoid the Adverse Effects of Essential Oils
» When handling essential oils, wear gloves. This is especially so when making large batches of diy products, where there is a greater chance of essential oils getting onto your fingers and hands. So many people have got essential oils like peppermint into their eyes just by scratching their eyes after handling the oil without gloves.
» Wash your hands thoroughly If you aren't wearing gloves by any chance, make sure you wash your hands thoroughly with an oil-based soap to remove any remnants of oil before handling food etc
» Always dilute essential oils properly Some people think that by using more essential oil, they can get better or faster results. This is simply not true. Using too much of an oil can be dangerous and fatal. On the flip side, diluting too much may give little to no results and make no difference in topical application. Learn how to properly dilute essential oils.
» Never use essential oils neat – Even oils such as lavender and tea tree, which are deemed safe to apply 'neat' or direct on to the skin, should not be used that way unnecessarily. They may only be used neat in one-off situations such as to address a burn or bug bite/sting. For daily use, always dilute essential oils.
» Always rotate essential oils – To avoid sensitization, always keep changing up the essential oils you use. Don't go more than 2 weeks of using the same oil daily. Sometimes, it is even recommended that you take breaks from using essential oils.
» Buy essential oils from trusted sources – Only buy 100% pure certified essential oils. Many unknown brands may be adulterated or come with additives and fillers. Do your research and choose wisely.
Have you ever had any negative reactions to essential oils? How did you deal with it? Please share your experience in the comments below.