The oil cleansing method is the cheapest and easiest beauty secret that many don't know about. Now learn how to do oil cleansing with essential oils for a beauty regime that will keep your skin looking young, supple and radiant!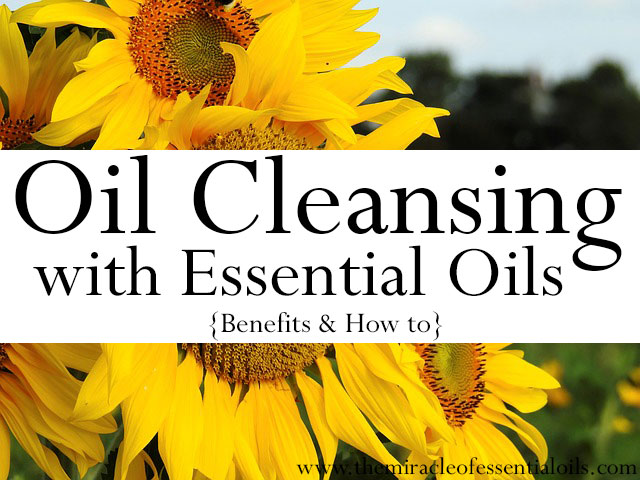 What is Oil Cleansing?
Oil cleansing (also known as the Oil Cleansing Method/OCM) is a beauty regime that entails applying oil on your face, massaging the oil into the skin, steaming to open up the pores and wiping off the oil with a hot cloth. Doesn't seem like much, huh?
In fact, oil cleansing is a tried and tested method of keeping your skin clean and beautiful. The method stems from the ancient Ayurvedic practice of applying oil all over the skin, allowing it to rest on the skin for some time and then washing it off.
The basic principle is simple – the oil penetrates the pores and attaches itself to grime, grease, dried sebaceous oil and more. This oil is then wiped off from the skin, along with the impurities. It leaves your skin absolutely clean and free of nasty stuff. Compare this to soap, which not only strips your skin of natural oils, but also leaves behind residue that can get stuck in your pores, age your skin faster, create acne and dehydrate your cells!
The Benefits of Oil Cleansing
Here are some of the many benefits of oil cleansing:
It's cheap – all you need is some oil and a wash cloth!
It's minimal – it simplifies your life so you don't have to load up on a dozen products just for your face!
Moisturizing – the oil hydrates and moisturizes the skin
Balancing – applying oil on the skin tricks your sebaceous glands into producing less oil. This balances both dry skin and oily skin!
Prevents acne, blackheads and pimples – oil cleansing helps remove dead cells, dirt and grime from the pores,which helps greatly reduce the chances of breakouts.
Anti-aging – helps prevent the formation of wrinkles
Makeup remover – completely takes off all traces of makeup
Reduces puffiness – oil cleansing involves massaging the skin and applying heat, which greatly reduces puffiness and water retention on the face
Relaxes – oil cleansing is absolutely relaxing and can help you wind down and get ready for bed
The Benefits of Adding Essential Oils to OCM
Essential oils are amazing medicinal substances derived from numerous herbs, plants and flowers. They offer so many benefits for various health conditions from gum disease to bronchitis, cancer, arthritis and more.
For your skin, there's nothing more luxurious and healing that you can apply than essential oils!
Here are some of the best essential oils that you can use in your oil cleansing routine:
» Geranium oil (where to get it) – Balances hormones, clears hormonal acne, soothes skin, astringent properties, tones skin, reduces pores, anti-aging properties, deodorizers
» Tea tree oil (where to get it) – Highly antibacterial, kills harmful bacteria on skin, prevents acne, prevents pimples, disinfects pores, fights infections
» Lavender oil (where to get it) – Soothes skin, reduces inflammation, shrinks swollen pimples, removes rashes, calms and relaxes, reduces acne
» Frankincense oil (where to get it) – Best for anti-aging, fixes hyperpigmentation, lightens scars and blemishes, antidepressant
» Rose oil (where to get it) – Luxury skin treatments, anti-aging properties, reduces redness, soothes skin, rich in antioxidants, balances hormones, fights acne, evens out skin tone, boosts confidence, antidepressant
How to Do Oil Cleansing with Essential Oils
What you need:
Method:
In an oil dispensing bottle (or any other recycled bottle/glass jar), mix all of the ingredients.
Stir to get all the oils evenly distributed.
Now follow the oil cleansing method using this oil mixture: Deeply massage 1/2 tsp of the above oil blend on your face. Then wring out a soft microfiber cloth in hot water and start pressing it on your face. Wring out the washcloth in hot water again and repeat. Now wipe off the excess oils from your face and rinse off with cold water. That's it! Pat your face dry and you're good to go. Yes, there's no need to moisturize! Your face will be soft, smooth, well moisturized and youthful.
Are you a fan of oil cleansing with essential oils? What are your favorite essential oils to use? Tell us below!