By using oil of oregano for psoriasis treatment, you can successfully get your dry itchy and burning psoriasis patches under control! What makes oil of oregano so beneficial for psoriasis? Find out in this article.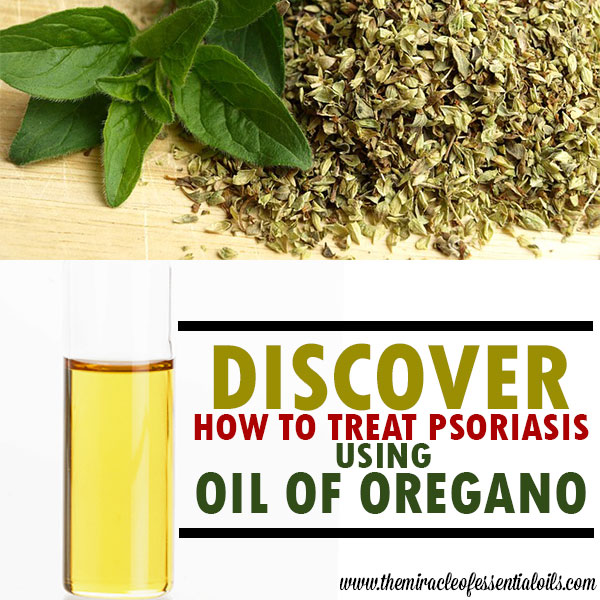 What is Oil of Oregano?
An essential oil extracted through steam distillation of the flowering tops of Origanum vulgare, oil of oregano is one of the most powerful herbal oils that has numerous therapeutic qualities including anti-fungal, antimicrobial, antiviral and antibacterial properties that all help fight off germs and microbes that irritate the body internally and externally.
Medicinal Constituents of Oil of Oregano
Carvacrol – A key compound in oil of oregano, carvacol is also found in thyme oil and it has been shown to inhibit the growth of several strains of harmful bacteria including Escherichia coli (1) and Bacillus cereus as well as candida ablicans, salmonella and more.
Thymol – Another active ingredient in oil of oregano, thymol is a part of naturally occurring compounds known as biocides that have potent antimicrobial effects. Thymol is also a powerful antimicrobial and antifungal agent and has immune boosting properties that help strengthen a weak immune system, which is a possible cause of psoriasis. This natural plant compound also prevents tissue damage and facilitates speedy healing.
Linalool – A derivative of monoterpenes, linalool is known for its powerful antibacterial properties that can help fight off bacteria and germs which aggravate psoriasis. Linalool has also been extensively studied for its anti-depressant properties and it has also been shown to kill cancer cells at a very low concentration (2).
Beta-caryophyllin (E-BCP) – Good for reducing inflammation in the body hence especially helpful for psoriasis that is an inflammatory condition.
Narginin – Narigin has antioxidant activity that protects the body from oxygen-scavenging free radicals. Studies show that it also inhibits the growth of cancer cells (3).
How to Use Oil of Oregano for Psoriasis Treatment
Here are 3 effective ways to use oil of oregano to help soothe and manage your psoriasis naturally:
» Soothing Bath Treatment
What you need
¼ cup of coconut oil
15 – 20 drops oil of oregano
Method
Mix together the above ingredients and add it to your warm bath. Relax in the medicinal bath for as long as possible.
» Homemade Oregano Ointment
What you need
1 cup of coconut oil
½ cup of shea butter
1 tsp raw honey
15 drops oil of oregano
16 oz amber jar
Method
Melt the shea butter and coconut oil in a double boiler over low heat.
Once melted, place it in the refrigerator for 15 minutes for it to cool down and change from the liquid state to a partially solid state that makes it easier to whip up with a hand mixer.
Now add the rest of the ingredients and whip to a fluffy white texture using a hand mixer. This may take 5-7 minutes depending on the speed of your hand mixer (remember to keep scraping down the sides of the container to ensure everything gets well incorporated.
Transfer your ready made ointment into a clean sterilized amber jar (amber because we don't want the ointment to get oxidized).
Use on wet skin after a shower to soothe and heal psoriasis patches.
» Oil of Oregano Supplements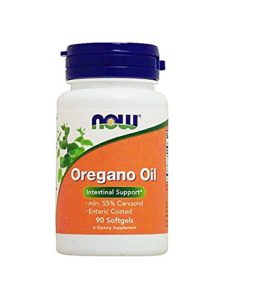 These oil of oregano soft gels are a herbal dietary supplement and can be used as an immune system booster to help you holistically manage psoriasis. The safety direction for ingestion is to take 1 softgel 1-2 times daily, with meals. Make sure to consume these oregano capsules after eating a meal because if taken on an empty stomach, it can cause burning sensations in your stomach.
Where to Get Oil of Oregano
Did you know that there are over 40 species of the Origanum plant that the essential oil can be extracted from? However, the most potent oil touted for its therapeutic and medicinal qualities is the oil from Origanum vulgare or wild oregano, native to the Mediterranean. As always, ensure to get a 100% pure high quality essential oil from a trusted source. If taking it internally, it's best to only ingest oil of oregano supplements that are in capsule form.
Other Natural Remedies for Psoriasis
While using oil of oregano for psoriasis, keep in mind that there are lifestyle changes such as eating a nourishing balanced diet with antioxidant-rich foods and getting your daily dose of sunshine that are invaluable self care measures for getting psoriasis under control.
Then there are other powerful natural remedies you should try incorporating into your daily routine for wholesome treatment. The specialty of natural remedies is that they help address the root cause of the problem & holistically heal the whole body, not just suppress psoriasis symptoms alone, which conventional psoriasis treatments do.
»  Apple cider vinegar
This powerful superfood bursting with beneficial bacteria is immensely helpful for inflammatory conditions like eczema and psoriasis. It not only has anti-inflammatory properties but also boosts the immune system, improves gut health and fends off free radicals, hence helping fight off psoriasis flare-ups. You can take organic raw apple cider vinegar every morning in a warm glass of water, mixed with a teaspoon or two of honey to benefit from its healing effects for psoriasis and overall health.
»  Basking in the sun
Sun exposure and vitamin D are highly valuable in improving psoriasis affected skin. UVB radiation not only metabolizes vitamin D in your skin but also help regenerate skin cells and restore their function. Enjoy the gentle and soothing morning sun and avoid the strong harsh sunlight at noon and in the evening hours.
»  Colloidal oatmeal
I swear by oatmeal for its incredible soothing benefits that can relieve any skin woe – from bug bites to bacne to painfully dry and itchy psoriasis patches. To use it, throw a handful into a warm bath, swirl it with your hand to mix and create a milky mixture. Now you can add a few drops of oil of oregano then soak in for as long as the water grows cold. Your skin will feel extremely soothed!
Safety when Using Oil of Oregano

Oil of oregano is a very potent substance so please use it with caution.
Before use, apply a patch test on your skin and monitor it for about 1-2 hours to see if you might be allergic to oil of oregano.
Do not use it undiluted on skin because it is known to irritate skin – always dilute it in a pure vegetable oil first before application.
Keep oil of oregano away from children and pets. Do not let it get into mucous membranes such as the ears, eyes, nose, etc.
When consuming it, please make sure you're using food grade and organic oil of oregano and do not take it on an empty stomach.
Do not take large amounts of this oil as it can be neurotoxic and cause potentially serious health hazards.
References
(1) https://www.ncbi.nlm.nih.gov/pubmed/18366181
(2) https://www.ncbi.nlm.nih.gov/pubmed/19428344
(3) https://www.ncbi.nlm.nih.gov/pubmed/22213297
Save