Oil pulling is an ancient Ayurvedic practice that has numerous benefits. Oil pulling with essential oils just takes this age-old practice to a whole new level! Find out how!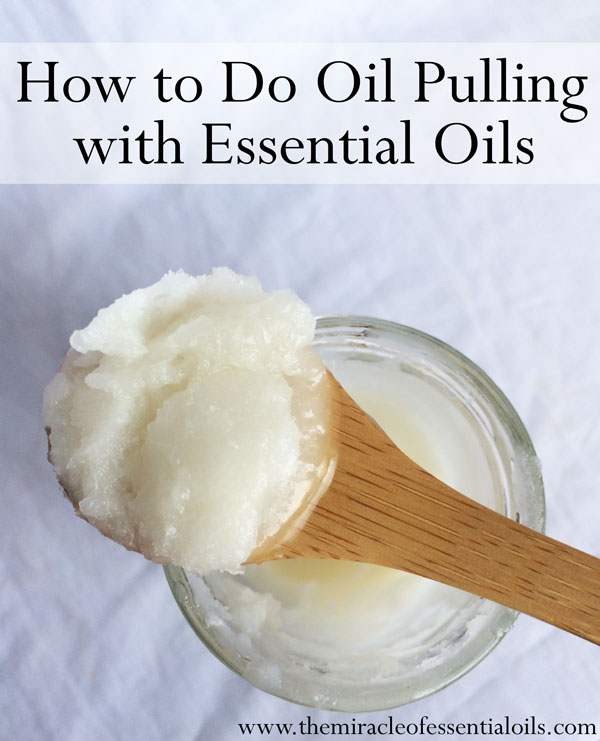 What is Oil Pulling?
Oil pulling is a 5000 year old dental practice, where oil is swished around in the mouth daily, on an empty stomach.
This technique originated from India, through the ancient healing science called Ayurveda.
Although there are not many studies proving the benefits of oil pulling, there are many records in Ayurvedic literature detailing the ailments that oil pulling can cure.
Today, you can also find many testimonials on the internet about how oil pulling has helped many people around the world.
How to Do Oil Pulling
Oil pulling is so easy to do! There's just no excuse to not do it!
Here are the detailed instructions on how to oil pull:
On an empty stomach, first thing in the morning, pour about 2 – 3 teaspoons of coconut oil into your mouth.
Swish, swivel and suck the oil around your mouth and through your teeth.
Do this for about 10 – 20 minutes.
Once done, spit out the oil into a rubbish can or toilet bowl, but not your sink.
Now rinse out your mouth with water 2 or more times and brush as usual.
Notes:
Never swallow the oil
Do not spit the oil into your sink, as it may clog the drains
Start with a small amount such as 1 teaspoon before increasing the dose.
You can use other oils such as sesame oil, olive oil and castor oil. You can even rotate the oils you use.
What are the Benefits of Oil Pulling?
There are just so many benefits to oil pulling, some of them being immediate effects while others may take weeks or months to show.
Here are some of the benefits of oil pulling:
Rids the mouth of harmful bacteria
Soothes and heals bleeding gums
Cures halitosis
Prevents gum disease, cavities, plaque and gingitivitis
Whitens teeth
Detoxifies the body
Reduces migraines
Supports kidney health
Stimulates different organs in the body
Oil Pulling with Essential Oils
Essential oils are potent healing substances that you should definitely make use of to amp up the benefits of oil pulling.
It is well-known that in Ayurveda the oil used in oil pulling was sometimes infused with herbs to cure certain ailments or help detoxification. Adding essential oils to your oil is a similar concept.
Remember, only 1 drop of essential oil should be added to 1 teaspoon of coconut oil. Essential oils are potent so using less is the way to go.
Here are some of the best oils you can incorporate into your oil pulling routine and their benefits:
» Peppermint oil (where to get it) – Greatly freshens up the breath, helps reduce halitosis, has energizing and invigorating properties
» Clove oil (where to get it) – Natural pain killer, helps reduce inflammation in the gums, helps reduce tooth pain, freshens breath
» Lemon oil (where to get it) – Helps whiten teeth, great for detoxification, helps neutralize bad odors
» Oregano oil (where to get it) – Highly antibacterial and antimicrobial, helps fight infection in the gums, helps kill harmful bacteria in cavities, staves off oral infections
» Cinnamon oil  (where to get it) – Rich in anti-oxidants, helps reduce inflammation, helps prevent oral infections
Have you tried oil pulling with essential oils? What changes have you noted in your oral health, and your general health? Please share in the comments below!