Garden pests are a nightmare for plant growers. They seem to wreak havoc on a bed full of ripening produce or a beautiful array of flowers. In the world of plants, pests are those harmful organisms which latch on to crops, feed and nest on them and render them unsuitable for harvest and consumption. The garden pest may belong to insects or fungi group, and familiar members include ants, aphids, beetles, caterpillars, fleas, flies, lice, ticks, and weevils. If you do not follow them up correctly then within hours, the pesky pests may destroy your entire cultivation. Luckily there are some effective DIY natural repellents like peppermint oil spray for garden pests which helps to keep this deadly creepy crawlies at bay.
Role of Essential Oil in Deterring Garden Pests
Essential oils are a highly concentrated form of oil, which are obtained from a plant's medicinal parts like leaves, stalk, flowers etc. They are truly the plant's "essence" and are obtained through distillation or cold pressing. Essential oils are a less known method of keeping garden pests at bay NATURALLY, and help your crops to bloom in full vigour. They prevent bugs from affecting your crops by killing them, incapacitating them or making the surroundings inadequate for their thriving, like erasing their pheromone trails.
Essential Oils to Combat Garden Pests
Here is a list of the essential oils which repel the creepy crawlies and keep your garden safe from their attack
Ants: Peppermint, orange, cedar wood
Beetles: Peppermint, thyme, garlic
Flies: Peppermint, lavender, citronella
Fleas: Peppermint, lemongrass, lavender
Aphids: Peppermint, spearmint, orange
Caterpillars: Peppermint, cedar wood, orange
Plant lice: Peppermint, spearmint, orange
Moths: Peppermint, citronella, cedar wood
Role of Peppermint Essential Oil in Repelling Garden Pests
Peppermint essential oil is one of the top three essential oils which effectively keep the garden pests at bay and prevents them from attacking your produce. This oil has significant antimicrobial properties and a lovely crisp smell which makes it a favourite among the gardeners.
The plant peppermint (Mentha aquatica) is a hybrid species of spearmint and water mint. Chemists extract the essential oil from this plant through cold extraction of the fresh aerial parts. The active ingredients in the oil include menthol (50-60 percent) and Menthone (10-30 per cent). Peppermint oil can do wonders in repelling many creepy crawlies like ants, aphids, caterpillars, flies and many other insects.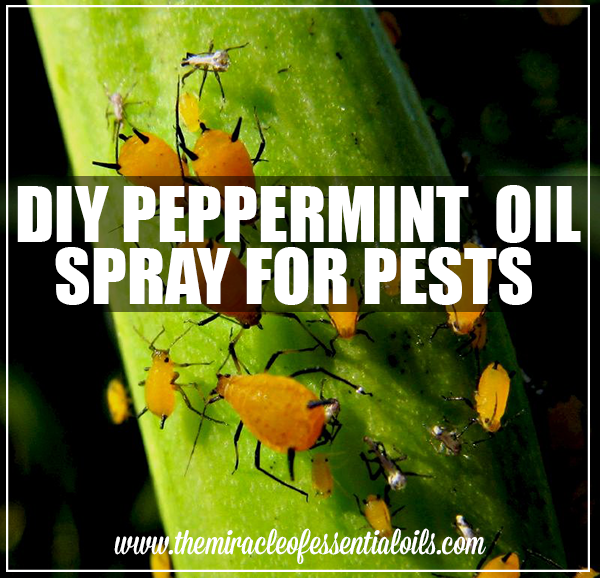 DIY Peppermint Oil Spray for Garden Pests
By far, this homemade peppermint oil spray for garden pests is one of the easiest DIYs to combat creepy crawlies from attacking your fresh produce. Let us now find out some unique DIY sprays which will provide a long-lasting solution from the attacks of garden pests to your months of hard work in your field.
The peppermint oil spray for garden pests is primarily functional in organic gardens where you do not wish to use any harmful pesticides or harsh antimicrobial solutions without hampering the quality of your crops.
DIY Peppermint Oil Spray for Garden Pests – With Alcohol
Ingredients:
Peppermint Oil – 50 drops
Eucalyptus Oil – 30 drops
Marigold Oil – 15 drops
Vodka – 1 cup
Directions:
Take half an ounce of each of the essential oil and mix them in a container in the ratio 1:1:1.
Now pour the entire solution in a garden spray bottle and generously dispense this oil mix over your crops.
Within you few days, you can notice a 90 percent drop in the number of uninvited visitors in the form of pests. It is better to spray early morning before the creepy crawlies find your plants.
DIY Peppermint Oil Spray for Garden Pests – With Witch Hazel
If you need to keep things alcohol-free, try this recipe with witch hazel.
Ingredients:
Peppermint Oil – 40 drops
Lemon grass Oil – 30 drops
Citronella Oil – 20 drops
Rosemary Oil –  10 drops
Witch Hazel – 1 cup
 Preparation of the Organic Pesticide
Take a plastic garden spray dispenser and pour the witch hazel into it.
Now carefully add each of the essential oil into the container, screw on the cap and shake until it is mixed thoroughly. Make sure you have used pure essential oil to get perfect results.
Close the cap tightly and spray it evenly over your plants. Within a few days, you will notice visible depletion in the number of aphids, caterpillar and flies infecting your plants.
Feel free to choose any peppermint oil spray for garden pests that you like, depending on the ingredients you have at home. Try them out to notice visible results within a few days of plant spraying. The best part? They are completely natural, and free of toxic chemicals found in commercial pesticides.