Headlice are a night mare when you discover it on your hair – or your child's! Find this potent essential oil blend for headlice to kill off those icky crawlers!
Many people have a phobia for lice. They can be very hard to get rid of, especially because you have to use lice killing treatments consistently.
What's more is that those treatments are toxic and contain synthetic substances that are hormone disruptors. Conventional lice treatment solutions can also lose their potency over time! This means lice get resistant and simply do not die even with long-term use!
Many times, home remedies work wonders in eradicating lice. It depends on the consistency, period of time and potency of those remedies. Some of them include olive oil, mayonnaise and of course essential oils! How do essential oils help kill head lice? Read on!
How Essential Oils Work for Head Lice
Essential oils are more effective than other remedies because they have strong chemical constituents that have incredible lice-repelling properties.
These constituents are also what makes essential oils great pesticides and insecticides. Some of them include: linalool, eugenol and menthol.
What Essential Oils Kill Head Lice?
Essential oils containing the above compounds are the most effective when it comes to wiping out head lice. Here are the best essential oils for head lice that you can use:
Eucalyptus
Clove
Peppermint
Cinnamon
Thyme
Caution: Please dilute the above essential oils before use. Using them undiluted or insufficiently diluted can cause burning sensations on the scalp.
Essential Oil Blend for Head Lice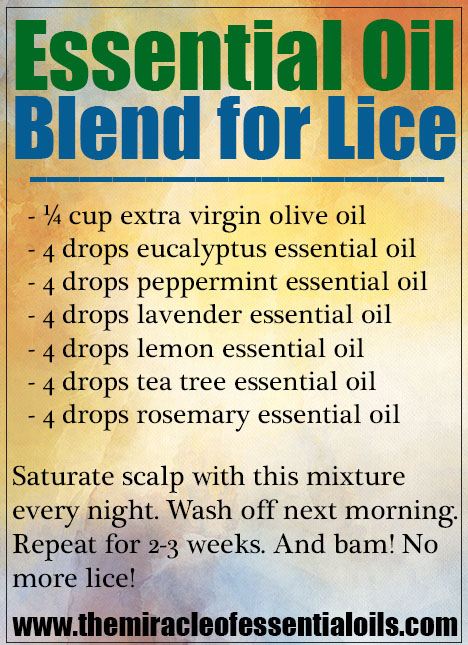 Below is a safe and potent essential oil blend for head lice that you can whip up and use on your hair or your children's hair.
What you need
¼ cup extra virgin olive oil
 Eucalyptus essential oil – 4 drops
Peppermint essential oil – 4 drops
Lavender essential oil – 4 drops
Lemon essential oil – 4 drops
Tea tree essential oil – 4 drops
Rosemary essential oil – 4 drops
Bottle for storage
Shower cap
Directions
Into a squeeze bottle, mix the olive oil and the essential oils.
Saturate the entire scalp and hair length with olive oil.
Now place a shower cap on top.
Wait for 2-4 hours for the oils to take effect.
Shampoo thoroughly twice to remove all oils.
Do this every day for 2-3 weeks to completely eradicate head lice.
Be careful with essential oils on children. For dilution, you can refer to this article: How to Dilute Essential Oils
. I have successfully got rid of head lice using effective essential oils! The lice literally just fall dead when you use essential oil treatments! So try out this essential oil blend for head lice and let us know how it goes!