Relaxation is when you allow your mind, body and soul to become calm and stress and worry-free. It's a time of enjoyment and leisure from the hustle and bustle of your 'real' life.
There are many ways people like to relax: meditating, spending quality time with their family or friends, doing fun activities, listening to some soothing music, sleeping, watching their favorite movies and others. For some people, just being away from stressful school/work can be relaxing.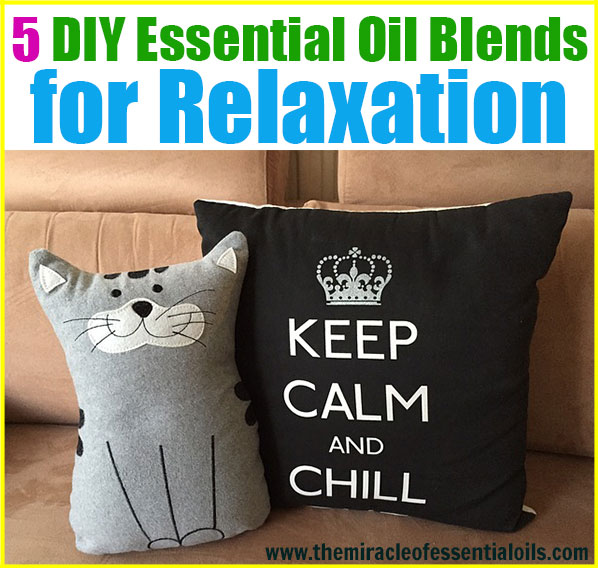 If you barely have time for relaxation in your life or want to spice up your me-time, introduce aroma therapy into your life! Aroma therapy has been proven to reduce stress, anxiety and depression and promote positive feelings. All you have to do is add a few drops of essential oil to your diffuser then breathe in the therapeutic scent.
Before we look at 5 relaxing essential oil blends, here's a list of the top ten essential oils for relaxation:
Top 10 Essential Oils for Relaxation
Now let's get on to the fun part: 5 relaxing essential oil blend recipes:
5 Relaxing Essential Oil Blends
1. Calming Diffuser Blend

What you need
Method
Add the oils into your diffuser with about 70 ml water (follow the manufacturer's instructions).
Enjoy the calming scent while relaxing!
2. Me-Time Relaxing Personal Inhaler

Method
Remove the wick from the inhaler and add the drops of essential oils.
Place the wick back into the inhaler and breathe deeply when you want to relax and calm yourself.
3. Soothing Spa Bath Blend

What you need
Method
Run a warm or hot bath and throw in the Epsom salts to let them disperse.
Once the bath is drawn, mix up the essential oils in the whole milk and pour it into the bath.
Soak for 15 minutes or more to relax sore muscles, beautify skin and calm your mind.
4. Relaxation Roll – On

What you need
Method
Remove the roller ball from the roller bottle and add the essential oils drop by drop.
Top with grapeseed oil, screw on the cap and shake well to combine.
Roll onto wrists, behind ears, back of neck and shoulders. You can also roll it on your temples to relax your mind.
5. Massage Oil for Tensed Muscles

What you need
Method
Mix the essential oils in the coconut oil and transfer the cream into an amber glass jar.
To use, dip into the jar with clean fingers and gently massage, rub and knead tensed muscles to relax them.

Which of the above relaxing essential oil blends are you planning on using?