The most popular hydrosol, rose has been used since ages ago. Find out some of the best rose hydrosol benefits and how to use it below!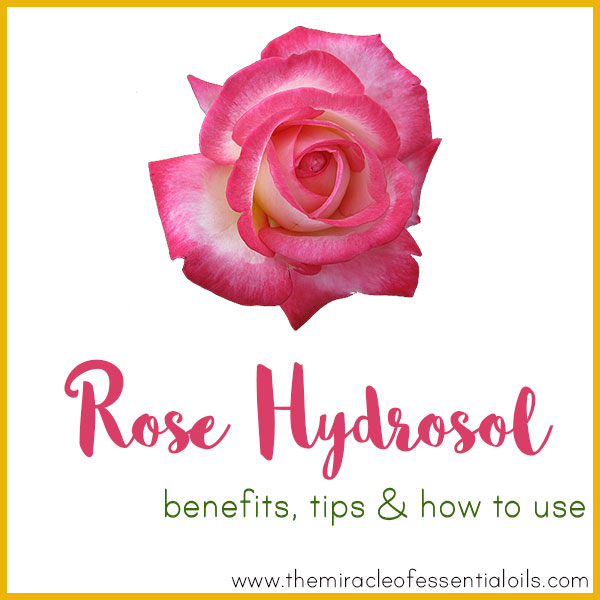 What is Rose Hydrosol?
With its heavenly one-of-a-kind scent, rose hydrosol is among the best hydrosols to own. The best part about it is that it's widely available. Different cultures around the world have been using rose hydrosol for a myriad of uses as you will see below.
Rose hydrosol is obtained from steam distillation of fresh/dried rose petals (botanical name: Rosa damascena) The distillation process is also used to extract the essential oil. But normally, a lot of rose petals are required to get the pure essential oil many distillers, especially local ones, extract rose hydrosol alone without the essential oil.
Fresh roses give the most gorgeous scented rose hydrosol. However, since the flower petals should be fresh and carefully picked without damaging them, it is much easier to use dried rose petals instead. If you can purchase rose hydrosol distilled from fresh rose petals, then you're lucky!
Below are the top 10 benefits of rose hydrosol:
Benefits of Rose Hydrosol
1. Skin Beautifier
Rose hydrosol is so nourishing and moisturizing to skin of all types. It is rich in vitamin C, which boosts collagen and prevents premature aging.
2. Hair Growth Booster
Did you know that rose hydrosol also promotes hair growth? Amazing, right?! It's because it contains high levels of flavonoids, antioxidants and other nutrients that support the hair follicles and foster growth of new hairs.
Simply mix up ¼ cup of rosemary hydrosol and ¼ cup of rose hydrosol in a fine mist spray bottle. Now spray it all over your scalp until soaked. Wait for an hour then wash your hair as usual.
3. Facial Toner
Rose hydrosol has astringent properties. Once you apply it on your skin, you'll notice it feels tighter, firmer and non-oily.
4. Natural Perfume
Rose has a beautiful fresh roses scent that lingers on skin. Use it as a body mist after a shower. It can also be used as an air freshener for your bedroom and other places.
5. Anti-Inflammatory
The strong anti-inflammatory properties of rose hydrosol make it a good choice for reducing inflammation. It helps with red angry acne, itchy eczema and flaky psoriasis patches. You can also spray it on sunburn to cool, soothe and heal.
6. Cooling and Refreshing
Mist rose hydrosol on your face and neck after you come back from the hot sun outside. This will instantly cool down overheated skin and relieve exhaustion. You can use for hot flashes and night sweats as well. Also enjoy a few splashes of rose hydrosol in your iced tea, sherbet or water.
7. Antibacterial
Rose hydrosol has antibacterial properties that make it good for fighting acne, itchy skin and other bacterial skin infections.
8. Aphrodisiac
Spray rose hydrosol all over your body for a natural and subtle romantic scent before that date. Or diffuse rose hydrosol in your bedroom for its aphrodisiac effects!
9. Antiviral
The antiviral properties of rose hydrosol are effective in fighting off viral infections, whether it's cold sores, eye infections, flu or the stomach bug.
10. Antiseptic
Use rose hydrosol to clean wounds by spraying it on the area until cleansed. You can also use it on skin and surfaces to clean and disinfect.
How to Use Rose Hydrosol
» Beautiful Skin Facial Mask
In a small bowl, add 2 tsp of white clay and 3 tsp of rose hydrosol. Stir together to form a thick but easily spreadable paste. Use a face mask applicator brush to apply it on your face, avoiding the area around your eyes and mouth. Leave it for 7 minutes then rinse off with tepid water. Pat dry and moisturize. Behold glowing skin!
» Rose Facial Toner
In a cobalt blue spray bottle, add ½ cup rose rose hydrosol and 1 tsp vegetable glycerin. Shake well to mix and use as a facial toner.
» Baby Room Freshener
Instead of water, add rose hydrosol to your cold air diffuser. Let it diffuse in the nursery or baby room for a beautiful subtle scent that won't irritate your baby. It promotes feelings of love and joy.
» PMS Healing Tonic
Combine together 10 ml of rose hydrosol (for mood and excess heat) and any two of the following hydrosols: clary sage hydrosol (for mood and cramps), sage hydrosol (for cramps and circulation/cold), cypress hydrosol (for water retention), geranium hydrosol (for balance), St. John's wort hydrosol (for mood and insomnia and as a general tonic) in 100 liters of water. Drink throughout the day.
» Depression
In 1 liter of spring water, combine 15ml St. John's wort hydrosol, 15 ml Echinacea hydrosol and 5 ml rose hydrosol. Drink daily for three weeks.
» Rose Iced Tea
You will need:
Put mint leaves in a jug and use a wooden spoon to bruise them against the sides. Add remaining ingredients and stir well. Refrigerate for 8 hours or overnight and serve over rose hydrosol ice cubes.
For More Ideas on How to Use Rose Hydrosol, Read: 25 Ways to Use Hydrosols 
Where to Buy Rose Hydrosol
Always buy 100% pure organic rose hydrosol. Avoid ones with artificial fragrance and added preservatives. You can buy USDA organic Plant Therapy rose hydrosol here.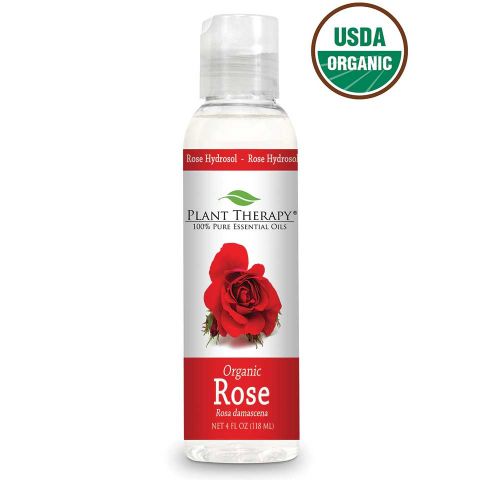 References
Hydrosols: The Next Aromatherapy by Suzanne Catty