The attractive rosemary sprigs have a lot to offer us in the world of aroma therapy. From them, we get two powerful extracts: rosemary essential oil and rosemary hydrosol. In this article, we shall explore rosemary hydrosol benefits and how to use.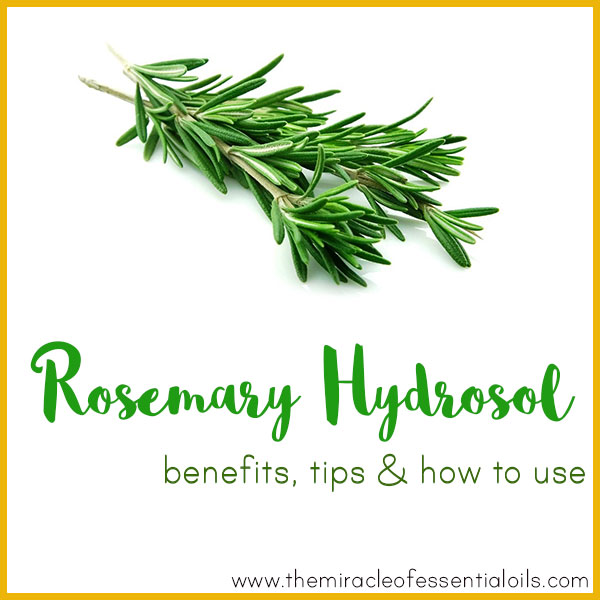 What is Rosemary Hydrosol?
Rosemary hydrosol is a refreshing herbal water got from the steam distillation of rosemary sprigs. It smells more like rosemary than the essential oil itself.
This herbaceous hydrosol is energizing and invigorating. Its scent is proven to sharpen mental clarity and boost memory so it's a great hydrosol to keep in your study!
Below, let's discover 10 benefits of rosemary hydrosol then further below, we'll look at ways to use it:
10 Benefits of Rosemary Hydrosol
1. Analgesic
Rosemary hydrosol is analgesic (pain relieving) just like the essential oil. You can use it straight as a pain-relieving spray. Spray it on arthritic joints, muscle cramps, sports strains and sprains several times throughout the day for relief.
2. Stimulant
Both rosemary oil and hydrosol are powerful circulatory stimulants. They stimulate blood flow to the scalp, which promotes hair growth. It's also good for promoting lymph flow which is good for detoxifying the body. You can use rosemary hydrosol in your bath (add about 2 cups) or use it in a body wrap mixture.
3. Anti-fungal
Rosemary is anti-fungal in nature. You can use spray it on diaper rashes, dandruff, itchy scalp, scalp fungal infections and more. Remember to wipe off thoroughly after using it because fungi thrive in damp places.
4. Antibacterial
Benefit from the antibacterial properties of rosemary hydrosol by spritzing it on acne, eczema, psoriasis and even rosacea.
5. Antiseptic
The powerful antiseptic properties of rosemary hydrosol are good for disinfecting skin and surfaces. To cleanse skin, just spritz on the affected area. To clean surfaces such as mirrors, wooden tables and glass doors, spray the hydrosol on them then wipe off with a microfiber cloth.
6. Bug Repellent
Rosemary repels bugs like ants, spiders and flies. You can spritz it on corners and ant trails to repel them from your home.
7. Astringent
Just like tea tree hydrosol and most hydrosols out there, rosemary is an excellent astringent. It reduces oily skin, tightens pores and decreases large pores on the skin.
8. Antispasmodic
Antispasmodic means it helps relieve muscle spasms and cramps. Spray it on arthritic, gout and sprains and strains up to several times a day for relief.
9. Decongestant & Expectorant
Rosemary is good for the respiratory system. It can relieve colds, cough and congestion. To use rosemary hydrosol as a decongestant, place a few drops in your nostril carefully using a small glass dropper bottle. This will moisturize your nasal passages and clear away congestion. You can also do steam inhalation to unclog blocked sinuses.
10. Anti-inflammatory
You can use rosemary hydrosol to reduce acne inflammation, repair sun damaged skin, soothe bug bites and calm irritated skin.
How to Use Rosemary Hydrosol
» Hair Growth Spray
Make your own follicle stimulating hair growth spray as follows: In a Pyrex measuring cup, add ¼ cup of aloe vera gel, ½ cup rosemary hydrosol and 1 tsp of liquid coconut oil. Stir well using a spatula. Pour it into an 8 oz amber spray bottle. Spritz all over your scalp an hour before showering. Or, use whenever.
» Body Mist & Deodorizer
Are your underarms sensitive and easily irritated? You need rosemary hydrosol in your life. It has a unisex scent that's refreshing, woody and herbal.
Just store it in a small 2 oz fine mist spray bottle and keep it in your bag. Every time you go to the bathroom at work/school, you can spray it on your underarms to keep them clean and fresh.
»Diffuser or Air Freshener
Instead of water, place rosemary hydrosol in your high quality cold-air diffuser. This will not only freshen up a musty room but also destroy germs in the air in a sick person's room. Diffusing this hydrosol will also soothe the respiratory tract for those suffering with colds/cough. Rosemary hydrosol can also be safely diffused in a baby's room, near the elderly and pets.
» Muscle Spray
Soothe tired muscles after working out by spraying rosemary hydrosol on them. It's also good for relieving muscle sprain and strains and arthritis.
» Facial Toner
Keep an 8 oz spray bottle filled with rosemary hydrosol in your refrigerator. Every after cleansing your face, spray the hydrosol on your skin and let it dry. Then apply moisturizer.
For More Ideas on How to Use Rosemary Hydrosol, Read: 25 Ways to Use Hydrosols 
Where to Buy Rosemary Hydrosol
When purchasing hydrosols, make sure you get 100% pure pesticide-free organic ones. Avoid the synthetic versions that are just distilled water plus fragrance. Get pure organic rosemary hydrosol here.