If there's one hydrosol I'd really like to keep with me at all times, it'd be tea tree. Partly because I have acne prone skin and like misting it about my face and neck to treat breakouts. The other reason is because it has a gold mine of benefits! Find out some of the top tea tree hydrosol benefits and how to use it in this post!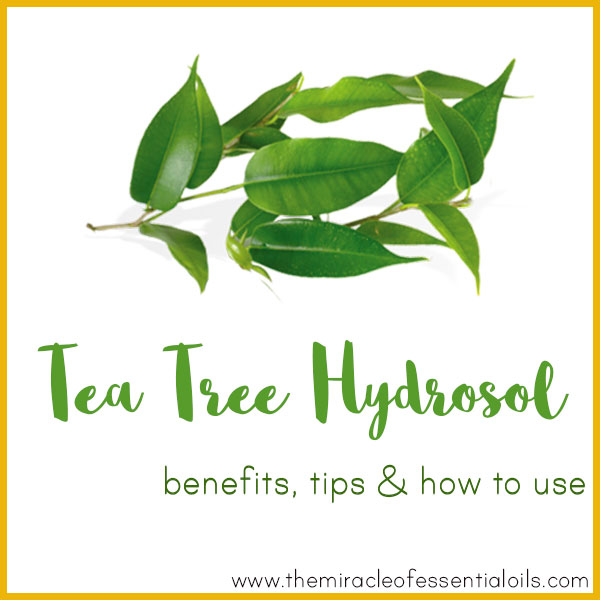 What is Tea Tree Hydrosol?
Tea tree oil is a very popular essential oil that almost everyone knows about. It got so famous because it's touted as the best essential oil for acne. However, at the same time tea tree oil is being extracted, another amazing but less-known product is also being collected. And that's tea tree hydrosol!
It is basically water-infused with a tiny percentage of tea tree oil, which makes it a very much safer option to use than the essential oil. Why is it safer? Because you can't suffer from sensitization or chemical burns or other hazards when using tea tree hydrosol!
Let's look at the top tea tree hydrosol benefits below:
Benefits of Tea Tree Hydrosol
1. Disinfectant
With its strong fresh medicinal scent, you can easily tell that tea tree hydrosol is a powerful disinfectant. Use it as a green cleaning disinfecting product, wound wash or on your skin if it has acne, eczema or psoriasis.
2. Antibacterial
Tea tree oil fights against many strains of bacteria which makes it a very strong antibacterial agent.
3. Anti-fungal
Fungal infections including diaper rash, candida, dandruff, toe nail fungus and skin fungus can all be combated using tea tree hydrosol.
4. Astringent
Tea tree hydrosol is a good astringent. You can use it to tone, firm and tighten skin as well as shrink large pores and reduce excess oils.
5. Anti-inflammatory
With its potent anti-inflammatory properties, tea tree oil reduces inflammation, skin redness and swellings.
6. Analgesic
Tea tree hydrosol can relieve pain from headaches, toothaches, sinus congestion, eye infections and also ear infections. To relieve ear pain due to clogged ears, flush your ear out by injecting WARM (heat it up) tea tree hydrosol into your ear with a syringe, over a sink. The clogged ear wax will drain out of your ear into the sink.
7. Kills off Pet Fleas
With its potent anti-inflammatory properties, tea tree oil reduces inflammation, skin redness and swellings. Spray the hydrosol on your pet's fur and outside the ears to ward off fleas. You can also use it to disinfect scratch wounds on pets.
How to Use Tea Tree Hydrosol
» Cleansing Surfaces
Mix 1 cup of tea tree hydrosol with ¼ cup of white vinegar in a large spray bottle. Spray on kitchen counters, mirrors, windows, glass doors and other surfaces then wipe with a microfiber cloth. That'll not only clean your surfaces but also kill off germs.
» Antiseptic Wound Spray
Fill a fine mist spray bottle with tea tree hydrosol and store in your medicine cabinet. To use, spray as many times as needed on a cut, scrape or wound to wash it and stop bleeding. Then use ointment or cream to treat it.
» Acne Treatment
After cleansing your face, use tea tree hydrosol as a facial mist or toner to fight acne and prevent further breakouts.
» Antibacterial Mouthwash
In a Pyrex measuring cup, mix up 1 cup of tea tree hydrosol, 1 tsp baking soda, a pinch of Himalayan pink salt and a few drops of liquid stevia. Pour the mouthwash in an amber bottle and store in your bathroom cabinet. Use as mouthwash for bleeding gums, bad breath and a general healthy mouth.
» Sinus Congestion Steam
Do steaming for opening up clogged sinuses by boiling 2 cups of water and 1 tbsp dried mint leaves in a pot. Once it starts giving off a lot of steam, remove from heat and place on a table. Pour 1/4 – 1/2 cup of tea tree hydrosol. Now sit in front of the pot and create a tent enclosing your face and the pot together so the steam enters your nostrils. Be in there for about 15 minutes. Repeat 4 times a day for sinus relief.
» Dandruff & Itchy Scalp Spritz
Use a tea tree spray to help a persistent itchy scalp and chronic dandruff. Simply keep a fine mist spray bottle of tea tree hydrosol near you. Whenever your scalp feels itchy and irritated, spray the tea tree hydrosol and get instant relief! If you have braids or dreadlocks, you can use this spray as the most effective treatment!
» Oily Skin Control
Tea tree oil can dry out your skin, which makes it excellent for getting rid of oily skin. The same goes for tea tree hydrosol! Simply spray tea tree hydrosol on a cotton round and dab it on your face after cleansing it for oily skin.
» Diffuse It! 
Tea tree hydrosol can be safely diffused around pets, babies and those with sensitive noses. When you want to kill off microbes in the air or soothe a cold/cough, diffuse tea tree hydrosol by filling up your high quality diffuser with it.
For More Ideas on How to Use Tea Tree Hydrosol, Read: 25 Ways to Use Hydrosols 
Where to Buy Tea Tree Hydrosol
When buying tea tree hydrosol, ensure to only purchase 100% pure high quality, and most importantly ORGANIC. Get organic pure tea tree hydrosol here.