These top 5 essential oils are guaranteed to make you look ten years younger!
Say what?! Can essential oils make you look a whole 10 years younger?! Yes, they can!
Essential oils are highly concentrated liquid plant extracts obtained from aromatic plant material. One of the reasons they are prized is because a LOT of plant material can be used to extract just a little essential oil. For example, to extract just 5 ml of rose essential oil, about 10,000 fresh roses are needed!
How Can Essential Oils You Look Younger?
What gives essential oils the ability to make you look 10 years younger?! The secret mainly lies in their powerful antioxidant properties. Premature aging of skin is mainly caused by free radicals. Free radicals are unstable atoms floating in the air. They need an oxygen molecule to become stable. When they enter or come into contact with the body, they steal oxygen from healthy skin cells. This makes the skin cell become unstable and lifeless, which causes fine lines, wrinkles and other problems.
So by fighting off free radicals, essential oils decrease premature wrinkles on the skin!
But that's not all! Essential oils also keep skin looking youthful by:
Increasing collagen production in the skin. This makes skin more elastic and supple.
Firming and toning skin which helps lift the face and prevent skin sagging.
Moisturizing skin since dry skin is another major cause of early wrinkles.
Nourishing skin cells.
Increasing cell turn over.
Promoting blood circulation to each and every skin cell.
Repairing damaged skin cells.
Rejuvenating and brightening skin complexion.
Okay, now let's see the top 5 essential oils to look 10 years younger! At the end of the article, I'll share an easy but powerful anti-aging serum to make with these essential oils!
Top 5 Essential Oils to Look 10 Years Younger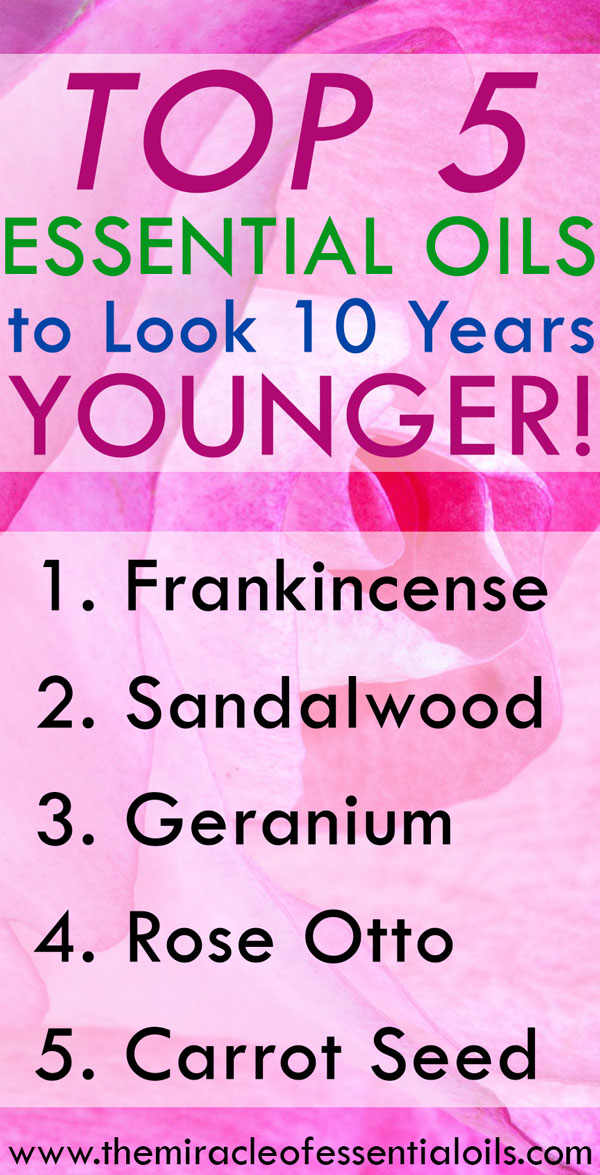 1. Frankincense Essential Oil
When it comes to youthful skin, frankincense essential oil (where to get it) comes top of the list! It protects skin cells from free radicals and damage, moisturizes skin, promotes cell renewal, repair and rejuvenation and minimizes the appearance of age spots and sagging skin!
2. Sandalwood Essential Oil
Sandalwood essential oil (where to get it) contains amazing sesquiterpene compounds and cell regenerating abilities that improve blood circulation and promote timeless skin! It is also a very moisturizing essential oil that keeps skin cells hydrated!
3. Geranium Essential Oil
A bottle of geranium essential oil (where to get it) must be owned by all women. This essential oil is good for solving feminine issues including hormonal acne and menstrual troubles. Surprise! It's also good for anti-aging! It is an excellent collagen-boosting essential oil. Geranium oil also promotes cell renewal and promotes sebum balancing effects.
3. Rose Otto Essential Oil
The most luxurious essential oil, in our opinion, rose oil (where to get it) does so much in the name of anti-aging. It promotes quick healing of skin, improves blood circulation and maintains the skin's elasticity by preventing the breakdown of collagen. Not to mention, rose oil is one of the most moisturizing essential oils out there!
4. Carrot Seed Essential Oil
Carrot seed essential oil (where to get it) is known to be excellent for aging skin. It contains carotenoids that protect the sun from UV rays that contain free radicals. Carrot seed essential oil also improves the tone and appearance of aging skin.
5. Lavender Essential Oil
Yes, lavender oil (where to get it), which is the commonest essential oil, is a powerful anti-ager too! It helps delay fine lines & wrinkles plus gets rid of age spots because of its skin regenerative properties.

Reference
So are you ready to achieve timeless skin with the above essential oils to look 10 years younger?!