What is Alcohol Detoxification?
Alcohol detoxification is an essential part of alcohol recovery. It is a process that provides assistance to patients on the path to recovery during alcohol withdrawal. It helps make the toxins removal process easier and faster.
Alcoholic people, who have the fear of being subject to chronic diseases or are alcohol dependent, definitely need to undergo the alcohol detox process. It is the first step towards alcohol withdrawal, in which harmful toxins resulting from alcohol are eliminated from the body.
Detoxification of alcohol naturally through herbs, home remedies and other techniques can support faster, easier recovery from alcohol abuse. Today we shall focus on essential oils for alcohol detox.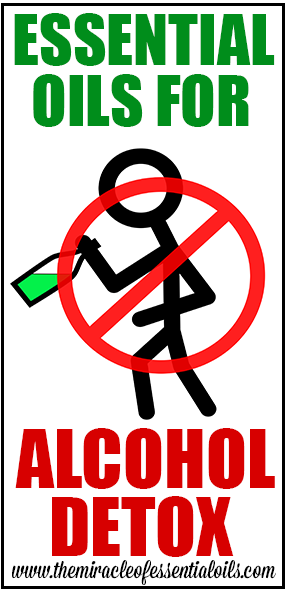 How to detox alcohol from the body
Though we recommend strict alcohol detox through rehabilitation programs and under health professional's supervision, there are some home remedies that can be followed to detox alcohol from your body naturally, without any side-effects.
Change diet to nutrient-rich food e.g. fruits and vegetables
Avoid caffeine
Have enough vitamin B
Drink plenty of water
Use some angelica extract
Use Basil in water
Use cayenne pepper in a food
Symptoms of alcohol detox
When people start alcohol detox, they may initially experience some unusual change in their physical as well as emotional behaviors given below:
Nausea and sweating
Stomach aches
Anger issues
Rising blood pressure
Increased body temperature
Sleep issues and uneasiness
Shaking
Fast heart rate
How Essential Oils Help With Alcohol Detox
Another powerful way to recover from alcohol abuse is by using essential oils for alcohol detox. Essential oils are potent natural plant extracts that contain a multitude of benefits for all sorts of maladies. They are aromatic oils with amazing medical purposes. They are known to be anti-inflammatory, detoxifying, anti-depressant, among others.
How can essential oils help with alcohol detox?
This is how an essential oil can help detoxify the body:
Helps with anxiety and is very soothing.
Is an effective natural cleanser and helps to disintegrate as well as flush out toxins.
Calms the body and brain, allowing the brain to rest.
Draws out toxins from the organs by increasing the body's production of sweat and urine.
Will help with insomnia and sleep issues.
Top 7 Essential Oils for Alcohol Detox
Here are the top 7 essential oils that work great for easing alcohol detox symptoms and helping in faster recovery from alcoholism:
1. Peppermint Oil
Peppermint oil can be utilized as a part of consumption or for external use. You just need a couple of drops of it for it to be compelling. You can add it to a detox smoothie or basically add it to water. Peppermint oil enables you to recover or keep your focus and can alleviate the stomach related pain and suffering. Peppermint oil is taken from the peppermint plant.
2. Juniper Oil
Juniper oil originates from juniper berries which themselves are useful for the body on account of their cancer prevention agents. They can likewise be utilized to help in the stomach related pain and can be utilized as a diuretic. Juniper oil can help unwind the brain and can help mitigate torment. As a diuretic, it can flush out dangerous poisons and water weight, including unreasonable measures of sodium.
3. Rosemary Oil
Rosemary oil can help in your detox endeavors, and in addition, your general well being and prosperity. By taking the properties of rosemary and putting into a basic oil, you're ready to get benefits like enhanced assimilation and dissemination, mitigating advantages, and diuretic properties. You can breathe in the oil as a type of fragrance based treatment, or scrub down with it, or even utilize it in a mix with a back rub oil amid a back rub.
4. Lemon Oil
Lemons have been known for having astringent properties. One of the benefits of lemon oil is that it can avert growth, free up the lymphatic and respiratory pain and difficulty, and can be utilized to lessen irritation in the body. You can begin utilizing lemon oil in showers or utilizing it in a detox shake.
5. Grapefruit Oil
Grapefruit oil is very helpful in alcohol detox. It's been noted for killing infection-causing germs inside the body. It is a diuretic, helping the body flush out alcohol molecules, among other wastes and poisons.
6. Shrub Oil
Shrub oil originates from the leaves, which have been studied to have an expansive measure of cancer prevention agents that will help the body from numerous points of view. This pure oil can enhance absorption, and just a little amount is expected to get this advantage. You can likewise utilize it in a diffuser which causes it to enter the body through breath.
7. Mandarin Oil
Mandarin oil is gotten from the peel of mandarin oranges and is used to help with unwinding the body's system and set it up for detoxification. It can likewise refine the blood and enhance the circulatory system. It is also utilized as a feature of an aromatherapy treatment program. It helps the liver detoxification, and the liver is the most vital organ in regards to detoxing the body.
How to Use Essential Oils for Alcohol Detox
Here are various ways to use essential oils for alcohol detox:
1. Diffusion:
Set your preferred essential oils into a ceramic basin, with or without water, and afterward put it over a heat providing source.
2. Evaporation:
A reed diffuser contains a little container loaded with a sweet-smelling oil and a few rattan reeds. The oil discharges the aroma into the room where the diffuser sits continuously.
3. Chilly Air Diffuser:
Use a nebulizer, the smaller particles rise from it and are transmitted out of a glass top as a vapor which is discharged into the room.
4. In Your Palms:
Basically, dribble the oils you wish to inhale into your palms, only a drop or two will get the job done, rub your hands together and take in profoundly.
How long does it take to detox alcohol from the body?
Lucky individuals may acquit themselves of alcohol toxins, within 7-10 days. However, depending upon the addiction severity and history, this may even last up to or more than a month. Individuals being treated through rehabilitation may also undergo about the same time.
Caution
Recognizing your alcohol dependency is the first step towards getting cured. Though considering thorough alcohol detoxification, you must consult only the guidance and recommendation of a certified health care professional, and all related processes should be done strictly only under his/her supervision.