Essential oils are becoming very popular in the alternative health world but are they safe for pets? Pet lovers, please be aware of these UNSAFE essential oils for pets.
Most of us love our pets even more than we love our family or friends. After all, our pets love us unconditionally and are always there for us in good times and bad.
Even science has proven that simply stroking pets is a source of relaxation and a stress buster.
Those with major illnesses have been shown to recover faster if they have pets. Pets can boost your mood, help lower blood pressure and can keep you healthy.
If you made it to this page, I commend you because it shows that you want the best for your pets and you're wondering if essential oils are safe for pets.
Using Essential Oils for Pets – Tread Carefully
Essential oils are highly potent substances extracted from pressing or distilling large quantities of plant matter. It can take up to 5000 pounds of plant matter to extract 1 pound of essential oil – that's how concentrated they are!
If used carefully, essential oils can help your pet heal from a variety of ailments such as ticks, mite and flea infestation, colds and flu, stress and others.
But if you use them recklessly, without knowing what you're doing, you could leave your pet with:
» Skin irritation
» Permanent organ damage
» Loss of eye sight or corneal tissue damage
» Death
Here are some of the reasons essential oils are not always a good idea for pets:
» Toxic effects : Essential oils are highly volatile and have incredibly small molecules. The high volatility and small molecular size makes them easily enter via the lungs into the blood stream. Persistent exposure to essential oils may be too much for your pet's liver to handle and can create toxic side effects.
» Your pet may not like the scent : Imagine you walked into a room smelling strongly of a scent you detest, how would you feel? You might run out of the room or even get a headache. It's the same with pets. They cant talk to let you know how they feel but if you diffuse too much of a scent in a room, it might be irritating to your pets.
» Pets are sensitive : Most pets such as rabbits, guinea pigs, rats and cats are small and low weight. This means the essential oil quantity that you use on yourself may be far too much for your pets. Diluting essential oils adequately is very important. Pets may also not have the proper detoxification mechanisms that we have. Their livers may not be able to deal with some essential oils and this can cause grave side effects. Oils like tea tree, are safe when applied undiluted on human skin, but when applied to cats, it has led to death.
General Rules When Applying Essential Oils for Pets
» Essential Oils Must Not Be Ingested By Pets : I'm shocked by the many sources all over the internet that tell you to add essential oils to your pet's water. To begin with, oils and water don't mix! So if you add a drop of oil to your pet's water, it's just going to be floating on top of the water and can easily get into your pet's mucous membranes and cause irritation. If you love pets, don't feed them essential oils!
» Dilute Essential Oils Correctly : Before using essential oils on your pets, please dilute them correctly. The general rule is a 1% dilution. For 1 teaspoon of carrier oil, add only 1 drop of essential oil. For 2 teaspoons, add 2 drops, and so on.
» Do Not Place Essential Oils near Pets' Eyes, Mouth or Nose : The eyes and nose contain sensitive and delicate membranes which can get irritated or burned if essential oils are applied on them. Do not make this mistake. If oil gets into your pet's eyes, immediately flush with a fatty substance such as whole milk or carrier oil like olive oil.
List of Unsafe Essential Oils for Pets – Never Use These!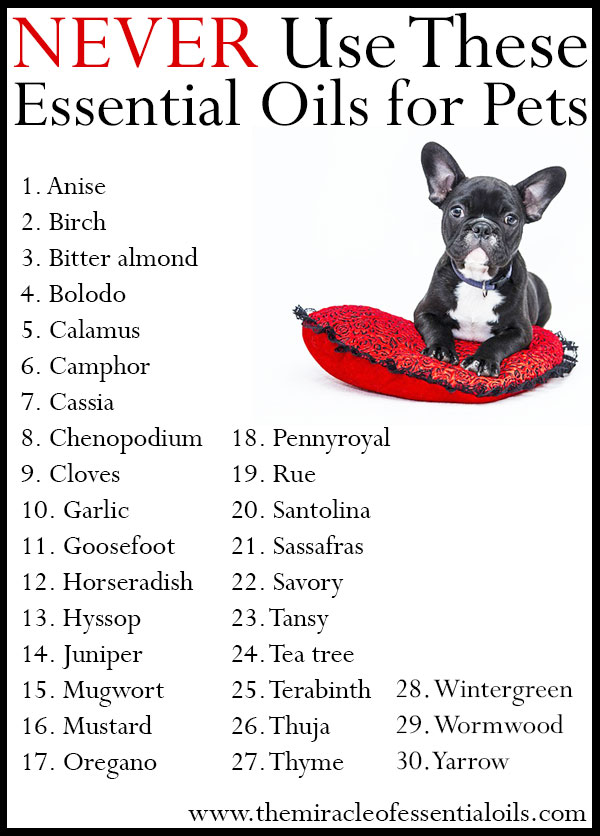 The following list contains essential oils that are not safe for pets.
1. Anise
2. Birch
3. Bitter almond
4. Bolodo
5. Calamus
6. Camphor
7. Cassia
8. Chenopodium
9. Cloves
10. Garlic
11. Goosefoot
12. Horseradish
13. Hyssop
14. Juniper
15. Mugwort
16. Mustard
17. Oregano
18. Pennyroyal
19. Rue
20. Santolina
21. Sassafras
22. Savory
23. Tansy
24. Tea tree
25. Terabinth
26. Thuja
27. Thyme
28. Wintergreen
29. Wormwood
30. Yarrow