What is vetiver hydrosol and what are some vetiver hydrosol benefits? Extracted from vetiver roots, this hydrosol is highly aromatic and packed with benefits for the skin, hair and more!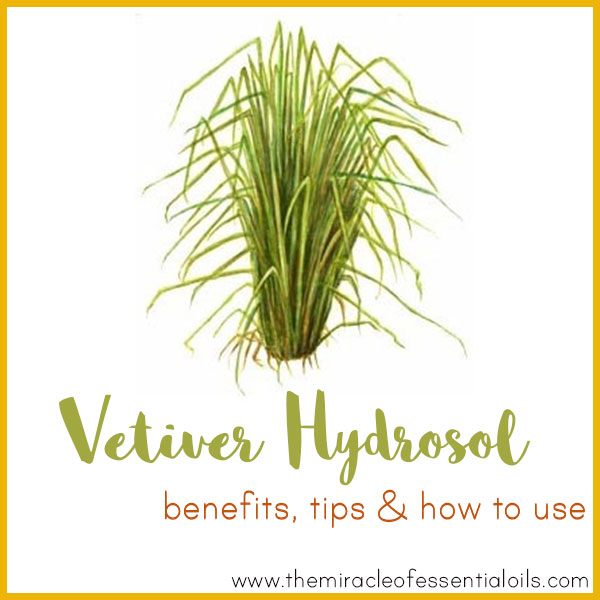 What is Vetiver Hydrosol?
Vetiver is known as the root of tranquility and is known for promoting brain health. It reduces ADHD, anxiety, depression and mood swings.
Scientifically known as Vetiveria zizanoides, vetiver is a tall type of grass whose roots are primarily used for their healing benefits.
These roots are steam distilled to create vetiver essential oil and vetiver hydrosol.
Benefits of Vetiver Hydrosol
Here are some of the benefits of vetiver hydrosol:
Antiseptic: Vetiver hydrosol has strong antiseptic properties that can help in wound cleaning. It helps prevent infections and sepsis of wounds, cuts and scrapes.
Cicatrisant: A cicatrisant agent is one that speeds up tissue growth and eradicates scars and other marks on the skin. Vetiver hydrosol has cicatrisant properties. Use a cotton ball saturated with vetiver hydrosol all over your scar marks to reduce scars, stretch marks, blemishes and more.
Aphrodisiac: Vetiver hydrosol can act as a powerful aphrodisiac. This means it can lift the mood, boost libido, encourage the secretion of reproductive hormones and improve sexual performance.
Deodorant: The scent of vetiver is very complex and extremely pleasing for both male and female use. It is a combination of woody, earthy, sweet, fresh, green and smoky scents. This makes it a great deodorant, body mist or body spray.
Sedative: Known for its calming and stress-reducing properties, vetiver acts as a natural, non-addictive sedative that can put restlessness, anxiety and panic to rest. It can also help treat insomnia.
Tonic: As a tonic, vetiver hydrosol tones all the systems in the body including the respiratory, circulatory, digestive, excretory, immune and other systems. It can therefore serve a multitude of purposes including boosting the immune system, promoting digestion, relieving constipation, promoting respiratory health and others.
Vulnerary: It helps promote the growth of new tissues and speedens up wound healing. Vetiver hydrosol can be sprayed on wounds, cuts and others. It can be used for acne-prone skin. It also makes a good after-shave spray for this reason.
How to Use Vetiver Hydrosol
Body Mist : Pour some vetiver hydrosol into a small spray bottle and keep it with you in your hand bag. This cooling, sensational scent can be used to freshen you up by spraying on your face, neck, hands and body.
After Shave : Want to get your man on the natural band wagon? Get him to replace conventional aftershave with a natural spray of vetiver hydrosol.
Tonic : Take ½ cup of vetiver hydrosol to soothe stomach ulcers, acidity and other digestive issues.
Diffuser : Pour ½ cup of vetiver into your ultrasonic diffuser or humidifier to disperse the stress-busting scent in your bedroom or study.
For more ideas on how to use vetiver hydrosol, read: 25 Ways to Use Hydrosols
Where to Buy Vetiver Hydrosol
Buy 100% pure, organic vetiver hydrosol