Are you wary of going to the dermatologist and getting prescription and prescription of high dosage antibiotics to clear your acne? That's what I did when I was a teen but as you probably guessed, like many people, I never got complete relief from acne and I had to deal with the unpleasant side effects of antibiotics. However, my real turning point was getting acne in my 20's – I'm not a teen anymore! Why the heck am I still getting acne?
Well, in addition to making many lifestyle changes, I also developed a fling for essential oils – I found them to be precious bottles of liquid treasure that I found many uses for, including resuscitating my thinning hair, alleviating the blues and also, finally getting rid of my acne! I do get the occasional pimple here and there, but its never anything that a drop of tea tree oil cannot cure! Here are my top 7 essential oils for acne treatment:
Note: If you are pregnant or breastfeeding and would like to treat your acne with essential oils, please consult with your health care practitioner first. Most essential oils are not recommended to be used by pregnant/lactating women.
What Essential Oils are Good for Acne?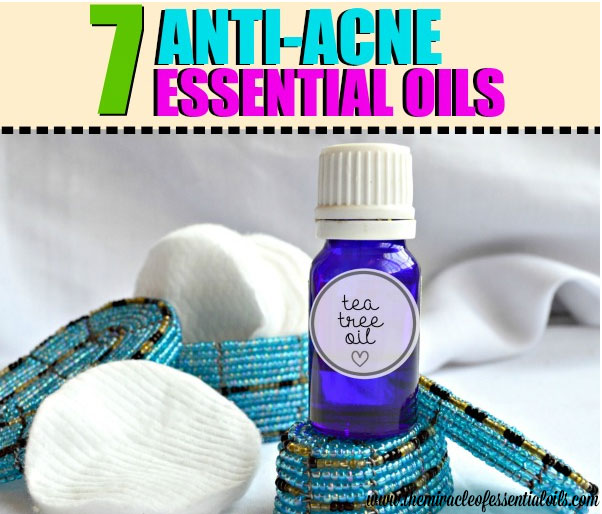 1. Tea Tree Essential Oil
The first time I had a whiff of tea tree essential oil (where to get it), I was almost off-put because it smelled so much like a strong disinfectant – you know, like the ones they use to clean hospital floors. And this is just one indication of what a powerful anti-microbial, antibacterial and antiseptic natural remedy it is. Tea tree oil is widely available over -the-counter in North America, UK and Europe, although it is native to the continent of Australia, where it has been used for since Aboriginal times for its healing properties.
Tea tree oil is the number one essential oil I recommend for acne treatment and if you have acne-prone skin, make it part of your nightly skin care routine to dab some tea tree oil on to your face using a cotton ball. The antibacterial action of tea tree oil will work throughout the night and fight acne-causing bacteria and over time you can gradually reduce, manage and treat your acne this way.
Keep in mind that even though tea tree oil can be used 'neat'/directly on skin, if you have sensitive skin, make sure you mix tea tree oil with shea butter, which is a non-comedogenic and antimicrobial natural skin care ingredient. For this, dilute 1 – 3 drops of tea tree essential oil in 1 tsp of shea butter.
2. Geranium Essential Oil
Originating from Africa, geranium essential oil (where to get it) is extracted from the leaves and stems of Pelargonium Graveolens, the Geranium plant. It has a deep feminine floral scent with a hint of pepper and is green in color.
In the skin care and beauty world, geranium is hailed as a wonder oil for its anti-aging effects that promote youthful skin. But geranium essential oil is actually rich in antibacterial and antimicrobial compounds that can fight and prevent acne and pimples, as well as lighten the appearance of acne scars and pimple marks. Geranium oil is also a natural hormonal balancer, which means it can help prevent acne that is caused by hormonal changes and imbalances, for example in teenagers and menopausal women.
Mix 2 drops of geranium essential oil in a tsp of a light non-pore clogging carrier oil like safflower oil and massage it gently into your skin every morning and evening. Blot out excess with a tissue if necessary.
3. Oregano Essential Oil
Who doesn't love adding oregano leaves, whether dried or fresh, into a steaming bowl of soup. Oregano is often added to chicken soup and given to those suffering from colds and flu for relief against viral and bacteria infections. Native to the Eurasian and Mediterranean region, oregano is an herbal plant whose leaves are steam distilled to extract the essential oil. Oregano belongs to the same family as mint and is also known as wild marjoram.
Oregano essential oil (where to get it) works wonder for pimples and acne, especially if applied on an emerging pimple for 3 days in a row. Make your own acne-combating toner using 1 part of organic apple cider vinegar and 3 parts of green tea and 2 drops of oregano essential oil. Then get a big cotton ball, douse it with this toner and dab on your acne spots before bed.
4. Lavender Essential Oil
Like oregano, lavender also belongs to the Mint family and is native to Europe as well as some parts of Africa, India and the Mediterranean. Lavender essential oil  (where to get it) has a soothing, powdery floral scent and is known to calm nerves and balance hormonal fluctuations. Lavender essential oil provides a double benefit of acting as an antibacterial treatment for acne, as well as a lovely natural perfume. It also works to heal pimple scar tissue as well as lighten acne scars, over time.
Use lavender essential oil for acne treatment by mixing a drop of it into your moisturizer and massaging it into your skin. You can also use products such as face washes and cleansers that contain lavender essential oil in order to keep annoying acne and unwelcome pimples at bay.
Please note that lavender essential oil should not be used directly on skin as it can be drying and irritating for some people. Always dilute the oil with another carrier oil like grapeseed oil or coconut oil.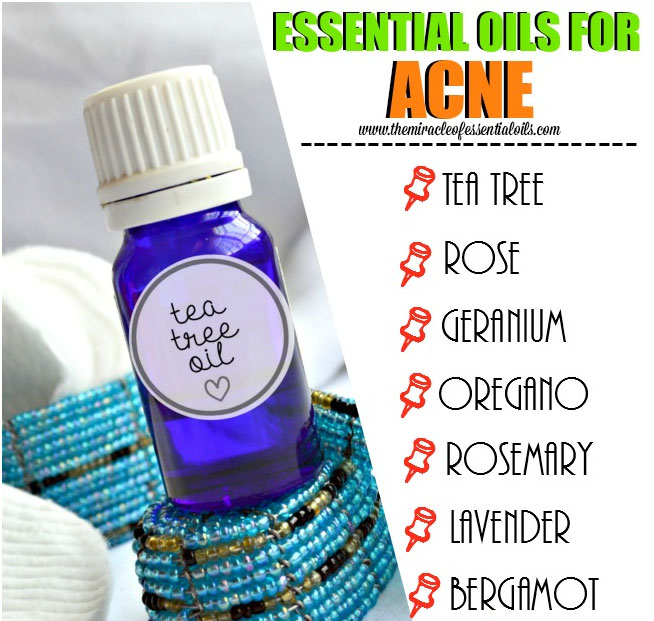 5. Rosemary Essential Oil
The rosemary plant is a bushy shrub that is native to countries in Europe like Spain and northern areas of the African continent such as Morocco and Tunisia. The essential oil is extracted through steam distillation of the rosemary flowers and it has been renowned throughout history for its healing properties and as a remedy for remedy for forgetfulness and for mental clarity. Rosemary essential oil (where to get it) is highly antibacterial and is therefore a great remedy to use against acne breakouts.
Rosemary essential oil also stimulates circulation to the skin, which can help increase the supply of oxygen and nutrients to the surface of the skin as well as carry away toxic build up – this can reduce acne and promote clear skin. Aside from being useful against acne, rosemary essential oil also has anti-inflammatory properties, which reduce swelling and puffiness; astringent qualities, which firm up and tone the skin; and anti-aging properties, which increase the suppleness and elasticity of the skin.
6. Rose Essential Oil
Rose petals themselves have been used by regal women for thousands of years for their skin beautification purposes, with Cleopatra being known to take regular baths in milk and rose petals. Now just imagine how much more potent rose essential oil, extracted through the steam distillation of rose petals, is! One unique characteristic of rose essential oil (where to get it) is its ability to improve skin permeability, which enables your skin to absorb whatever you apply on it at a more efficient rate. Combining rose essential oil with other natural ingredients like aloe vera will actually help your skin to get the most out of your aloe vera!
Rose is one of the first essential oils I ever purchased and it was love at first sight simply because of its lovely romantic and sensual scent. But rose essential oil is more than just a pretty perfume, it's actually a great remedy for acne and pimple prone skin!
To treat acne with rose essential oil, get a bowl and make a mix of 1 – 2 drops of rose essential oil, 1/2 tsp of your favorite light carrier oil like coconut oil and 1 tsp of organic honey. Mix these together and massage them gently into your clean and washed face and allow it to rest overnight or for at least 10 – 15 minutes. Wash off with lukewarm water and pat dry. Repeat this treatment 2 – 3 times a week.
7. Bergamot Essential Oil
Bergamot is largely cultivated in Italy and the essential oil is extracted from the rind and peels of the Bergamot orange, which contains a large percentage of this natural, sweet smelling and citrusy oil. Apart from its highly antiseptic and antibacterial properties, bergamot essential oil (where to get it) also has analgesic properties, which will reduce the pain and inflammation that can be experienced by extreme acne breakouts that can sometimes be sore and tender. Bergamot essential oil also works great for those who are suffering from oily acne skin.
Bergamot essential oil is a wonderful anti-acne oil in that it can be mixed favorably with any of the above anti-acne essential oils and a carrier oil to create a potent acne fighting formula that can be used as a part of your daily routine.
One skin clarifying formula that I love is as follows: Into a clean amber glass dropper bottle, measure out 3.5 tbsp of jojoba oil and add 12 drops of bergamot oil, 8 drops of lavender oil and 5 drops of tea tree oil. Massage just 2 drops of this acne treatment formula onto your skin regularly before bed time to keep the acne at bay.
Which of these essential oils will you try out to treat your acne? Share your thoughts in the comments below!