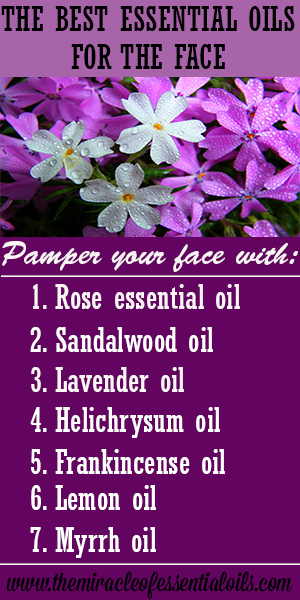 There are dozens of essential oils that work wonders for the skin. The skin on your face, however, is special because it is thinner and it is more sensitive than the skin on the rest of the body. So exactly what essential oils are good for your face? We'll be taking a look at the best essential oils for facial skin.
What Essential Oils Are Good for Your Face?
1. Lavender Essential Oil
No essential oil list would be truly complete without lavender (where to get it), a multifaceted oil that is the favorite of many. Lavender is used for today mental and physical well-being. Its rich floral and sweet aroma is said to calm the mind, reduce anxiety and dispel nervousness. It also promotes peaceful sleep and treats insomnia. So you can use lavender on your face as part of your night regime to enjoy deep, rejuvenating sleep, while the lavender oil works on your skin, rejuvenating your cells.
Lavender is also used an herbal antiseptic as it is rich in antimicrobial, antibacterial and anti-fungal properties which can help keep your skin free of any sorts of infections, rashes, acne and pimples.
2. Sandalwood Essential Oil
You may be surprised to find sandalwood (where to get it) on the list of essential oils good for the face, but I think it's a very healing oil for all sorts of skin issues. In fact, sandalwood has been used for centuries for skin beautification by the queens of yore. Brides were also given special sandalwood treatment before their marriages. Today, sandalwood essential oil is rare to find, even many reputable producers are often out-of-stock for this oil.
Sandalwood essential oil is also said to promote feelings of wellness, to enrich spirituality and to heal depressions. Used on the skin, it can help even out skin discoloration, reduce blemishes, cure sun tan, sun burn and UV damage, and heal hyperpigmentation.
3. Geranium Essential Oil
According to me, geranium essential oil (where to get it) is a must-have for every female. Geranium oil balances the hormones and is great for dull, flushed skin caused by hormonal imbalances. It is also perfect for treating acne caused by hormonal fluctuations. Geranium oil stimulates the female reproductive systems, balancing and supporting their healthy function.
Geranium essential oil is great for skin-related issues as it fights free radicals and prevents the unwanted damage of skin cells. It also supports healthy skin regeneration, prevents scar formation and reduces blemishes.
4. Helichrysum Essential Oil
Helichrysum is known as the Everlasting Flower, and even the Immortal Flower, and this is a small clue to how its oil can transform your skin. Helichrysum oil (where to get it) has restorative and rejuvenation compounds that can work wonders for your skin by making it smooth, radiant and with an even, glowing complexion.
Helichrysum oil helps greatly lighten blemishes and scars and soothes inflamed or irritated and stressed skin. True to its name as the immortal flower, it can help stop the tracks of time on your face, promoting youthful, supple skin free of wrinkles and fine lines.
5. Rose Essential Oil
When it comes to anti-aging, there's nothing that can beat rose essential oil (where to get it), extracted from the rose, a flower that has been revered since the dawn of time as a romantic, divine scented therapeutic bloom. Rose essential oil, light green in color has a strong, unmistakable scent of roses and the smell itself is used in aromatherapy to de-stress, lift fear, promote self-love and calm the mind and moody.
Aside from its emotional benefits, rose essential oil is also greatly healing for skin. It is rich in antioxidants which help prevent premature aging and reverse the signs of aging such as wrinkles. It helps smoothen the skin, promote collagen production and even out the skin tone.
Five Ways to Use Essential Oils for Your Face
1. Oil Cleansing with Essential Oils
The best way to pamper your face is to go soap-free. Conventional soap contains hormone-disrupting artificial fragrances, carcinogenic preservatives and stabilizers. It also contains DNA-damaging SLS (sodium laureth sulfate), which is what gives soap its foaming characteristics.
With oil cleansing, you can completely say bye-bye to soap and toxic foaming face wash products by using just oil, warm water and a cotton face cloth. Mix in your choice of essential oils good for the face (like lavender, lemon or myrrh) into your carrier oil (like coconut oil or castor oil) and carry on oil cleansing as usual. Essential oils can really perk up your soap-free face cleansing routine.
2. Face Mask
Make a detoxifying, pore cleansing face mask to draw out grime, toxins, dirt and impurities from your pores, while providing your face with healing properties through essential oils. Here's how you can make your face mask:
Ingredients
Directions
In a small non-food-use bowl, mix all the above ingredients into a thick, but spreadable paste. Add more rose water, or plain water as needed.
Now onto your washed and dry face, apply the face mask and allow it to rest for 10 minutes or until it dries out.
Once the time is up, gently remove the face mask from your face by first patting it with warm water to loosen the clay mask and then scrubbing in circular motions with your fingers.
Wash your face as usual with plenty of water and pat dry. Your skin will look fresh and glowing!
3. Facial Toner
Tone your face using essential oils for a luxury treatment every day. This toner contains soothing aloe vera gel as well as skin-tightening witch hazel, which is a natural astringent that tightens the pores and leaves the skin perky and taut.
Ingredients
Directions
In a spray bottle (preferably glass), pour in all the ingredients using a small funnel.
Screw on the cap and shake vigorously to get everything nicely mixed up.
Now use this toner on your face twice a day after washing your face. You can use a cotton pad to apply the toner.
4. Anti-Aging Night Cream
Night time is the skin's rejuvenation time, when the cells get busy at work repairing damage, building new cells and removing toxins as the body sleeps. Make use of this rejuvenation period by slathering your skin in your own homemade anti-aging cream.
Ingredients
Directions
In a double boiler, melt the shea butter until fully liquefied.
Take off heat, allow to cool down a bit and add the rosehip oil. Stir together until combined.
Now pour the shea-rosehip mixture into a clean container and then drop in the essential oils.
Mix this in with the back of a spoon until well-combined.
Place in the refrigerator to set overnight.
Use this night cream every night for best results. Only a tiny amount is needed to apply all over the face, neck and hands.
5. Acne-Clearing Gel
This simple acne-clearing get can be made with just a few ingredients. You can use it as a spot treatment or all over your face, if you wish. Lemon essential oil will help to lighten acne and pimple scars while vegetable glycerin helps to cool down inflamed skin without clogging pores.
Ingredients
Directions
Mix all the above ingredients thoroughly in a clean container.
Apply every night before bed.
Other Essential Oils That Are Good for Your Face
Myrrh Essential Oil
Bergamot Essential Oil
Lemon Essential Oil
Ylang Ylang Essential Oil