The most active ingredients in Vick's Vapor Rub are essential oils! In this article, find out exactly what essential oils are in Vick's, a favorite in many households for relieving colds and congestion.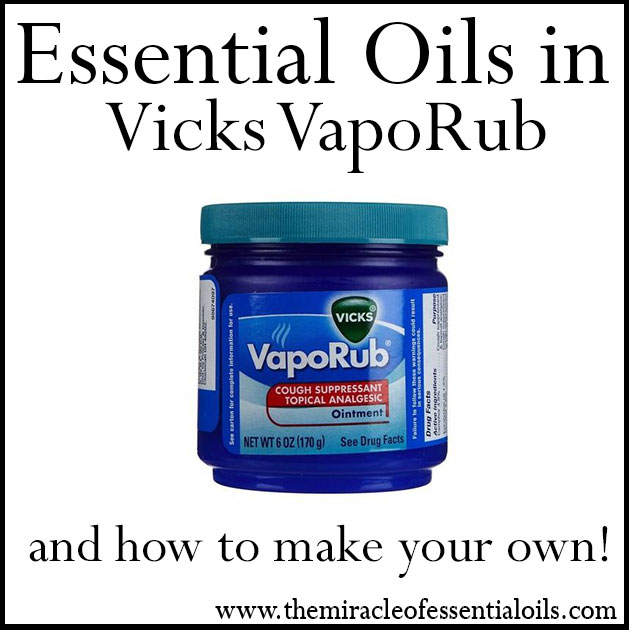 What is Vick's Vapor Rub?
Originally manufactured by the family-owned company Richardson-vicks Inc based in North Carolina, VapoRub (as it was initially called) was sold to Procter & Gamble in 1985, where it started being sold as Vicks. It is basically an ointment which serves its purpose as a mentholated cream for topical use in the natural treatment of colds, cough and congestion.
It can be applied to the chest, back and throat to relieve colds and cough, rubbed for relief from muscle and joint pains and even used as an effective treatment for mosquito bites. It can also be used as a headache relieving balm.
Below, find out the essential oils found in Vick's vapor rub:
What Essential Oils are in Vick's Vapor Rub?
If you take some time to look at the ingredients list at the back of your Vick's vapor rub, you must find stuff like camphor, eucalyptus, menthol, petrolatum thymol and others. Here's a breakdown of the active and inactive ingredients found in Vick's:
Active Ingredients: camphor 4.8%, eucalyptus oil 1.2%, menthos 2.6%
Inactive Ingredients: cedarleaf oil, nutmeg, petrolatum, thymol, turpentine oil
From this, the essential oils found in Vick's vapor are:
Camphor oil – cough suppressant and topical analgesic
Eucalyptus oil – cough suppressant
Cedarleaf oil – anti-rheumatic and expectorant properties
Nutmeg oil – natural pain killer, cough suppressant
The other ingredients such as turpentine oil comes from the camphor tree just like camphor oil while thymol and menthol (a major chemical constituent of minty essential oils) can be found in essential oils like camphor, peppermint, eucalyptus, spearmint and wintergreen.
How to Make Your Own Vapor Rub at Home
Do away with the unnecessary chemicals and ingredients like petrolatum in Vicks by making your own safe homemade vapor rub with essential oils! Here is the most easy homemade vapor rub recipe that works just as effectively as the original product with an even better consistency!
Note: We're not using essential oils of camphor, cedarleaf and nutmeg because they are super potent and can be toxic when used improperly. So let's stick to the safe side and use essential oils with similar properties, shall we?
What you need
Method
Combine all the essential oils in the coconut oil and stir well with a popsicle stick.
And that's it! Store in the glass jar and use a little amount rubbed on the chest, back, throat and feet for relief.