Essential oils are potent and can be dangerous if misused. Find out what essential oils are safe for rabbits and which ones are not. Also discover some great ways to care for your rabbit using essential oils.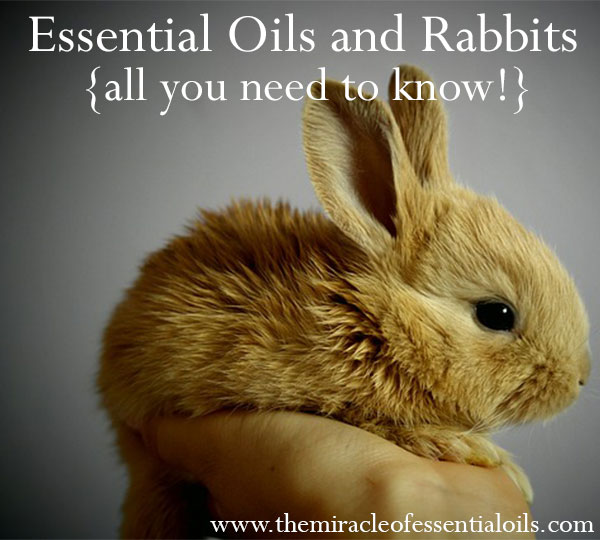 Rabbits are delicate and non-aggressive creatures, which is why they are most commonly used in animal testing laboratories. Their delicate eyes and skin are subject to many cruel tests, especially in the beauty industry.
This is why when you are using essential oils for rabbits, I recommend that you exercise great caution. Before we look at what essential oils are safe for rabbits, let's look at the words of caution when using essential oils for these soft, fluffy creatures.
Caution When Using Essential Oils for Rabbits
Essential oils, though completely natural and medicinal in nature, are highly potent and concentrated. Being so powerful, they can also be dangerous if used recklessly. Here are some safety tips to follow when using essential oils for rabbits:
Never use essential oils undiluted – The skin of rabbits is very sensitive so please never use them diluted on their skin.
How to properly dilute – If at all you are using essential oils topically on your rabbits, make sure you dilute them appropriately. Follow a 1% dilution, that is only 1 drop per teaspoon of carrier oil such as coconut oil.
Never feed your rabbits essential oils – Contrary to what other people say, I suggest that you never attempt to feed your rabbits any essential oil. Most of these sources on the net tell you to add essential oils to your rabbits' water. This is not a good idea because oils and water do not mix – therefore your rabbit could be exposed to concentrated essential oils that can burn their digestive walls.
Never apply essential oils to your rabbits eyes or nose – Your rabbits eyes and nose have delicate membranes that can easily be irritated and cause your rabbit unnecessary pain and suffering. Keep essential oils (whether diluted or undiluted) away from your rabbit's mucus membranes.
When in doubt… If you are in doubt about whether or not to use a certain essential oil, the general rule is, do not use that oil. Stick to the safe oils.
What Essential Oils Are Safe for Rabbits?
What Essential Oils Are NOT Safe for Rabbits?
1. Anise
2. Clove
3. Oregano
4. Tea tree
5. Wintergreen
How to Use Essential Oils for Rabbits
Consult your vet before using essential oils for your rabbit. 99% of using essential oils for rabbit care is to clean their spaces and diffuse, not for external application.
Now that you know what the best essential oils for rabbits are, here are some great ways you can safely use them to take care of your rabbits:
For bad odor – Diffuse lavender essential oil.
For baths – Add 2 drops of lavender to 2 tablespoons of sulfate-free rabbit shampoo. Please note that you should never wash a rabbit unless it is very dirty or has soiled itself. Read more: The Dangers of Giving a Rabbit a Bath
For gentle baby delivery and increasing milk supply – Diffuse fennel essential oil. Please use a high quality diffuser.
For mites : Topical application with diluted peppermint oil.
For stress : Diffuse one drop of lemon and one drop of lavender.
For colds: Diffuse eucalyptus.
For wound cleaning: Dilute 1 drop of lavender in 1 teaspoon of rubbing alcohol and 1 teaspoon of water.