Learn how to use witch hazel and essential oils for acne as a natural treatment!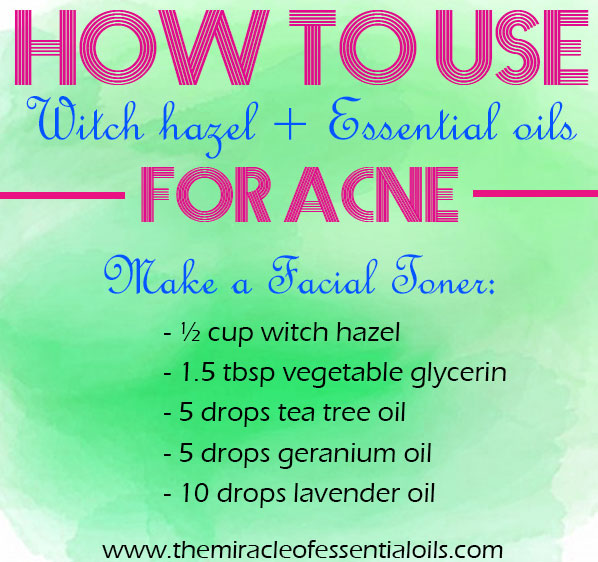 What is Witch Hazel?
Scientific Name: Hamamelis virginiana
Witch hazel is a plant found in North America and some parts of Asia. The Native Americans were the first to use it medicinally. They crushed up the leaves and bark of the witch hazel plant to extract a watery astringent which has several health benefits. Witch hazel is popularly used for skin specifically in today's world. It has antibacterial, astringent and anti-inflammatory properties that are useful in treating wounds, healing acne, toning skin, soothing insect bites, healing poison ivy, treating blisters and so much more.
The Best Essential Oils for Acne
There are countless essential oils out there but what are the top 5 essential oils for acne, in particular? Check them out below:
How to Mix Witch Hazel and Essential Oils for Acne
The easiest and most common way of using witch hazel and essential oils for acne is by making a DIY facial toner. It keeps skin free from excess oils, tightens large pores, disinfects skin and prevents clogged up pores. Here's how to make a DIY facial toner for acne using witch hazel and essential oils:
What you need
Directions
Using a small funnel, pour ½ cup of witch hazel into your amber bottle.
Next add 1.5 tbsp of vegetable glycerin.
Carefully add 5 drops of tea tree essential oil, 10 drops lavender essential oil and 5 drops geranium essential oil.
Close the bottle and shake well to combine all ingredients.
To use, pour a little on a cotton pad and dab it all over your clean and dry face. After 2 minutes, apply moisturizer. If you want to go natural, use a pea-sized amount of plain shea butter to moisturize.