Something unique and exquisite as aloe vera hydrosol does exist! Now find out what the aloe vera hydrosol benefits are, its uses, application tips and more!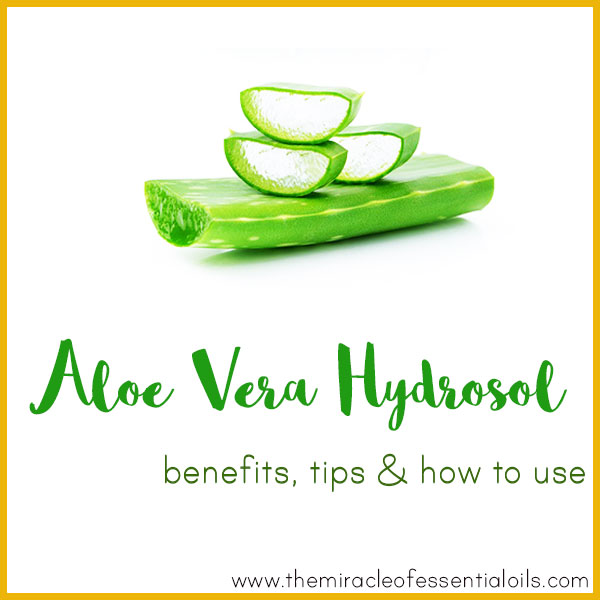 What is Aloe Vera Hydrosol?
Aloe vera hydrosol, like all other hydrosols, is made by steam distilling the leaves of the aloe vera plant.
The only difference to note is that in steam distillation, the main objective is to extract the essential oils which are much more valuable and precious. The resulting distillate, known as the hydrosol, is simply a by-product of the essential oil extraction process.
Yet in the case of aloe vera, there is no essential oil! Aloe vera is composed of more than 90% water, and the gel found within the leaves is composed of 99% water. The amount of whatever essential oil present in aloe vera is too minuscule for it to even be extracted.
But aloe vera hydrosol is a real, exquisite and healing hydrosol! Aloe vera is filled with more than 200 compounds, which justify its use since ancient times as a medicinal healer for hundreds of ailments.
Benefits of Aloe Vera Hydrosol
Here are some of the benefits of aloe vera hydrosol:
Digestive: Aloe vera has been used since time immemorial to soothe all types of digestive ailments. It can soothe digestive ulcers, aid digestion, relieve heart burn and act as a gentle laxative.
Anti-acne: For those suffering with acne, aloe vera is one of the best remedies. Use aloe vera hydrosol in as a facial cleanser and toner to treat acne.
Soothes the skin: Many skin conditions such as psoriasis, eczema and others can be relieved with the use of aloe vera hydrosol. It can help relieve itching, inflammation, redness and rashes.
Detoxification : Accumulation of toxins in the body can lead to various dis-ease conditions including auto-immune disorders, weakened immune system, allergies and skin disorders. Aloe vera hydrosol can be used as a detoxifying agent, especially for the skin.
Digestive : The hydrosol of hydrosol is incredibly soothing to the digestive system. It also supports the liver in detoxification. Hydrosols are safe to be ingested and can be used internally.
How to Use Aloe Vera Hydrosol
Skin Toner : Tone your skin by applying a cotton ball dipped in aloe vera hydrosol. You can also fill a spray bottle with aloe vera hydrosol and use it as a makeup setting spray.
Hair Rinse : After a shower, rinse your hair with aloe vera hydrosol to give a sleek, shiny effect. It can also strengthen and condition your hair shafts and make your hair healthy and nourished.
Digestive Tonic : Aloe vera hydrosol can be used to soothe an upset tummy. Simply drink ¼ cup of aloe vera hydrosol straight up, or mixed with water to ease digestive trouble.
For Babies: Add ½ cup of aloe vera hydrosols to babies' bath water for a skin-soothing and cleansing bath. You can also make homemade baby wipes using aloe vera hydrosol.
For more ideas on how to use aloe vera hydrosol, read: 25 Ways to Use Hydrosols
How to Make Aloe Vera Hydrosol
To find out how you can make aloe vera hydrosol at home, read: How to Make Aloe Vera Hydrosol at Home.
Where to Buy Aloe Vera Hydrosol