Hydrosols are aromatic and versatile flower waters that are brimming with health and beauty benefits. Find out 25 creative ways on how to use hydrosols below!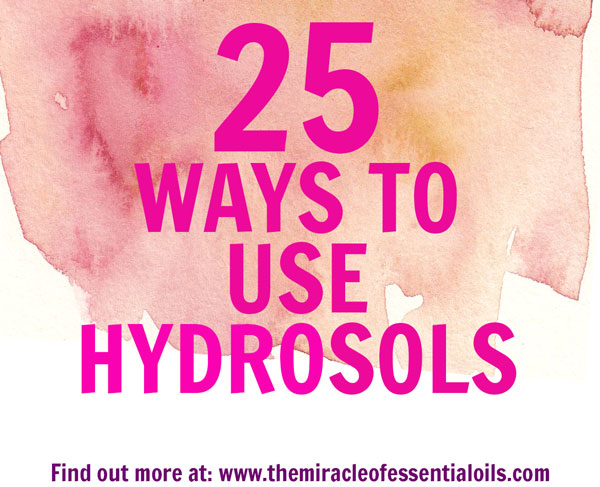 1. Facial Toner
Toning the face is an important step in skin care that is often ignored. Hydrosols such as rosemary can be used as natural facial toners that act as astringents to help close the skin pores, making a smooth finish for application of other skin care and makeup products.
2. Skin Cleanser
Hydrosols can be used for cleansing the skin. Dip a cotton ball into your hydrosol of choice, such as lavender hydrosol, and cleanse your entire face. The hydrosol will reach deep into your skin and disinfect your pores, remove dead cells and other impurities.
3. Face Mask
Mix 1 tsp bentonite clay with a 2 tsp or more of cucumber mint hydrosol and apply to your face and neck. This is a great detoxifying face mask that can draw out impurities, remove acne and even out the skin tone.
4. Body Mist
Hydrosols make amazing, refreshing and fragrant body mists by themselves. Use melissa or lemongrass for a scented pick-me-up any time of the day. Try mixing different hydrosols such as rose and peppermint to create your own signature scents and store them in a fine mist spray bottles.
5. Air Freshener
Stop using conventional air fresheners because they are full of toxic, irritating ingredients that can aggravate allergies, weaken the immune system and upset the hormonal balance. Instead fill a spray bottle with your favorite hydrosol, like cinnamon, to freshen up the atmosphere naturally!
6. Hair Rinse
After shampooing your hair with a mild sulfate-free shampoo, use a hydrosol hair rinse to add shine to your hair. Hydrosols like rosemary and  lavender can make your hair silky, glossy and manageable. Read: How to Make a Hair Rinse with Hydrosols
7. Hair Fragrance Spray
Fill a spray bottle with your favorite hydrosol and mist it on your hair after a bath, before you head out the door or right before bed to scent your hair. Use fragrant hydrosols like rose, geranium or ylang ylang to make your hair smell exotic and irresistible!
8. Green Cleaning
There's no need to use toxic cleaning products when you can use antibacterial, naturally scented and powerful grime-removing hydrosols. Pour some tea tree hydrosol onto a microfiber cloth and use it to wipe furniture, glassware and countertops.
9. For Babies
Many essential oils are unsafe for babies. Hydrosols are safe for babies and unlike essential oils, they can be used undiluted. Hydrosols like roman chamomile are very helpful for soothing teething babies. Rub some chamomile hydrosol on your babies gums, or give them a clean organic cotton wash cloth dipped in hydrosol to chew on.
10. For Pets
Essential oils are toxic for many pets, especially cats, which tend to lick their fur and may ingest the oils. Cats' livers are not designed to handle and eliminate essential oils, making them toxic to the furry critters. Instead hydrosols like lavender can be used to soothe itchy fur, repel fleas and treat infections.
11. Freshen Linen
Keep your linen from smelling musty and moldy by spraying hydrosols like cinnamon, lavender and neroli in your linen cupboards.
12. Bug Repellent
Hydrosols are natural bug repellents. They can be used as a bug repellent spray to deter ants, fleas, ticks, mites, mosquitoes, silver fish, spiders, earwigs, waterbugs/roaches, fruit flies, and other bugs.
13. Add to Your Bath
Add one to two cups of your favorite hydrosol to your bath, along with ¾ cups of Epsom salts and 1 cup of bentonite clay. Take this detoxifying bath once a week to relax, unwind and de-stress your mind, body and soul.
14. For DIY Skin Care Products
You know all those DIY skin care products you can make at home? Lotions, creams, serums – you name it! You can use hydrosols in place of water for extra benefits such as natural fragrance, soothing effects, skin regeneration properties and more!
15. Cooling Eye Pads
Whenever your eyes feel tired or wary, be it from spending too much time on the computer/phone or staying up too late studying, soak 2 circular cotton pads in roman chamomile, lavender or cornflower hydrosol and place over your eyes. Assume a resting/lying down position for 15 minutes to relax your eyes, cool your entire body, relieve tension headaches, alleviate dark circles and reduce eye puffiness!
16. Foot Soaks
Foot soaks can be relaxing and rejuvenating whenever you feel a bit tired. To a small tub of reasonably hot water, add ½ cup of Epsom salts and ½ cup of hydrosol and soak your feet for 10 minutes. This is particularly good for relieving corns on the feet, athlete's foot, foot and nail infections and other foot maladies.
17. Sitz Baths
A sitz bath is a healing treatment where you immerse the lower part of your body below your waist into a tub of hot water, herbs and other medicinal ingredients. The aim here is to target your lower back (for pain, sciatica and other similar issues) or your genital region (for hemorrhoids, genital infections, episiotomy wounds and others). Instead of adding essential oils, you can add healing hydrosols like lavender, tea tree and frankincense to your sitz bath.
18. Sun Burn Relief
To heal sun burn wounds and UV damage use a cooling spray filled with frankincense, carrot seed and cucumber hydrosols. Spray liberally on to the sun burned areas for quick relief and recovery.
19. Ear Drops
Hydrosols can be used externally as ear drops. Make sure the hydrosol is at room temperature, and not straight out of the fridge before dropping it into the ear. This is because some people report symptoms such as vertigo when cold ear drops are used in the ear. Apply 2 – 3 drops of lavender or myrrh hydrosol to alleviate blocked ears, ear infections and ear pain.
20. Nasal Drops
Blocked nasal pathways can be instantly relieved with a few drops of hydrosols such as peppermint, rosemary or lavender. Hydrosols can reach deep and help fight respiratory ailments such as colds, blocked sinuses and allergies.
21. Feminine Douching
I don't recommend douching. Conventional douches contain harsh chemicals and toxic ingredients that can throw the delicate vaginal pH off balance. But in cases of vaginal infection or odor, natural douching with hydrosols can be of immense benefit.
22. Deodorant Spray
Step out of the shower and apply a few rounds of hydrosol spray under your armpits for a natural deodorant effect. This deodorant works well for mild activities but for more sports-intensive activities, try this homemade essential oil deodorant instead.
23. Aftershave
Hydrosols such as carrot seed and lavender are favorites for men who are health-conscious and have given up harsh conventional aftershave products. These antibacterial hydrosols can help heal minor cuts and abrasions on the face, and also leave behind a clean and crisp scent.
24. Mouthwash
One of my favorite ways to use hydrosols is as an all natural mouthwash! Swish some frankincense hydrosol or peppermint every after a meal, or right before that important date to cleanse and deodorize your mouth. This will also help strengthen the gums, heal wounds in the mouth and kill harmful bacteria lodged within the teeth.
25. Makeup Remover
At the end of a long day, nothing feels as good as taking all your makeup off and going to bed with a clean, fresh face. Make your own homemade hydrosol-based cleansing wipes to take off all your makeup. You can also make a makeup setting spray! Read: DIY Hydrosol Makeup Setting Spray