Everyone is aware of the many amazing uses of fresh lemon juice. However, could lemon essential oil be even better? In this article, we shall explore the benefits of lemon essential oil vs fresh lemon juice!
When you cut a lemon in half and squeeze it, you'll get fresh lemon juice! That's right, we're not talking about the lemon juice in bottle you see at the store. Nope – that one contains artificial preservatives and even sugar. We are talking about natural fresh straight from the lemon kind of lemon juice! It's filled with benefits as we shall see further below.
The Many Uses & Benefits of Fresh Lemon Juice
Ahh..fresh lemon juice makes me think of cool lemonades in the hot summer sun! Most of us love drinking lemonade and squeezing lemon juice all over our salads before munching them. But fresh lemon juice has many more uses – some of them are unusual as well!
Below are 10 cool ways you can use fresh lemon juice in your daily life:
Make a glass of lemonade
Drink warm lemon water first thing in the morning
Add it as an ingredient in a DIY facial mask
Mix it with baking soda and use it to whiten your teeth
Use it to flavor your rice, chicken, curries and any other dish
Rinse your mouth with lemon water to freshen breath
Sip a bottle of lemon water throughout the day to support weight loss and curb appetite
Increase your Vitamin C uptake by consuming lemon juice in your food/drink
Use it as a facial toner by mixing it with water in a 1:5 ratio
Rub a cotton ball soaked with lemon juice under your arms as a natural deodorant
Soak your nails in a bowl of olive oil + lemon juice to whiten them
And others!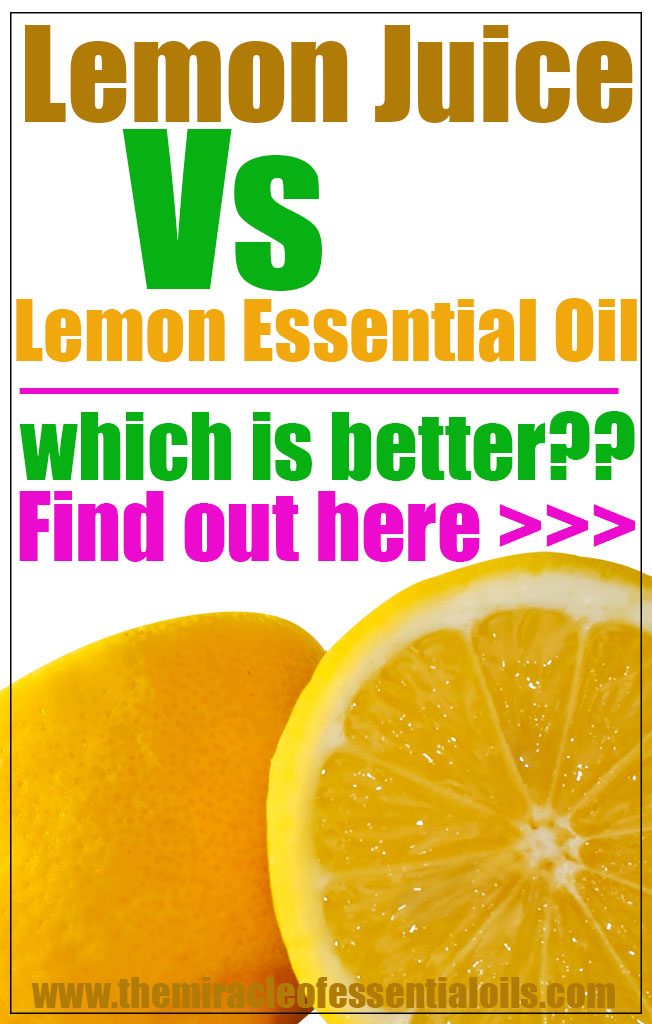 Why You Need a Bottle of Lemon Essential Oil
What is lemon essential oil? Essential oils are all the craze nowadays. They have powerful therapeutic properties and a multitude of uses!
Lemon essential oil is a highly concentrated liquid extracted from the peels of lemons through a process called cold pressing.
To get just 15 ml of lemon essential oil, 45 lemon peels are used! Lemon essential oil is that precious and potent! Only a few drops are enough to get the desired effect!
The benefits of lemon essential oil are numerous! To read about them, please head onto our article: How to Use Lemon Essential Oil + its Benefits
Benefits & How to Use Lemon Essential Oil Vs Fresh Lemon Juice
Fresh lemon juice and lemon essential oil are both very beneficial and useful. But, in some cases, you'll see that it's wiser and more logical to use fresh lemon juice over lemon essential oil and vice versa. Let's see how to use them both effectively below:
1. Consumption
Do not consume lemon essential oil. Essential oils are not meant for internal use. Do not add it to your food or water. One drop of an essential oil is so potent and powerful that it likely has high chances of having a negative effect on your body! Read more: Can you Drink Essential Oils in Water?
On the other hand, feel free to consume lemon juice! Make lemonade, use it to give your salads a zing, add it to your food to make it taste lemony.
2. Cleaning
Lemon essential oil is very high in limonene compared to fresh lemon juice. This high limonene content makes lemon essential oil a powerful antioxidant and excellent cleansing agent. What's more is that it's scent is more long lasting compared to lemon juice, plus it is much sweeter smelling.
So when it comes to using lemons for cleaning, lemon essential oil is the best to use. Add it to your detergent or make your own detergent with it. You can also use it to make a DIY Wood Polish.
3. Facial & Hair Treatments
You can use both lemon juice and lemon essential oil when making your own skin and hair treatments. But keep in mind that both of them have to be heavily diluted to avoid irritating your skin. Dilute every 2 drops of lemon essential oil with 1 tsp of a carrier oil, aloe vera or any other substance.
When using lemon juice for your homemade skin & hair treatments, add just a few drops to them because fresh lemon juice can sting and cause redness if used undiluted.
4. Deodorizing
When it comes to making a natural deodorant or scenting up your home, you can use lemon essential oil rather than lemon juice. This is because lemon essential oil has a more long lasting scent, better scent and more potent antibacterial & cleansing action.
Both lemon essential oil and lemon juice can be used but using which one for what purpose can help you be healthier, safer and use your time and money more wisely!