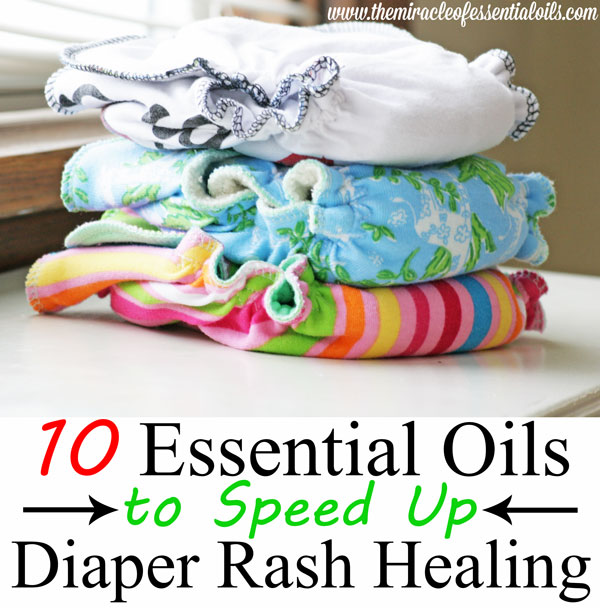 Most parents are familiar with diaper rash, unfortunately. The thing is, both parents using conventional disposal diapers and those using cloth diapers have, at some point in their baby rearing had to deal with the stress and pain of a baby suffering from diaper rash. This is because diaper rash is caused primarily by the baby's skin coming into contact with damp/wet diapers for a prolonged period of time. Of course, there are other reasons that can contribute to your baby getting diaper rash and these include:
food sensitivities, which cause the skin to become extra sensitive and easily irritable,
teething and introduction to new foods, which can cause loose motions/diarrhea in babies leading to an irritated anal area,
certain brands of diapers, which your baby's skin may not take a liking to,
and many more.
When you find your poor tot afflicted with diaper rash, the best you can do is to find out the cause of the diaper rash and fix it. For example if the cause was neglecting to change your baby's diapers regularly (at least every 4 hours), then act immediately on doing so.
In the meantime, please go ahead and learn below about the best essential oils for diaper rash that can help your baby get quick relief. But before that – here are some precautions and points you need to know when dealing with essential oils:
Things you Should Know before Using Essential Oils on Babies
Be very, very careful – and I mean VERY, VERY careful, when using ANY essential oils with babies. Normally most oils can be diffused/used aromatically near babies.
Never use essential oils on babies less than 3 months old, no matter how tempting it is. 3 months will pass by so quickly anyway, so keep your patience.
Dilution is very important with essential oils. Remember essential oils are very potent. For every ounce of carrier oil, you should be using only a few drops of essential oil. For babies less than 1 year, only use 3 – 6 drops of essential oil per carrier oil.
Read more: Essential Oils and Babies
Let's get on with it, then! The list below includes the top 10 essential oils for diaper rash that are baby-safe.
10 Safe Essential Oils for Diaper Rash Relief

1. Lavender Essential Oil
Scientific Name: Lavandula angustifolia
Origin: Asia, Europe, Africa
Scent Profile: Soft, powdery, floral
Known for its calming, fresh and relaxing scent, lavender oil is also high in antimicrobial properties, which can help fight the microbes that cause diaper rash.
2. Tea Tree Essential Oil
Scientific Name: Melaleuca alternifolia
Origin: Australia
Scent Profile: Fresh, Camphor-like
Tea tree oil is a powerful disinfectant and is rich in anti-fungal, antibacterial, antimicrobial properties, which make it possibly the best essential oil for diaper rash.
3. Rosemary Essential Oil*
Scientific Name: Rosmarinus officinalis
Origin: Spain, Morocco, Tunisia
Scent Profile: Woody, fragrant, herby
Known to boost memory, rosemary essential oil is a stimulating oil that can help boost circulation to the diaper rash affected area and enable it to heal faster, which is just the thing we need for our little ones to feel better.
4. Frankincense Essential Oil
Scientific Name: Boswellia carterii
Origin: Middle East
Scent Profile: Woody, musky
Frankincense oil is one of the most ancient and most prized essential oils that is used in spirituality and mental health for its calming and grounding properties. It's a great oil for all sorts of skin ailments and is a great remedy for diaper rash in babies as it helps promote faster healing of skin cells.
5. Chamomile Essential Oil
Scientific Name: Arthemis nobilis or Chamaemelum nobile
Origin: Many parts of Europe
Scent Profile: Fresh, sweet, apple-like aroma
A must-have for those with kids, chamomile essential oil is best known for its use in calming upset tummies, but its soothing properties also make it a great oil to use in homemade diaper rash creams and products.
6. Myrrh Essential Oil
Scientific Name: Commiphora myrrha
Origin: Middle East
Scent Profile: Warm, earthy, woody
Similar to frankincense oil, myrrh essential oil is a highly healing oil that helps with the itchiness of diaper rashes, reduces swelling and redness and helps promote faster healing.
7. Clove Essential Oil
Scientific Name: Eugenia caryophyllata
Origin: Molukkas Islands, Asia
Scent Profile: Minty, spicy, woody
Clove oil is a staple in almost everyone's medicine pantry for its popularity as a toothache relieving oil. Clove oil is packed with antioxidants and helps relieve the pain and itchiness associated with diaper rashes. It also helps relieve inflammation.
8. Niaouli Essential Oil
Scientific Name: Melaleuca quinquenervia
Origin: Madagascar
Scent Profile: Earthy, Stuffy, Strong
Used to relieve respiratory congestions and acne relief, niaouli oil is also used to help relieve the symptoms of diaper rash including redness, inflammation and soreness.
9. Peppermint Essential Oil*
Scientific Name: Mentha piperita
Origin: India
Scent Profile: Pleasant, fresh, minty
Peppermint essential oil is stimulating and increases alertness. Peppermint oil is rich in menthol, which gives it a cooling, tingling sensation, that can help numb the pain and itchiness of diaper rash and cool down the often red and heated area.
10. Eucalyptus Essential Oil*
Scientific Name: Eucalyptus globulus
Origin: Australia
Scent Profile: Fresh, minty, herby, penetrating
Used for relief in all sorts of respiratory conditions, for headache and migraine relief and for relief from fatigue and muscle pain, eucalyptus essential oil is a versatile oil that can be used to reduce pain, inflammation and soreness caused by diaper rash.
Note:
*Some say that Eucalyptus and Rosemary Essential Oils should not be used on children less than 10 years of age, and peppermint essential oils should not be used on children less than 6 years of age, however many others are using the same oils on babies more than 3 – 6 months of age, while exercising caution.
Proper dilution is of high importance, as a little truly goes a long way. When diffusing essential oils around your little tots, use a high quality cold mist diffuser and only diffuse a few drops for short periods of time (less than 1 hour) because essential oils are known to irritate the airways of babies and children, even adults, if used inappropriately.
Always do a patch test using a small quantity of the essential oil diluted sufficiently in a carrier oil and wait for 2 – 6 hours to notice any reactions. This should be done with all essential oils even if they are labelled safe for babies because each baby is different.
If you have any doubts regarding any essential oil use with your babies, please consult your health care provider who will guide you to taking the best decision for your family.
Caution:
Essential oils should be handled with care. Remember essential oils are highly concentrated extracts of plant material. One drop of essential oil can be equivalent to up to 40 cups of tea of plant material.
No one in their right mind would think of feeding their baby 40 cups of herbal tea, yet it is the same with one drop of essential oil. Do not keep essential oils within reach of children.
Do not apply essential oil products on baby's face or baby's hands/fingers because babies are constantly chewing their hands/fingers etc and you do not want them to ingest any amount of essential oil by mistake.
Do not diffuse essential oils for more than 1 hour in the same room as the baby. Too much of a good thing, when it comes to essential oils, is not only a bad thing but is also neurotoxic and dangerous. Please take care.