Like any loving parent you may be interested in keeping your baby healthy and avoiding synthetic medicines that can have adverse side effects. So you're looking into natural remedies to raise a healthy young one. Some of the best natural remedies are essential oils. But you may be wondering, "what essential oils are safe for babies?" Here are the top 10 essential oils for babies and how to use them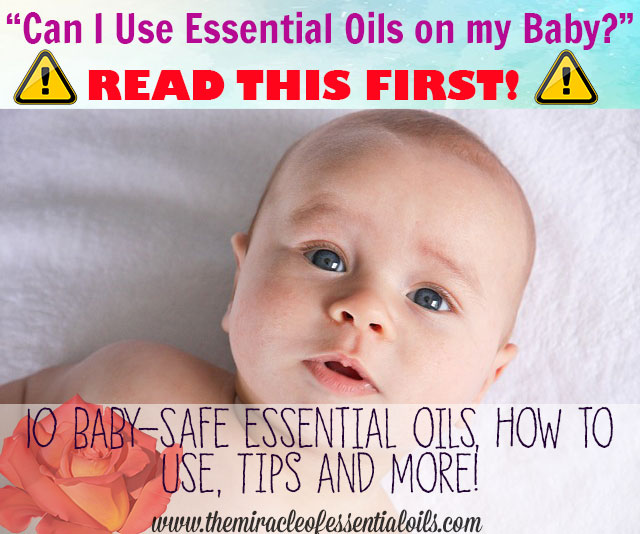 Be Very Careful When Using Essential Oils With Babies
We generally have to be very careful when using essential oils ourselves, as adults. But when it comes to babies, we have to be EXTRA careful.
It's worth noting that essential oils are highly concentrated and potent extracts containing the very essence of plants and herbs, enclosed in one oil-filled bottle. Just imagine, 1 drop of peppermint oil is equal to 30 cups of tea – that's how potent they are!
The reasons why we have to be careful when using essential oils with babies include:
Babies are smaller than us. Weighing between 2 kgs – 15 kgs, babies are considerably smaller than us, so it's only normal that we should use very diluted quantities of essential oils on them, or even none at all.
Their organs are not yet mature. For instance, the liver which deals with detoxification and the elimination of essential oils, only reaches maturity at 15 months of age.
Babies are sensitive. Their skin is very permeable in the first few days after birth. If not diluted properly, essential oils can burn and irritate babies' skin.
Their digestive systems are not capable of dealing with essential oils. For up to 6 months of a baby's life, they can mostly digest breast milk, which is already pre-digested anyway. Giving essential oils to babies for ingestion is a big NO-NO for this reason.
Essential Oils for Babies Under 3 Months (New Borns)
Completely avoid essential oils for babies under 3 months. Even if essential oils are diluted well, do not apply them to new born babies. Even diffusion of oils around new borns should be dealt with caution.
Nourish your baby by feeding her with exclusive breast milk, co-sleeping, skin-to-skin time and more.
Essential Oils for Babies Under 6 Months
Essential oils should still be avoided on babies under 6 months. You may diffuse essential oils around baby now, but only diffuse 1 – 2 drops for 30 minutes maximum. If your baby shows any sign of irritation or fussiness, you may need to stop the diffusion.
Essential Oils for Babies Over 6 Months (Infants)
Essential oils can be used with care now. Dilution is the key! Dilute 1 drop of essential oil in 1 tablespoon of carrier oil.
If you are protecting your baby from the chemicals in conventional baby care products, then you might be using pure coconut oil as baby oil. You may add essential oils at a very diluted concentration to this baby oil if you wish.
Essential Oils for Babies Over 2 Years
Once your baby is over 2 years, he is now a child, and you can safely use essential oils at a 1% dilution on him. This means 1 drop in 1 teaspoon of carrier oil. Refer to Essential Oils for Children for more information.
Top 10 Safe Essential Oils for Babies
Here are the top 10 essential oils you can use for babies, provided they are well-diluted:
1. Lavender (where to get it)
2. Lemon (where to get it) 
3. Frankincense (where to get it)
4. Sandalwood (where to get it)
5. Palmarosa (where to get it)
6. Tea tree (where to get it)
7. Geranium (where to get it)
8. Ginger (where to get it)
9. Chamomile (where to get it)
10. Ylang ylang (where to get it)

These are the essential oils I used diluted topically and diffused for my son, Harry. I only begun using essential oils with him after 3 months of age.
How to Use Essential Oils for Babies
For calming fussy babies If your baby is fussy, it usually means they are not comfortable with something. It could be a full diaper, a diaper rash, bloating, indigestion or hunger. Check to see if your baby's needs are all met. You may diffuse 1 – 2 drops of lavender essential oil for up to 30 minutes a day in a well-aerated room where your baby is. Ensure to use a high quality diffuser.
For diaper rash – Make DIY baby powder using ½ cup arrow root powder, ½ cup of bentonite clay and 2 drops of lavender oil. Store in a clean jar and dust this on before putting on the diaper.
For indigestion – Is your baby suffering from indigestion? YOU can help by taking 1 drop of diet-safe ginger essential oil in 1 cup of warm milk. The essential oil will pass on to your baby via your breast milk and help with his digestion.
To boost immunity – Rub diluted frankincense oil on the soles of your baby's feet.
For chest colds and cough – Rub diluted basil oil on your baby's chest. This acts as a decongestant and breaks down thick mucus for easier expelling. You can use a nasal syringe to help your baby get out the mucus, since they can't blow their nose.
For fevers – Diffuse palmarosa in a high quality diffuser or apply diluted lavender or diluted palmarosa on your baby's temples and neck.
For teething – Dilute clove oil and apply to gums if your baby is suffering from teething pain.
Caution
Always consult your family doctor before using any essential oils for babies.
Patch test on their skin by applying diluted oil to make sure they are not allergic.
Always use high quality, 100% pure, organic essential oils from trusted sources.