In the quest to raise healthy children naturally, you may be wondering about essential oils and children – what's safe and what's not. Here are some answers.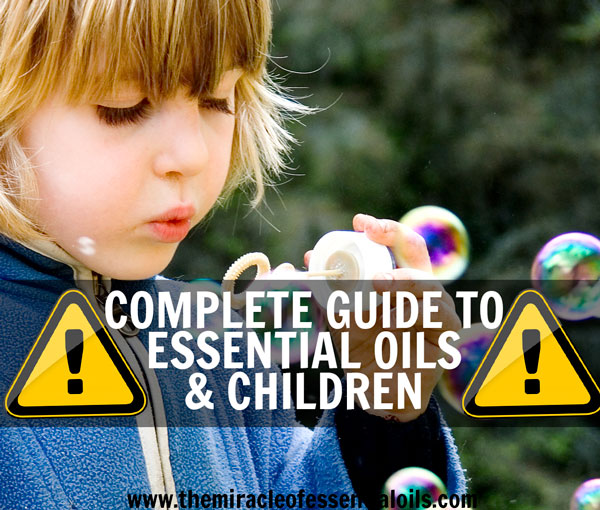 Essential Oils and Children
Essential oils are naturally found in plants, but in a very small quantity. By pressing or distilling large amounts of plant material, we can collect enough of these precious oils to fill a bottle. That's how potent essential oils are.
Being so concentrated, we have to be careful when using essential oils on ourselves, but more so when it comes to our babies, children and also small pets.
Children are smaller than us, with lower body weights and therefore, we must take care to dilute essential oils appropriately before using. The general rule is to use a 1% dilution rate, which is 1 drop per 1 teaspoon of carrier oil. Read more: How to Dilute Essential Oils
General Guidelines When Using Essential Oils for Children
Always use high quality, 100% pure, organic essential oils from trusted sources.
Always consult your family doctor before using essential oils for children.
For children below 7 years, do not give essential oils for ingestion. Instead opt for herbal teas of the herb from which the essential oil is extracted, such as ginger tea instead of ginger essential oil, chamomile tea instead of chamomile essential oil etc.
For children below 2 years of age (babies), please read Essential Oils for Babies
Top 15 Safe Essential Oils for Children
Here are the top essential oils safe for children:
Top 5 Essential Oils to Avoid with Children
Here are some of the common essential oils that should be avoided with children:
Peppermint
Wintergreen
Rosemary
Cinnamon bark
Hyssop
Essential Oils and Children – How to Use
Diffusion – Diffusion is the best way to use essential oils for children. Using a high quality non-plastic diffuser, diffuse up to 3 drops of essential oil for not more than 1 hour a day. Only diffuse essential oils in a well-ventilated room.
Topical Application – Essential oils can be applied topically after diluting them correctly. It is best to use a 1 – 2 % dilution. This means 1 drop of essential oil in 1 teaspoon of carrier oil such as fractionated coconut oil.
Foot Reflexology – Foot reflexology is the concept where by different parts of the foot are said to connect to different organs in the body. Massage dilute essential oils on your child's foot to reach the organs concerned.
Common Children's Problems and Essential Oils
For sleep issues – Massage feet with diluted lavender oil
For cough – Rub chest with diluted basil oil
For wounds and cuts – Disinfect wound with a solution of rubbing alcohol, water and tea tree oil
For fever – Rub diluted palmarosa on the temples and neck
For digestive issues – Rub diluted ginger oil on the abdomen