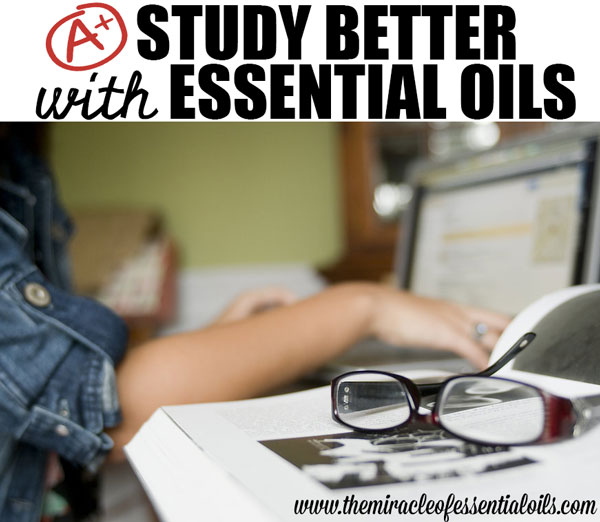 Do you want to improve your concentration, increase memory power and boost brain function to ace exams at school? You can easily achieve all those, completely naturally, using the power of essential oils!
The effects of aroma therapy have long been utilized for a myriad of purposes, from day to day activities such as body cleansing to important rituals like embalming deceased Pharaohs.
Aroma therapy was also used in the academic world since ages ago! In Ancient Greece, scholars and students would hang wreaths of rosemary on the doorways of their study rooms while studying for tests. This is so that the clear fresh herbal scent of rosemary could waft into the room, improving mental clarity and boosting memory!
Go ahead and give yourself an edge over your class mates and you don't even have to do anything illegal – all you need is a few bottles of precious liquid! In this article, we shall discuss the best essential oils for studying and how to use them throughout your learning journey.
7 Best Essential Oils for Studying
1. Rosemary Essential Oil
As mentioned above, just breathing in the invigorating herbal scent of rosemary enhances concentration and increases remembrance. So if you're trying hard to master a concept or you keep reading the same line again and again without it sinking in your brain, then it's time you used rosemary oil (where to get it)!
In one study (1), it was found that compounds absorbed from the aroma of rosemary affect cognition and subjective state independently through different neurochemical pathways. This study also showed that the aroma of rosemary improved the speed of math computations and led to an improvement in long-term memory.
2. Peppermint Essential Oil
Diffusing peppermint oil (where to get it) while you study can help you stay focused and alert without feeling sleepy and it also increases retention rates so you can soak up as much information from your study material as you can while enjoying its fresh and invigorating scent!
This is backed by research as well! A study carried out by The International Journal of Neuroscience (2) showed that peppermint enhances memory and increases alertness.
3. Sweet Orange Essential Oil
Citrus essential oils have sweet fruity scents that are uplifting and have mood-boosting properties to instantly put a smile on your face! If you have the exam blues, get yourself a bottle of sweet orange essential oil (where to get it) – just a whiff of that citrusy aroma is guaranteed to make you happy again.
Before you study that thick complicated text you've been putting off for far too long, inhale sweet orange essential oil straight from the bottle and get ready to tackle that textbook with renewed energy!
4. Sage Essential Oil
Extracted from the leaves of the common garden sage (scientific name: Salvia officinalis), sage essential oil (where to get it) is another one of the best essential oils for studying. Sage essential oil is good for mental balance and is a powerful aid for mental fatigue so it's especially useful when you're swamped with a lot of work and your brain feels fried.
One study (4) researching the aromas of Salvia species on cognition and mood found that the group exposed to the Salvia officinalis aroma performed slightly better than the control group. You can use sage essential oil in a diffuser blend with other oils like rosemary or peppermint to increase cognitive function and improve concentration.
Caution: It's best to avoid topical application of sage essential oil because it is very potent and can cause skin irritations. The safest way to use it is through diffusion.
5. Eucalyptus Essential Oil
The sharp and fresh scent of eucalyptus oil (where to get it) cuts through a cluttered mind, eliminating mental unclarity and awakening your senses! It works just like peppermint in clarifying your mind and increasing mental performance. Eucalyptus also strengthens your immune system, fighting off nasty viruses and saving you from stuffy noses during exam week.
This stimulating oil works wonders for headaches so if you feel a migraine coming up from staring at the computer too long, quickly mix up 1-3 drops of eucalyptus oil in 1 tsp of coconut oil and deeply rub it into your temples and forehead to put a stop to that throbbing pain before it even thinks of ruining your productive day!
6. Lemon Essential Oil
Lemon essential oil (where to get it), extracted through cold compression of lemon peels, is another citrus oil that has amazing mood improving properties. It works the same way as orange oil in fighting off the depression and hopelessness experienced by students. You can place a few drops on a hanky and inhale that frequently or even use diffuser jewelry like these leather bracelets to keep you in high spirits the whole day!
This fruity oil can also lower your stress while putting you in a jolly good mood so it's a great asset to have around if you find yourself getting too stressed out often.
7. Ylang Ylang Essential Oil
A heavenly scented essential oil, ylang ylang essential oil (where to get it) is derived from the curly yellow flowers of Cananga odorata, native to Indonesia, Malaysia and the Philippines. It has calming properties that will quell anxiety & nervousness and help you settle down peacefully to study without making you feel sleepy.
One study (3) investigated the power of the aromas of both peppermint and ylang ylang on aspects of cognition and mood in healthy individuals. It showed that while peppermint amplified memory and concentration, ylang ylang significantly helped with calmness instead.
Ylang ylang blends beautifully with citrus essential oils so if you're feeling depressed about your grades and getting panic attacks at the same time, make a blend of 7 drops ylang ylang essential oil, 6 drops lemon essential oil and enough liquid coconut oil to fill a 10ml roll-on bottle. Roll this on your shoulders, behind your neck and ears.
8. Sweet Basil Essential Oil
Basil is a wonderful herb that gives meals a delicious aroma but did you know that it increases cognitive function as well? Sweet basil essential oil (where to get it) has cephalic properties, which means that it stimulates the mind and increases concentration levels as well as boosts memory power.
It's also very effective in battling colds, stomach viruses and headaches, which are common ailments that affect students. I love using basil for facial steaming to instantly alleviate headaches, fight off the flu and sharpen memory. Here's how to do it: get a saucepan and add 4 cups of water. Now heat the water till it boils. Remove from heat and carefully place it on a table over a place mat. Add 2-3 drops of sweet basil essential oil. Sit down with your face at a manageable distance from the pot and create a tent with a towel, covering your head and the steaming pot. Breathe in the basil-infused steam and benefit from its mental clarifying and headache-busting properties!
9 Essential Oil Blends and Application Tips for Studying
» Inhale directly. Get yourself a aromatherapy inhaler for a quick non-messy way of gaining from the aroma therapeutic properties of essential oils for studying! To use, all you need to do is place a few drops (about 1-5) then sniff away!
» Place on a hanky/paper towel or cotton ball. Probably the easiest essential oil recipe for studying is to place 2-3 drops of your essential oil of choice – for example, peppermint – on a hanky, paper towel or cotton ball and taking sniffs at it while you work.
» Mood Boosting Diffuser Recipe. To your cold-mist diffuser, add 3 drops sweet orange, 3 drops peppermint and 2 drops ylang ylang essential oils and enjoy the uplifting scent!
» 'Clear Brain Fog' Diffuser Mist. Before you settle down at your study table, refresh your brain cells and remove mind clutter by diffusing this brain fog clearing mist! Simply place 2 drops peppermint, 1 drop eucalyptus and 1 drop sweet orange to your cold-mist diffuser.
» 'Focus' Roll-on Recipe. In a 10 ml roller bottle, add 7 drops rosemary, 5 drops sweet basil, 3 drops peppermint and 1 drop ylang ylang. Top off with a liquid oil of your choice. Roll between your palms to shake up the oils and use on your wrists, back of neck, shoulders and other areas to increase focus.
» Energizing Shower Melts. These are great ways to refresh your mind and increase alertness! Use them in your morning shower every day before school for an amazing day ahead!
To make your shower melts, mix 1 cup of cornstarch, ½ cup of baking soda, 7 drops rosemary oil, 5 drops peppermint oil and 3 drops lemon oil in a large bowl with a whisk. Now start adding water, little by little to form a thick paste – this part is easy to mess up so make sure you keep adding the water in small quantities. The baking soda will make it fizz a little but don't worry about it, focus on creating a thick paste. Once that's created, scoop it up into a ice cube tray and keep it in the freezer for 2-3 hours. After which, pop them out and store in a mason jar. To use, toss one on the shower floor and the steam and hot water will break it down, leaving you with the energizing scents of the oils in the air!
» Memory Boost Mix. In a small jar, preferably a tinted one like this small amber glass jar (to keep your mix fresh longer), place 1 oz of pure aloe vera gel and stir in 4 drops of rosemary, 4 drops of peppermint and 3 drops lemon. Apply a little on your wrists and other pulse points.
» Sleep Peacefully Blend. If you're planning on pulling an all-nighter, maybe you should give it a re-think. Sleep is necessary for a properly functioning brain the day after plus it helps arrange all you've studied in an orderly manner in your brain. This helps you recall much better than if you stayed up the whole night. Make a sleep blend to give you a good night's rest and quell any panicky feelings you might be having!
Simply add 8 drops of lavender, 5 drops of cedarwood and 5 drops of ylang ylang essential oils to a 10 ml roller bottle. Top off with a liquid oil of your choice such as fractionated coconut oil and shake well to combine them. Roll onto your shoulders and feet before going to bed.
» 'Refresh Your Mind' Room Spray. When you get back from a quick snack during your study break, spritz this simple room spray around your study area to refresh your mind and get back in the mood for studying: In an 8 oz amber spray bottle, combine 1 cup of distilled water, 2 tsp witch hazel, 10 drops of sweet orange essential oil, 5 drops of peppermint essential oil and 4 drops of ylang ylang essential oil. Shake well before each use.
References
(1) https://www.ncbi.nlm.nih.gov/pmc/articles/PMC3736918/
(2) https://www.ncbi.nlm.nih.gov/pubmed/18041606
(3) https://www.ncbi.nlm.nih.gov/pubmed/18041606
(4) https://www.ncbi.nlm.nih.gov/pubmed/20589925
Safety Information
Use essential oils with mindful caution. Remember that they are powerful plant concentrates and must not be used directly on the skin without first diluting them in a carrier oil like coconut, olive, almond, sunflower, grapeseed – basically any pure vegetable oil. Use the dilution ratio of 2 drops of essential oil in 1 tsp of vegetable oil.
Do not ingest essential oils.
Keep essential oils away from children and pets.
Do not touch your mouth, eyes and nose without first washing your hands after using essential oils because they are known to irritate mucous membranes.
Pregnant/lactating women should use extreme caution when using essential oils and consultation with a medical practitioner before use is recommended. Please visit: Is it Safe to Use Essential Oils While Pregnant and What Essential Oils are Good for Pregnancy for more information.
If you suffer from any severe/chronic illnesses including asthma, hypertension and epilepsy, avoid essential oils or consult your doctor before using them.
Always use 100% pure high quality therapeutic grade essential oils from trusted sources.