If you are interested in purifying your indoor air by natural means, you may wonder, "can you use hydrosols in a diffuser?" The answer is, it depends! Find out how to diffuse hydrosols and other natural ways of indoor air purification.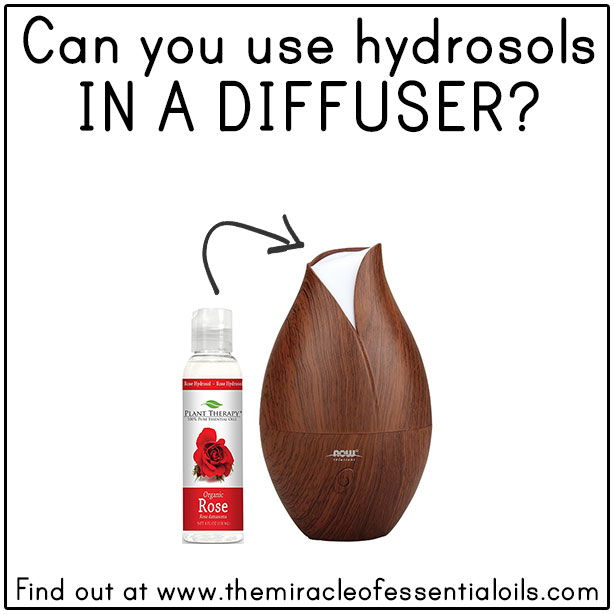 What Are Hydrosols?
Hydrosols are delicate floral waters that are usually the by-product of essential oil extraction.
One great way to purify indoor air is by using hydrosols! Apart from scenting and purifying the air, hydrosols can also help boost your mood, relieve tension and repel bugs!
To find out about the benefits and usage tips for hydrosols, read: 25 Benefits and Ways to Use Hydrosols.
Can You Use Hydrosols in a Diffuser?
Here are the common ways of diffusing and whether they can be used to diffuse hydrosols or not:
1. Heat diffusers
Heat diffusers work by heating up the hydrosol either manually by direct flame (such as a candle) or electrically (by plugging to an electric socket). When the hydrosol is heated, it's vapors are released into the air and help aromatize and purify the air. However, they tend to finish up the hydrosol too quickly and are not very efficient in diffusing their scent throughout the room.
2. Evaporative diffusers
These may be heat-based or non-heat based. They work by evaporating the floral waters such that the vapors of the hydrosol are released into the air. They are also not nearly as efficient as cold air/ultrasonic diffusers.
3. Nebulizers
Hydrosols may not be used in certain diffusers such as nebulizers. Nebulizers are often used to diffuse essential oils, which they are very efficient and good at!
4. Ultrasonic diffusers
These types of diffusers are normally used to disperse essential oils into the air by mixing them in water. Also known as cold air diffusers, ultrasonic diffusers release a fine cool mist into the air. Hydrosols can be used in place of water in ultrasonic diffusers, along with a few drops of essential oil. Hydrosols can also be placed alone into the diffuser.
5. Humidifiers
These are often preferred in areas with cold, dry air. Humidifiers increase the humidity content in the air, allowing better sleep and lower chances of dehydration. They are also very helpful for soothing coughs and colds. Normally, only plain water is used in diffusers, but hydrosols can be safely used for a multitude of health benefits.
Using Hydrosols to Purify the Air
Hydrosols can also simply be used as a room freshener. Pour your desired hydrosol such as rose, neroli or cinnamon into a fine mist spray bottle. Spritz this into your rooms, closets and cupboards.
Other Ways to Purify Your Indoor Air
Indoor plants: Plants such as the pygmy date palm, ferns, bamboo and succulents have been found to have superior air detoxification qualities. They also increase the oxygen levels in the air, promoting better health and even relieving chronic conditions like migraines.
Beeswax candles: Conventional candles containing synthetic fragrances release toxic fumes into the air. But beeswax candles are eco-friendly and burn cleanly without producing toxic fumes. They purify the air by releasing negative ions into the atmosphere.
Himalayan salt lamps: Himalayan salt lamps also release negative ions into the atmosphere, which purifies toxins in the air. It can help relieve asthma and allergies since it neutralizes common allergens like dust and animal dander.
Charcoal bags: Activated charcoal is one of the most efficient air purifiers. Chacoal bags contain pellets of activated charcoal which can absorb bad odors and neutralize lingering smells. It can also help prevent mold and mildew formation.