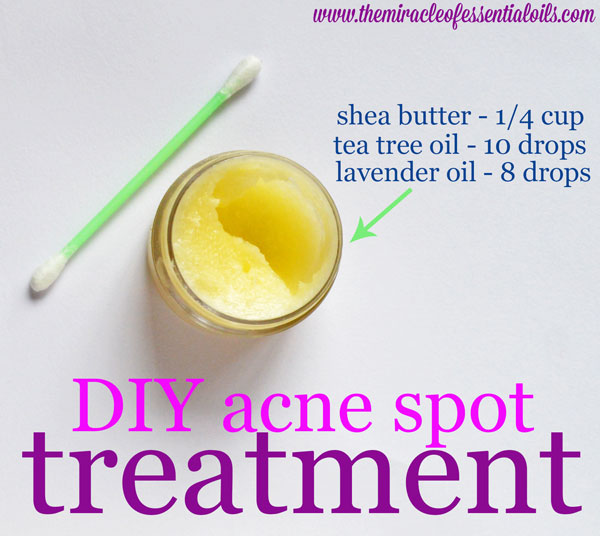 Acne is a common problem that can readily be treated and managed by natural remedies. In this article we will look at essential oil acne face treatment using a simple DIY recipe. But first we shall take a deeper look at what acne is and how essential oils can help.
It is a skin condition that mainly appears on the face and back, where by the pores get clogged up with excessive sebaceous oil, dirt, grime, pollution and dead cells and eventually end up getting infected. These infections in the pores manifest as tiny bumps that are often red, painful and filled with pus. There are different kinds of acne such as whiteheads, blackheads, cystic acne, pustules and nodules.
A complete cure for acne entails a combination of factors that include lifestyle changes (such as getting plenty of sleep and exercising) as well as dietary changes (such as increasing water uptake and eating more acne-fighting foods). Mental improvements may need to be made (such as reducing stress and worry). A good skin care regime is also paramount to preventing and curing acne. Learning how to use natural remedies like essential oils on acne can help eliminate this skin condition.
Essential Oils and Acne
Essential oils are powerful and highly concentrated extracts of plant material that can be viewed as the very essence of a plant. They are healing, medicinal and therapeutic, being rich in potent natural compounds, terpenes, esters and antioxidants.
There are hundreds of essential oils and each essential oil has unique properties that make it a suitable remedy to naturally manage, relieve, treat and cure many health ailments from arthritis to psoriasis to insomnia and high blood pressure, to mention but a few.
For acne, there are several essential oils that are of particular help. These include tea tree oil, lavender oil, ylang ylang, geranium and many more.
Read more: Essential Oils for Acne
Proof that Essential Oils are Effective Against Acne
Research conducted by the Northeast Forestry University, China in 2010 studied the antibacterial effect of 10 essential oils including mint, ginger, jasmine, chamomile and lavender on the acne-causing bacterial named Propionibacterium acnes . Essential oils such as thyme, cinnamon, rose and lavender oil exhibited the strongest antibacterial activities at concentration of 0.25% and killed Propionibacterium acnes within 5 minutes.
Essential Oils are Absorbed by the Skin
Part of the reason why essential oils are so effective is that they easily penetrate into the skin. This is because the process by which they are extracted, called distillation, breaks down the plant compounds into tiny molecules, less than 10 – 100 times the original size. These small molecules can easily pass through the skin and are readily absorbed by the skin.
Essential Oil Spot Treatment Recipe
Why buy expensive, synthetic ingredient containing over-the-counter acne medication when you can make your own all natural acne spot treatment cream at home?
Ingredients:
Benefits of the Ingredients
» Shea Butter
Shea butter is one of the best moisturizers to use for acne-prone skin because it has a comedogenic rating of 0. This means that you won't have to worry about it clogging your skin and aggravating acne and pimples, while it deeply moisturizes your face and balances oil production.
» Tea Tree Oil
Tea tree oil is the number one essential oil to use on acne-prone skin because it is highly antibacterial, antiseptic, anti-fungal, antimicrobial and has potent disinfecting properties. Applied on acne, tea tree oil actively fights off harmful bacteria, clean out dirt, grime and pollution from the pores and prevent acne and pimples.
» Lavender Oil
Gentle on skin, lavender is good for soothing sensitive acne-prone skin. It also has antibacterial properties that keep off acne-causing germs. The fresh floral scent of lavender actually has therapeutic properties of de-stressing the mind and promoting calm so it can greatly reduce acne caused by stress or depression.
Directions:
In a double boiler, heat the shea butter and keep stirring to make sure it completely melts.
Once fully melted, allow it to cool down a little bit so that you can transfer it to a clean dry container.
Now drop in the essential oils carefully and stir them in using a disposable wooden spoon or popsticle stick. Essential oils are toxic when ingested so you want to be careful that you do not contaminate any food utensils.
Let your shea butter and essential oil mix set in the refrigerator for at least 2 hours or leave it over night
Your simple DIY essential oil acne treatment recipe is now ready!
How to Use
This treatment can be used alone or in conjunction with conventional acne treatment that your doctor may have prescribed.
Wash your face thoroughly with a gentle cleanser, or use the oil cleansing method described previously in this article.
Pat your skin dry and use a high quality astringent/toner.
Now dip a clean q-tip into your cream and apply it to your acne and pimple spots as needed. For maximum results, apply the cream at night because this is when your skin is regenerating and will use the extra help provided by the natural ingredients in your cream to heal acne faster.